15 Dec 2004

Celebration of the First Czech Republic Gripen aircraft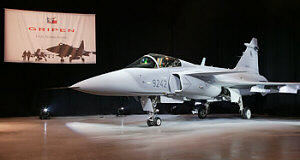 At a ceremony today at Saab's factory in Linköping the first Czech Republic Gripen aircraft was unveiled to the public for the first time. The ceremony was held to celebrate the completion of the production phase of Czech Republic Gripen aircraft.
The production program has been completed with the integration of Czech specific software and will continue with flight trials which will be conducted at Saab and at the test centre of FMV. The flight test program will continue until the aircraft is delivered to the Czech Republic.
"The completion of the Czech Republic Gripen aircraft production phase and the commencement of the test flight program is yet another important milestone in the Gripen program for the Czech Republic", says Per Nilsson FMV's Program Manager for the Czech Republic Program.
The first Czech Gripen aircraft made its maiden flight on 18 October 2004 and Czech pilots will start flying their Gripen's at the beginning of 2005.
The first Gripen fighter will be delivered to the Czech Republic in April 2005 and deliveries will be completed in August 2005. In total, the Czech Republic will lease 14 Gripen fighter aircraft (12 single seat and 2 dual seat) for a period of 10 years, between 2005 and 2015.
The Czech Republic will be the first NATO country to operate the fourth generation Gripen fighter, and will be taking delivery of the latest C and D versions of the aircraft. These aircraft are the latest standard of the Gripen fighter, equipped with full color cockpit displays, a retractable air-to-air refueling probe and are fully NATO-interoperable.
2019
7 January 2019 | IHS Jane's
Serbia resumes G-4 Super Galeb upgrade
Serbian Defence Minister Aleksandar Vulin told media on 29 December that work has resumed on the upgrade of the Soko G-4 Super Galeb single-engine advanced training and light attack aircraft. No further details were provided. In March 2018 the Serbian Ministry of Defence (MoD) presented the G-4
3 January 2019 | Flight Global
Modernised Tu-22M3M makes flight debut
Russia's first modernised Tupolev Tu-22M3M strategic bomber got airborne for the first time on 28 December 2018, completing a 37min sortie from the Kazan Aviation Plant.
3 January 2019 | Boeing
Boeing to Modernize Entire Spanish Chinook Helicopter Fleet
Will remanufacture 17 CH-47D Chinooks to the CH-47F configuration for Spain's Army
2018
21 December 2018 | Flight Global
Leonardo flies first production-standard M-345
Leonardo has flown the production-standard version of its M-345 jet trainer, as it works towards service entry with the Italian air force in 2020.
18 December 2018 | Flight Global
​Tokyo set to become second biggest F-35 operator
The Japanese cabinet has approved a plan to add an additional 105 Lockheed Martin F-35s to its planned fleet of 42 examples, potentially making it the world s second largest F-35 operator.
16 December 2018 | Flight Global
​VIDEO: JF-17 breaks cover at Myanmar air force party
The Chengdu/Pakistan Aeronautical Complex JF-17 Thunder has appeared at a celebration to mark the 71st anniversary of Myanmar s air force.
9 December 2018 | RAF
Royal Air Force Typhoons launch with new Meteor missile
RAF Typhoons launched from RAF Lossiemouth this morning for the first time with the Meteor Air-to-Air missile in defence of UK airspace during a Quick Reaction Alert mission.
22 November 2018 | Airbus Helicopters
Serbia receives first out of nine H145Ms
The Serbian Minister of Defence Aleksandar Vulin visited the Airbus Helicopters Donauwörth site to accept the first H145M for the Serbian Air Force.
19 November 2018 | IHS Jane's
F-35B first-of-class flight tests from Queen Elizabeth complete
F-35B Lightning first-of-class flight trials (fixed wing) (FOCFT[FW]) from the UK Royal Navy (RN) aircraft carrier HMS Queen Elizabeth have concluded after completion of a second phase of development testing (DT-2) off the US Eastern Seaboard. Wrapping up on 18 November, a day ahead of schedule,
19 November 2018 | ACC
F-35A combat power exercise conducted at Hill AFB
The active duty 388th Fighter Wing and Air Force Reserve 419th Fighter Wing conducted a combat power exercise Nov. 19, launching dozens of F-35A Lightning IIs within a condensed period of time.