FAB Mirage III Retirement
14 Dec 2005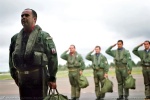 On December 14, 2005, the Brazilian Air Force officially retired its Dassault Mirage III (F-103) from operational service. In a ceremony overflowing with emotions, four F-103s performed a series of flypasts over the Anápolis AB runway and one aircraft broke the sound barrier over the Air Base. It was one of the greatest moments of the event.

Emotions overwhelmed part of the guests, when group of pilots walked in the direction of the shelters, to board their fighters. Among the GDA pilots were three of the very first Brazilian Mirage III pilots, the reserve Colonels Ivan Von Trompowsky Douat Taulois (Jaguar 05), Thomas Anthony Blower (Jaguar 07) and José Isaías Vilaça (Jaguar 08); In 1972, these three pilots were part of a team of eight Brazilian pilots (the Dijon Boys) who went to France receive the new Mirage IIIs acquired by FAB and to graduate as Mirage III instructors.

Each one of the three Dijon Boys took off in the rear seat of the three FAB F-103Ds, followed by a single F-103E and performed many flypasts and manoeuvres over the Air Base. The emotion came out when the pilots left their aircraft and told everyone that they were very luck guys, because they had begun and ended three decades of Mirage III operations in Brazil.

After the historic flight, the F-103E FAB-4910 was covered with a grey cover marked with the special badge of the 33 years of Mirage III operations. The Mirages still continue flying until December 31st, when they will make their last operational flight in Brazil.

2018
12 September 2018 | Defense-Aerospace
Wildcat Makes First Landing on HMS Queen Elizabeth
A Wildcat helicopter has landed on board HMS Queen Elizabeth for the first time. The aircraft carrier will shortly be at sea off the coast of the United States, having arrived in Florida last week, to conduct flight trials. The ship will be joined by HMS Monmouth during the trials, the Type 23...
12 September 2018 | Flight Global
Spain plans to take more NH90 helicopters
Spain's government has given approval for the acquisition of an additional 23 NH Industries NH90 troop transport helicopters.
11 September 2018 | Defense-Aerospace
Russia Delivers Four Su-30SM to Operational Squadrons in Kursk
It is reported that four Su-30SM jet fighters have entered the service with an air regiment stationed in Kursk region, Western Military District. Pilots received four 4++ generation jet fighters at the Irkut Plant and made a flight from the airfield to home station. In 2017, the first squadron...
10 September 2018 | Flight Global
​Japan cleared to buy nine additional E-2Ds
The US government has cleared Tokyo to obtain nine additional Northrop Grumman E-2D Advanced Hawkeye airborne early warning & control (AEW&C) aircraft.
10 September 2018 | Boeing
Boeing Awarded $2.9 Billion for Fourth KC-46A Tanker Production Lot
EVERETT, Wash., Sept. 10, 2018 – The U.S. Air Force today awarded Boeing a $2.9 billion contract for 18 KC-46A tanker aircraft, spares, support equipment, spare engines and wing air refueling pod kits. With this fourth production lot, Boeing now is on contract for 52 KC-46 tankers. Boeing received its first two production lots, for 7 and 12 aircraft, in August 2016. The third lot, for 15 aircraft, was awarded in January 2017.
10 September 2018 | USAF
Moody A-10 engine maintainers make history
For the first time, Moody's 23rd Maintenance Squadron's propulsion flight accomplished an unprecedented feat by ensuring every TF34 engine in their fleet is repaired to serviceable status.
10 September 2018 | Flight Global
AVIC rolls out first FTC-2000G light fighter
AVIC has rolled out the first FTC-2000G, a light combat variant of its FTC-2000 trainer.
7 September 2018 | Flight Global
India's Tejas clears in-flight refuelling hurdle
India s long-delayed Tejas programme has successfully demonstrated the ability of a specially modified Mk1 example of the fighter to undergo air-to-air refuelling behind an Ilyushin Il-78MKI tanker.
6 September 2018 | Combat Aircraft
F-35Bs join Middle East operations
US Marine Corps F-35Bs of VMFA-211 'Avengers', embarked with the 13th Marine Expeditionary Unit (MEU) aboard the amphibious assault ship USS Essex (LHD 2) are operating with US Central Command for the first time. The USS Essex is now in…Read more ›
4 September 2018 | NATO News
Italy takes up NATO air patrols over Iceland
Four Italian Air Force Eurofighter Typhoon jets have arrived at Iceland's Keflavik Air Base, and from today (4 September 2018) they will help ensure the safety of Iceland's airspace. Over the next few weeks, the Italian pilots will provide intercept capabilities and train together with the Icelandic Coast Guard and the NATO Control and Reporting Centre. The Italian jets will complement the air surveillance which Iceland executes with its four remote radar and communication sites.