FAB Mirage III Retirement
14 Dec 2005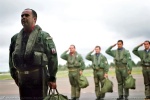 On December 14, 2005, the Brazilian Air Force officially retired its Dassault Mirage III (F-103) from operational service. In a ceremony overflowing with emotions, four F-103s performed a series of flypasts over the Anápolis AB runway and one aircraft broke the sound barrier over the Air Base. It was one of the greatest moments of the event.

Emotions overwhelmed part of the guests, when group of pilots walked in the direction of the shelters, to board their fighters. Among the GDA pilots were three of the very first Brazilian Mirage III pilots, the reserve Colonels Ivan Von Trompowsky Douat Taulois (Jaguar 05), Thomas Anthony Blower (Jaguar 07) and José Isaías Vilaça (Jaguar 08); In 1972, these three pilots were part of a team of eight Brazilian pilots (the Dijon Boys) who went to France receive the new Mirage IIIs acquired by FAB and to graduate as Mirage III instructors.

Each one of the three Dijon Boys took off in the rear seat of the three FAB F-103Ds, followed by a single F-103E and performed many flypasts and manoeuvres over the Air Base. The emotion came out when the pilots left their aircraft and told everyone that they were very luck guys, because they had begun and ended three decades of Mirage III operations in Brazil.

After the historic flight, the F-103E FAB-4910 was covered with a grey cover marked with the special badge of the 33 years of Mirage III operations. The Mirages still continue flying until December 31st, when they will make their last operational flight in Brazil.

2019
21 February 2019 | RAF
Royal Air Force Chief of the Air Staff takes final Tornado flight over Scotland
Nearly 26 years after being introduced at RAF Lossiemouth, the iconic Tornado aircraft returned to Scottish skies for the last time this week.
18 February 2019 | RAF
Britain to celebrate iconic Tornado during farewell flypast
With almost 40 years of Royal Air Force service coming to an end, the iconic Tornado jet is undertaking a series of finale flypasts around the UK.
7 February 2019 | RAF
Red Arrows' North American displays revealed
A list of locations where people can see the Red Arrows display during a major tour of North America has been released.
4 February 2019 | RAF
The end of an era: RAF Tornado returns from Operations for the last time
After almost 40 years serving the UK on military operations across the world, Tornado jets have returned home for the last time.
24 January 2019 | RAF
Royal Air Force Commemorates Iconic Tornado Fast Jet
The Royal Air Force has released stunning images of a unique aircraft formation to celebrate forty years of service by the Tornado GR4 fast jet.
7 January 2019 | IHS Jane's
Serbia resumes G-4 Super Galeb upgrade
Serbian Defence Minister Aleksandar Vulin told media on 29 December that work has resumed on the upgrade of the Soko G-4 Super Galeb single-engine advanced training and light attack aircraft. No further details were provided. In March 2018 the Serbian Ministry of Defence (MoD) presented the G-4
3 January 2019 | Flight Global
Modernised Tu-22M3M makes flight debut
Russia's first modernised Tupolev Tu-22M3M strategic bomber got airborne for the first time on 28 December 2018, completing a 37min sortie from the Kazan Aviation Plant.
3 January 2019 | Boeing
Boeing to Modernize Entire Spanish Chinook Helicopter Fleet
Will remanufacture 17 CH-47D Chinooks to the CH-47F configuration for Spain's Army
2018
21 December 2018 | Flight Global
Leonardo flies first production-standard M-345
Leonardo has flown the production-standard version of its M-345 jet trainer, as it works towards service entry with the Italian air force in 2020.
18 December 2018 | Flight Global
​Tokyo set to become second biggest F-35 operator
The Japanese cabinet has approved a plan to add an additional 105 Lockheed Martin F-35s to its planned fleet of 42 examples, potentially making it the world s second largest F-35 operator.