MRA.4 Development Gathers Pace
14 Sep 2005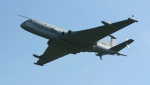 Development of the Nimrod MRA4 by BAE Systems continues to gather pace. On 29 August 2005, a third development aircraft (PA03, serial ZJ517, ex-XV242) successfully completed its first flight. It took off from BAE Systems' Woodford site, near Manchester at 1645hrs on Monday, 29 August, and landed at the Company's Warton base, near Preston after a 75 minute sortie It now has joined the test fleet.
PA03 is the third and final development aircraft to join the flight trials programme which continues until 2007. PA03 will test the whole of the MRA4's mission systems and enables BAE Systems to demonstrate systems maturity to the customer. All three development aircraft will be reworked to production standard when they have completed their flight trials.
BAE submitted its proposal to the UK MoD for delivery of 12 production aircraft in mid-July. These include the three development aircraft conversions. It is expected that the production go-ahead will be given by October and the contract is expected to be signed by years end. The MRA4 is planned to enter RAF service in 2009. In anticipation of gaining production approval, BAE has started strip and survey work on the next four airframes at Woodford, where they will also be rebuilt to MRA4s.
2019
21 February 2019 | RAF
Royal Air Force Chief of the Air Staff takes final Tornado flight over Scotland
Nearly 26 years after being introduced at RAF Lossiemouth, the iconic Tornado aircraft returned to Scottish skies for the last time this week.
18 February 2019 | RAF
Britain to celebrate iconic Tornado during farewell flypast
With almost 40 years of Royal Air Force service coming to an end, the iconic Tornado jet is undertaking a series of finale flypasts around the UK.
7 February 2019 | RAF
Red Arrows' North American displays revealed
A list of locations where people can see the Red Arrows display during a major tour of North America has been released.
4 February 2019 | RAF
The end of an era: RAF Tornado returns from Operations for the last time
After almost 40 years serving the UK on military operations across the world, Tornado jets have returned home for the last time.
24 January 2019 | RAF
Royal Air Force Commemorates Iconic Tornado Fast Jet
The Royal Air Force has released stunning images of a unique aircraft formation to celebrate forty years of service by the Tornado GR4 fast jet.
7 January 2019 | IHS Jane's
Serbia resumes G-4 Super Galeb upgrade
Serbian Defence Minister Aleksandar Vulin told media on 29 December that work has resumed on the upgrade of the Soko G-4 Super Galeb single-engine advanced training and light attack aircraft. No further details were provided. In March 2018 the Serbian Ministry of Defence (MoD) presented the G-4
3 January 2019 | Flight Global
Modernised Tu-22M3M makes flight debut
Russia's first modernised Tupolev Tu-22M3M strategic bomber got airborne for the first time on 28 December 2018, completing a 37min sortie from the Kazan Aviation Plant.
3 January 2019 | Boeing
Boeing to Modernize Entire Spanish Chinook Helicopter Fleet
Will remanufacture 17 CH-47D Chinooks to the CH-47F configuration for Spain's Army
2018
21 December 2018 | Flight Global
Leonardo flies first production-standard M-345
Leonardo has flown the production-standard version of its M-345 jet trainer, as it works towards service entry with the Italian air force in 2020.
18 December 2018 | Flight Global
​Tokyo set to become second biggest F-35 operator
The Japanese cabinet has approved a plan to add an additional 105 Lockheed Martin F-35s to its planned fleet of 42 examples, potentially making it the world s second largest F-35 operator.