01 Nov 2007

First Flight of Eurofighter Typhoon with Tranche 2 Avionics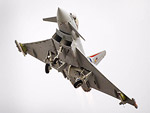 On November 1st, 2007, the first Eurofighter Typhoon equipped with Tranche 2 avionics took to the air at BAE Systems' Warton facility. Instrumented Production Aircraft Six (IPA6) completed its maiden flight under the control of Mark Bowman, Eurofighter Typhoon test pilot at BAE Systems, taking off at 13.06 hrs hours and staying airborne for 54 minutes.
After the flight Mark commented on the aircraft's performance:
"This first flight of IPA6 represents the beginning of the next chapter in this remarkable aircraft's life. Whilst the exterior of the aircraft may be familiar, significant changes have taken place 'inside' that will take this to the Tranche 2 standard and beyond. From the pilot's point of view, the new systems worked very well and performance remains simply stunning. This particular aircraft will be worked hard over the coming years to contribute significantly to where we go next in meeting our customers' requirements and truly reflects all the hard work and dedication from across the Company in getting us to today's first flight."
IPA6 at Warton will be used for Tranche 2 flight test. It's first prominent task will be to accomplish Type Acceptance for Block 8, the first capability standard of the second Tranche Eurofighter Typhoon, in April 2008.
While IPA6 (BS031) is essentially a Tranche 1 standard aircraft, it uses the full Tranche 2 mission computer suite and avionics features. IPA7 (GS029) is the first aircraft that represents the full Tranche 2 build standard. The first flight of IPA7 is expected before the end of 2007 at the Manching site of EADS, Germany.
The first Tranche 2 EJ200 engine had already flown on IPA2 in Italy on 14 September. This test aircraft, operated by Alenia, will undertake the necessary evaluation and certification work for this new EJ200 version.
The significant Tranche 2 features focus mainly on the new mission computers which deliver the higher processing and memory capacity required for the integration of future weapons such as Meteor, Storm Shadow and Taurus. Differences in the build standard to Tranche 1 are related to changes in production technology or obsolescence.
The Eurofighter consortium will deliver 251 aircraft, 91 to the United Kingdom, 79 to Germany (including 15 aircraft originally contracted by Austria), 47 to Italy and 34 to Spain. The original Tranche 2 production contract was signed 14 December 2004. Deliveries of Tranche 2 Eurofighter Typhoons to all four Partner Nations will begin in Summer 2008 and are scheduled to run until 2013. 18 aircraft are already in final assembly at the partner companies Alenia Aeronautica, BAE Systems, EADS CASA and EADS Deutschland.
2019
21 February 2019 | RAF
Royal Air Force Chief of the Air Staff takes final Tornado flight over Scotland
Nearly 26 years after being introduced at RAF Lossiemouth, the iconic Tornado aircraft returned to Scottish skies for the last time this week.
18 February 2019 | RAF
Britain to celebrate iconic Tornado during farewell flypast
With almost 40 years of Royal Air Force service coming to an end, the iconic Tornado jet is undertaking a series of finale flypasts around the UK.
7 February 2019 | RAF
Red Arrows' North American displays revealed
A list of locations where people can see the Red Arrows display during a major tour of North America has been released.
4 February 2019 | RAF
The end of an era: RAF Tornado returns from Operations for the last time
After almost 40 years serving the UK on military operations across the world, Tornado jets have returned home for the last time.
24 January 2019 | RAF
Royal Air Force Commemorates Iconic Tornado Fast Jet
The Royal Air Force has released stunning images of a unique aircraft formation to celebrate forty years of service by the Tornado GR4 fast jet.
7 January 2019 | IHS Jane's
Serbia resumes G-4 Super Galeb upgrade
Serbian Defence Minister Aleksandar Vulin told media on 29 December that work has resumed on the upgrade of the Soko G-4 Super Galeb single-engine advanced training and light attack aircraft. No further details were provided. In March 2018 the Serbian Ministry of Defence (MoD) presented the G-4
3 January 2019 | Flight Global
Modernised Tu-22M3M makes flight debut
Russia's first modernised Tupolev Tu-22M3M strategic bomber got airborne for the first time on 28 December 2018, completing a 37min sortie from the Kazan Aviation Plant.
3 January 2019 | Boeing
Boeing to Modernize Entire Spanish Chinook Helicopter Fleet
Will remanufacture 17 CH-47D Chinooks to the CH-47F configuration for Spain's Army
2018
21 December 2018 | Flight Global
Leonardo flies first production-standard M-345
Leonardo has flown the production-standard version of its M-345 jet trainer, as it works towards service entry with the Italian air force in 2020.
18 December 2018 | Flight Global
​Tokyo set to become second biggest F-35 operator
The Japanese cabinet has approved a plan to add an additional 105 Lockheed Martin F-35s to its planned fleet of 42 examples, potentially making it the world s second largest F-35 operator.