05 Apr 2007

First Patria-built NH-90 for Sweden Flies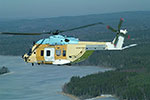 The first high-cabin NH90 transport helicopter destined for the Swedish Defence Forces and assembled by Patria in Finland has flown successfully its first test flights. This helicopter is the third Swedish NH90 to take off after the two others have been test-flown and assembled by Eurocopter in Marignane, France. Of the 18 NH90 ordered by the government of Sweden, 14 are to be assembled in Finland.
The average duration of the test flights was 1 hour and 30 minutes. This important milestone of the NH90 program demonstrates the capacity of all industrial partners involved in this program to achieve a sustained and regular ramping up pace.
Patria has already assembled the standard NH90 transport version for the Finnish Defence Forces. Patria assembles most of the Nordic NH90 ordered by Sweden, and Finland. The Finnish assembly line is the 4th operational line assembling the NH90, beside the ones based in France, Germany and Italy. A fifth assembly line, based in Australia, will start producing the Australian NH90, called MRH90, later this year.
2018
22 November 2018 | Airbus Helicopters
Serbia receives first out of nine H145Ms
The Serbian Minister of Defence Aleksandar Vulin visited the Airbus Helicopters Donauwörth site to accept the first H145M for the Serbian Air Force.
19 November 2018 | IHS Jane's
F-35B first-of-class flight tests from Queen Elizabeth complete
F-35B Lightning first-of-class flight trials (fixed wing) (FOCFT[FW]) from the UK Royal Navy (RN) aircraft carrier HMS Queen Elizabeth have concluded after completion of a second phase of development testing (DT-2) off the US Eastern Seaboard. Wrapping up on 18 November, a day ahead of schedule,
19 November 2018 | ACC
F-35A combat power exercise conducted at Hill AFB
The active duty 388th Fighter Wing and Air Force Reserve 419th Fighter Wing conducted a combat power exercise Nov. 19, launching dozens of F-35A Lightning IIs within a condensed period of time.
15 November 2018 | Flight Global
Bahrain confirms purchase of 12 AH-1Z Vipers
Bahrain has confirmed its order for 12 Bell AH-1Z Vipers, six months after the US Department of State approved the deal, worth an estimated $912 million, under the Foreign Military Sales process.
15 November 2018 | Flight Global
Massive F-35 deal covers production into 2023
Lockheed Martin has won a $22.7 billion contract to supply 255 F-35 Lightning II fighters for the three branches of the US armed services and international operators.
12 November 2018 | Flight Global
F3-R-standard Rafale gains French approval
Dassault has achieved French military qualification for the F3-R-standard variant of the Rafale combat aircraft.
8 November 2018 | RAF
Eurofighter fleet passes 500,000 flying hours
A Royal Air Force Typhoon has received special markings to mark the global fleet of Eurofighter aircraft passing the 500,000 flying hours mark.
28 September 2018 | UK MOD
Fighter jets join forces with British aircraft carrier to make history
The first F-35 Lightning fighter jets have landed on the deck of the United Kingdom's new aircraft carrier, making history and marking the beginning of more than half-a-century of 'Carrier Strike' operations.
28 September 2018 | Flight Global
F-35 suffers first crash in South Carolina
One day after the US Marine Corps conducted its first air strike with the Lockheed Martin F-35B over Afghanistan, another one of the stealth fighters crashed near USMC Air Station Beaufort, South Carolina.
28 September 2018 | Flight Global
​Lockheed Martin F-35A price dips below $90m for first time
After drawn out negotiations with the Department of Defense, Lockheed Martin signed a contract to produce the eleventh lot of the F-35A for $89.2 million per unit.