16 May 2007

Spanish Army Tiger Helicopters Homecoming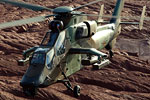 On May 16, 2007, the Spanish Army's first three Tiger helicopters have arrived at their final destination, the Coronel Sánchez Bilbao military base in Almagro, where they are to serve the Spanish armed forces.
In preparation for the Spanish homecoming, the eight pilots and 16 maintenance technicians of the Spanish military contingent were trained by Eurocopter staff at the Le Luc military base in France. Eurocopter has also been carrying out maintenance on the helicopters, providing engineering support and managing spare parts and ground equipment. Eurocopter will continue support activities for the Spanish Army at the Almagro base for these three HAP Tigers as well as for the three remaining Tigers to be delivered.
The Spanish Army will have 24 HAD Tigers at its disposal in due course; 18 Tigers are to be delivered in HAD configuration, and the other six – which are in HAP version – are to be retrofitted to HAD. In comparison to the original HAP version, the HAD Tiger features a Spike or Hellfire air-to-ground missile, an uprated engine ensuring an increased useful load, IFF system, electronic warfare system, and enhanced ballistic protection.
The Spanish HADs will be assembled on the forthcoming final assembly line – operational from 2008 onwards – at the new Eurocopter factory in Albacete, Castilla-La Mancha. Spain is already the exclusive producer of tail booms for the Tiger, manufactured entirely from composite materials.
In 2003, the Spanish government selected the Tiger as the combat helicopter for its armed forces. Since then, an increasingly close working relationship has developed between Eurocopter and the Spanish government, consolidated in subsequent years when major contracts were signed for 48 EC135s and 45 NH90s. Establishing a large industrial facility locally attested to the central role that Eurocopter Spain is set to play within the Group. The Spanish structure is now fully equipped for engineering, production, upgrade, delivery and logistical support activities. Albacete is entirely responsible for marketing, program direction and customer support.
2018
4 March 2018 | IHS Jane's
USMC prepares for F-35B maiden operational embarkation
The US Marine Corps (USMC) is in the final stages of preparation for the first operational shipborne embarkation of the Lockheed Martin F-35B Lightning II Joint Strike Fighter (JSF), with the arrival of an advance detachment of aircraft on USS Wasp (LHD-1) on 5 March.
1 March 2018 | Boeing
Boeing Receives U.S. Navy Contract to Modernize F/A-18 Super Hornet Fleet
Boeing has been awarded a contract to modernize the U.S. Navy F/A-18 fleet, extending the life of existing Super Hornets from 6,000 to 9,000+ flight hours. In the early 2020s, Boeing will begin installing initial updates to the aircraft that will convert existing Block II Super Hornets to a new Block III configuration.
23 February 2018 | MILAVIA News
Saab rolled out first GlobalEye AEW&C
Saab rolled out the first GlobalEye Airborne Early Warning & Control (AEW&C) aircraft at its Linköping site, Sweden. GlobalEye is an advanced, swing role airborne surveillance system based on a Global 6000 jet aircraft from Bombardier, which has undergone a thorough modification programme to adapt it for its role.
22 February 2018 | IHS Jane's
Russian Su-57 fifth-gen fighter prototypes touch down in Syria
Key Points Two Russian Su-57 fifth-generation fighter prototypes have been deployed to Syria It is unclear what the real benefits of the deployment are The Russian Aerospace Forces (Vozdushno-Kosmicheskiye Sily: VKS) have deployed two Sukhoi Su-57 fifth-generation fighters to Humaymim Air Base in
21 February 2018 | USAF News
JB San Antonio-Randolph preferred location for first T-X aircraft
The Air Force announced Feb. 21, 2018, that the Advanced Pilot Trainer (T-X) will replace T-38C Talon aircraft at existing undergraduate pilot training bases, with Joint Base San Antonio-Randolph named as the preferred location for the first T-X aircraft scheduled to arrive in 2022.
20 February 2018 | Flight Global
US clears RNLAF for $1.19b Apache upgrade deal
The Royal Netherlands Air Force is cleared by the US State Department to buy 28 remanufactured Boeing AH-64E helicopters worth a total of $1.19 billion, the US government announced on 20 February.
20 February 2018 | Lockheed Martin
First Sikorsky HH-60W Combat Rescue Helicopter Enters Final Assembly
Sikorsky, a Lockheed Martin company, is beginning final assembly of the first HH-60W Combat Rescue Helicopter, [...] This Engineering Manufacturing Development (EMD) aircraft is the first to be assembled at the Sikorsky headquarters in Stratford, Connecticut. A total of nine aircraft will be built in Connecticut during the EMD phase of the program ― four EMD aircraft and five System Demonstration Test Articles (SDTA). The U.S. Air Force program of record calls for 112 helicopters to replace the Air Force's aging HH-60G Pave Hawk helicopters, which perform critical combat search and rescue and personnel recovery operations for all U.S. military services.
12 February 2018 | Flight Global
USAF plans to consolidate bomber fleet to B-21 and B-52
The US Air Force has confirmed plans to re-engine the Boeing B-52H fleet and retire the Northrop Grumman B-2 and the Rockwell B-1 as Northrop s next-generation B-21 stealth bomber ramps up deliveries.
19 January 2018 | ACC
A-10 returns as a single-ship demonstration
hile all members of Davis-Monthan AFB have maintained our mission of sustaining attack airpower, a select group of Airmen have been preparing for an additional mission; demonstrating the capabilities of the A-10C Thunderbolt II. The A-10C Thunderbolt II Demonstration Team will perform demos for the first time in seven years for the 2018 air show season. The A-10 will be one of three single-ship aerial demonstration teams in Air Combat Command.
14 January 2018 | Airbus Helicopters
First Tiger HAD retrofit delivered to the French Army Aviation
The first of 36 retrofits ordered by the French Ministry of Defence