13 Aug 2007

Spanish Eurofighter Typhoon Tranche 1 Deliveries Completed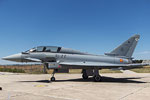 Eurofighter GmbH announced EADS CASA has delivered the final Tranche 1 for the Spanish Air Force on August 13th, 2007. The aircraft (ST008) is also the first Block 5 two-seater to be delivered.
ST008 becomes the 18th Typhoon to enter service with Ala 11 at Morón Air Base. The aircraft is the eigth two-seater to enter service, serialled C.16-08 in Spanish service and is coded 11-77.
Spain has now received all of its Tranche 1 aircraft, which will all be upgraded to Block 5 standard under the R2 retrofit programme with the exception of test aircraft IPA4. IPA4 will be used for Tranche 2 trials and be upgraded to a Block 8 equivalent standard in 2008. The Spanish government ordered 33 Tranche 2 aircraft. The last of the Tranche 3 aircraft is scheduled for delivery in 2014. Spain is one of the four nations of the Eurofighter programme for a total of 87 aircraft, with an option for 16 more.
2018
4 March 2018 | IHS Jane's
USMC prepares for F-35B maiden operational embarkation
The US Marine Corps (USMC) is in the final stages of preparation for the first operational shipborne embarkation of the Lockheed Martin F-35B Lightning II Joint Strike Fighter (JSF), with the arrival of an advance detachment of aircraft on USS Wasp (LHD-1) on 5 March.
1 March 2018 | Boeing
Boeing Receives U.S. Navy Contract to Modernize F/A-18 Super Hornet Fleet
Boeing has been awarded a contract to modernize the U.S. Navy F/A-18 fleet, extending the life of existing Super Hornets from 6,000 to 9,000+ flight hours. In the early 2020s, Boeing will begin installing initial updates to the aircraft that will convert existing Block II Super Hornets to a new Block III configuration.
23 February 2018 | MILAVIA News
Saab rolled out first GlobalEye AEW&C
Saab rolled out the first GlobalEye Airborne Early Warning & Control (AEW&C) aircraft at its Linköping site, Sweden. GlobalEye is an advanced, swing role airborne surveillance system based on a Global 6000 jet aircraft from Bombardier, which has undergone a thorough modification programme to adapt it for its role.
22 February 2018 | IHS Jane's
Russian Su-57 fifth-gen fighter prototypes touch down in Syria
Key Points Two Russian Su-57 fifth-generation fighter prototypes have been deployed to Syria It is unclear what the real benefits of the deployment are The Russian Aerospace Forces (Vozdushno-Kosmicheskiye Sily: VKS) have deployed two Sukhoi Su-57 fifth-generation fighters to Humaymim Air Base in
21 February 2018 | USAF News
JB San Antonio-Randolph preferred location for first T-X aircraft
The Air Force announced Feb. 21, 2018, that the Advanced Pilot Trainer (T-X) will replace T-38C Talon aircraft at existing undergraduate pilot training bases, with Joint Base San Antonio-Randolph named as the preferred location for the first T-X aircraft scheduled to arrive in 2022.
20 February 2018 | Flight Global
US clears RNLAF for $1.19b Apache upgrade deal
The Royal Netherlands Air Force is cleared by the US State Department to buy 28 remanufactured Boeing AH-64E helicopters worth a total of $1.19 billion, the US government announced on 20 February.
20 February 2018 | Lockheed Martin
First Sikorsky HH-60W Combat Rescue Helicopter Enters Final Assembly
Sikorsky, a Lockheed Martin company, is beginning final assembly of the first HH-60W Combat Rescue Helicopter, [...] This Engineering Manufacturing Development (EMD) aircraft is the first to be assembled at the Sikorsky headquarters in Stratford, Connecticut. A total of nine aircraft will be built in Connecticut during the EMD phase of the program ― four EMD aircraft and five System Demonstration Test Articles (SDTA). The U.S. Air Force program of record calls for 112 helicopters to replace the Air Force's aging HH-60G Pave Hawk helicopters, which perform critical combat search and rescue and personnel recovery operations for all U.S. military services.
12 February 2018 | Flight Global
USAF plans to consolidate bomber fleet to B-21 and B-52
The US Air Force has confirmed plans to re-engine the Boeing B-52H fleet and retire the Northrop Grumman B-2 and the Rockwell B-1 as Northrop s next-generation B-21 stealth bomber ramps up deliveries.
19 January 2018 | ACC
A-10 returns as a single-ship demonstration
hile all members of Davis-Monthan AFB have maintained our mission of sustaining attack airpower, a select group of Airmen have been preparing for an additional mission; demonstrating the capabilities of the A-10C Thunderbolt II. The A-10C Thunderbolt II Demonstration Team will perform demos for the first time in seven years for the 2018 air show season. The A-10 will be one of three single-ship aerial demonstration teams in Air Combat Command.
14 January 2018 | Airbus Helicopters
First Tiger HAD retrofit delivered to the French Army Aviation
The first of 36 retrofits ordered by the French Ministry of Defence