55 Pilatus PC-21 Trainers Ordered for Royal Saudi Air Force
25 May 2012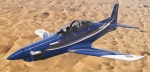 Pilatus Aircraft Ltd announced today that a contract has been signed with BAE Systems to supply the Royal Saudi Air Force (RSAF) with a fleet of 55 Pilatus PC-21 turboprop aircraft, together with an integrated ground based training system and logistics support.

Following agreement between Saudi Arabia and the United Kingdom under the Saudi British Defence Cooperation Programme (SBDCP), deliveries of the aircraft, ground based training systems and the logistics support package are scheduled to commence in 2014. The aircraft will provide basic flying training in Riyadh to the RSAF and will replace the PC-9 with the state-of-the-art PC-21 platform.

25 years have passed since the initial batch of Pilatus PC-9 training aircraft were delivered to the RSAF under an agreement with BAE Systems. The RSAF has selected the PC-21 aircraft and ground based training system following a thorough evaluation both in Stans, Switzerland, and under hot weather conditions in Riyadh Saudi Arabia.

After Switzerland, Singapore and the UAE, Saudi Arabia is now the fourth country to procure the PC-21 for training future pilots of advanced operational aircraft now coming into service with major air forces around the world.
2019
23 August 2019 | Embraer
Portugal Signs Contract for 5 Embraer KC-390s
Évora, Portugal, August 22, 2019 – The Portuguese Government and Embraer signed today, at a ceremony held at Embraer's facility in Évora, a contract for the acquisition of five multi-mission airlifters Embraer KC-390. Additionally, services and support and a flight simulator are included in the contract as part of the process to modernize Portuguese Air Force capabilities to support national Armed Forces operations and increase readiness in missions of public interest. Deliveries are scheduled to start in 2023.
23 August 2019 | RCAF
RCAF modernizing and increasing the CH-149 Cormorant search and rescue fleet
Investments in the CH-147 Cormorant helicopter fleet, announced on August 22, 2019, will see the fleet augmented by a minimum of two helicopters. The fleet will undergo upgrades and enhancements that will extend the life of the aircraft to at least 2042.
22 August 2019 | RAF
Red Arrows Join New York Flypast
The Red Arrows have joined their United States counterparts in a historic 19-aircraft flight down New York.
23 July 2019 | Combat Aircraft
ATAC moves ahead with Mirage aggressors
Textron Airborne Solution's Airborne Tactical Advantage Company (ATAC) has started high-speed taxi tests of its new Dassault Mirage F1s at its base at Alliance Airport, Texas. It initially tested Mirage F1CR registration N618AX (ex-French Air Force serial 229). On July 22, its two-seat Mirage F1B registration N601AX also joined testing (ex-French serial 502). ... Read more ›
30 May 2019 | Flight Global
Japan receives first E-2D Advanced Hawkeye
The Japan Air Self-Defense Force (JASDF) has taken delivery of its first Northrop Grumman E-2D Advanced Hawkeye airborne early warning & control (AEW&C) aircraft.
28 May 2019 | RAF
Transatlantic Season for Red Arrows gets Underway
Following months of training, the Royal Air Force Aerobatic Team has been given the go-ahead to begin one of its busiest ever seasons. The Red Arrows' 2019 campaign will culminate in a major tour of North America and displays and flypasts across the United Kingdom and mainland Europe.
27 May 2019 | Lockheed Martin
Sikorsky Formally Responds to Call for Competition for Germany's New Heavy Lift Helicopter
BERLIN May 27, 2019 – Sikorsky, a Lockheed Martin company, formally responded to the German Air Force "Schwerer Transporthubschrauber" (STH) Program call for competition. Sikorsky expects to offer the most modern heavy lift helicopter in production, the CH-53K King Stallion, in response to the official Request for Proposals, which is expected this summer. The new STH heavy lifter will allow the Bundeswehr to move troops and equipment more quickly, safely and effectively than ever before.
26 May 2019 | Airbus Helicopters
French Ministry of the Armed Forces brings development of future Joint Light Helicopter forward
Marignane, The French Minister of the Armed Forces, Florence Parly, has announced that the launch of the Joint Light Helicopter (Hélicoptère Interarmées Léger; HIL) programme has been brought forward to 2021. The HIL programme, for which the Airbus Helicopters' H160 was selected in 2017, was initially scheduled for launch in 2022 by the current military budget law. Launching the programme earlier will enable delivery of the first H160Ms to the French Armed Forces to be advanced to 2026.
24 May 2019 | ACC
Hill Airmen deploy F-35 to Europe as part of Theater Security Package
The U.S. Air Force has deployed one squadron of F-35A Lightning II fighter jets, Airmen, and associated equipment to Aviano Air Base, Italy, from the 388th and 419th Fighter Wings, at Hill AFB, Utah, to participate in exercises and conduct training with other Europe-based aircraft as part of a Theater Security Package for the European Deterrence Initiative. The TSP provides a more robust U.S. military rotational presence in the European theater capable of deterring adversaries and assuring partners and allies of U.S. commitment to regional security.
21 May 2019 | Combat Aircraft
USAF aggressor plans laid out
The USAF plans to reactivate the 65th Aggressor Squadron at Nellis AFB, Nevada, and will assign nine early production F-35As to the unit. The move is part of an initiative to improve training for fifth-generation fighters against stealthy opposition. The…Read more ›