55 Pilatus PC-21 Trainers Ordered for Royal Saudi Air Force
25 May 2012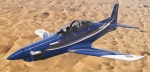 Pilatus Aircraft Ltd announced today that a contract has been signed with BAE Systems to supply the Royal Saudi Air Force (RSAF) with a fleet of 55 Pilatus PC-21 turboprop aircraft, together with an integrated ground based training system and logistics support.

Following agreement between Saudi Arabia and the United Kingdom under the Saudi British Defence Cooperation Programme (SBDCP), deliveries of the aircraft, ground based training systems and the logistics support package are scheduled to commence in 2014. The aircraft will provide basic flying training in Riyadh to the RSAF and will replace the PC-9 with the state-of-the-art PC-21 platform.

25 years have passed since the initial batch of Pilatus PC-9 training aircraft were delivered to the RSAF under an agreement with BAE Systems. The RSAF has selected the PC-21 aircraft and ground based training system following a thorough evaluation both in Stans, Switzerland, and under hot weather conditions in Riyadh Saudi Arabia.

After Switzerland, Singapore and the UAE, Saudi Arabia is now the fourth country to procure the PC-21 for training future pilots of advanced operational aircraft now coming into service with major air forces around the world.
2018
16 July 2018 | IHS Jane's
Taiwan commissions first Apache brigade
Taiwan's Ministry of National Defense (MND) commissioned its first air brigade equipped with Boeing AH-64E Apache Guardian attack helicopters on 17 July. The 29 Apache helicopters will be operated by Republic of China Army's (RoCA's) 601st Air Cavalry Brigade, which operates under
16 July 2018 | Air Forces Monthly
Pakistan T129 ATAK order confirmed
Turkish Aerospace Industries (TAI) has confirmed a deal to supply the Pakistan Army with 30 T129 ATAK attack helicopters. The deal had previously been reported on May 24, in a political manifesto from Turkey's ruling Justice and Development Party, released…
16 July 2018 | Flight Global
FARNBOROUGH: Aero Vodochody unveils F/A-259 for OA-X bid
Aero Vodochody appears to have rebranded a new version of the L-159 advanced jet trainer as the F/A-259 Striker as it makes a late bid for the US Air Force's OA-X close air support programme.
16 July 2018 | Combat Aircraft
UK launches new fighter program
The UK's leading aerospace industry companies and the UK Ministry of Defence (MoD) have unveiled a next-generation fighter jet concept model on the first day of the Farnborough International Air Show. Defence Secretary Gavin Williamson launched the new UK national…Read more ›
15 July 2018 | MILAVIA News
Air Tattoo Celebrates RAF100 In Style
A record crowd of 185,000 people enjoyed a feast of flying as the Royal International Air Tattoo staged international celebrations marking the Royal Air Force's Centenary at RAF Fairford.

In total, 302 aircraft, from 43 air arms representing 30 nations attended the airshow, of which 121 took part in the flying display.
14 July 2018 | RAF
Royal International Air Tattoo 2018 Saturday round-up
Aircraft displays highlights from Saturday 14th July 2018 at the Royal International Air Tattoo.
14 July 2018 | RAF
RAF receives 20th Atlas transport aircraft
The RAF has taken delivery of the 20th next-generation Atlas transport aircraft.
13 July 2018 | ACC
Checkered Flag 18-2 takes to the skies at Tyndall
Checkered Flag 18-2, a large force exercise, kicked off at Tyndall July 9, 2018, and will conclude July 20. Checkered Flag is a large-scale aerial exercise designed to integrate fourth and fifth-generation airframes to enhance the capabilities of Airmen while providing training to rapidly respond to current, real-world conflicts and preparing for the future of air superiority.
13 July 2018 | USAF News
KC-46 completes flight testing required for October first aircraft delivery
The KC-46 Pegasus program achieved an important milestone July 6, 2018, at Boeing Field, Seattle, with completion of the final flight tests required for first aircraft delivery planned in late October.
11 July 2018 | RAF
RAF100 10th July Parade and Flypast in central London
Some of what was captured on the Mall, in the skies and outside Buckingham Palace on 10th July 2018 for the RAF100 celebrations.