All Three F-35 Variants Achieved Flight Test Milestone on Same Day
29 May 2014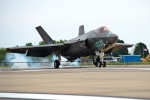 In three separate flight tests on May 27, Lockheed Martin F-35 Lightning II aircraft demonstrated air-to-air combat capability, completed the first flight test with the next level software load and accomplished a landing at the maximum test speed and drop rate.

In the Point Mugu Sea Test Range airspace, an F-35B demonstrated the jet's air-to-air combat capability when it sequentially engaged two aerial targets with two AIM-120s. The very first "dual" AMRAAM shot from any F-35 variant, and first live AIM-120 fired by the F-35B.

Flying from Edwards AFB, the F-35A flew a 1.9 hour mission with the first-ever load of Block 3i hardware and software. Block 3i is the next level of capability and is planned for the U.S. Air Force F-35A IOC in 2016.

The F-35C completed a landing at NAS Patuxent River at its maximum sink speed to test the aircraft's landing gear, airframe and arrestment system to demonstrate structural readiness for arrested carrier landings.

The F-35 fleet has to date amassed more than 17,000 flight hours.
2018
16 July 2018 | IHS Jane's
Taiwan commissions first Apache brigade
Taiwan's Ministry of National Defense (MND) commissioned its first air brigade equipped with Boeing AH-64E Apache Guardian attack helicopters on 17 July. The 29 Apache helicopters will be operated by Republic of China Army's (RoCA's) 601st Air Cavalry Brigade, which operates under
16 July 2018 | Air Forces Monthly
Pakistan T129 ATAK order confirmed
Turkish Aerospace Industries (TAI) has confirmed a deal to supply the Pakistan Army with 30 T129 ATAK attack helicopters. The deal had previously been reported on May 24, in a political manifesto from Turkey's ruling Justice and Development Party, released…
16 July 2018 | Flight Global
FARNBOROUGH: Aero Vodochody unveils F/A-259 for OA-X bid
Aero Vodochody appears to have rebranded a new version of the L-159 advanced jet trainer as the F/A-259 Striker as it makes a late bid for the US Air Force's OA-X close air support programme.
16 July 2018 | Combat Aircraft
UK launches new fighter program
The UK's leading aerospace industry companies and the UK Ministry of Defence (MoD) have unveiled a next-generation fighter jet concept model on the first day of the Farnborough International Air Show. Defence Secretary Gavin Williamson launched the new UK national…Read more ›
15 July 2018 | MILAVIA News
Air Tattoo Celebrates RAF100 In Style
A record crowd of 185,000 people enjoyed a feast of flying as the Royal International Air Tattoo staged international celebrations marking the Royal Air Force's Centenary at RAF Fairford.

In total, 302 aircraft, from 43 air arms representing 30 nations attended the airshow, of which 121 took part in the flying display.
14 July 2018 | RAF
Royal International Air Tattoo 2018 Saturday round-up
Aircraft displays highlights from Saturday 14th July 2018 at the Royal International Air Tattoo.
14 July 2018 | RAF
RAF receives 20th Atlas transport aircraft
The RAF has taken delivery of the 20th next-generation Atlas transport aircraft.
13 July 2018 | ACC
Checkered Flag 18-2 takes to the skies at Tyndall
Checkered Flag 18-2, a large force exercise, kicked off at Tyndall July 9, 2018, and will conclude July 20. Checkered Flag is a large-scale aerial exercise designed to integrate fourth and fifth-generation airframes to enhance the capabilities of Airmen while providing training to rapidly respond to current, real-world conflicts and preparing for the future of air superiority.
13 July 2018 | USAF News
KC-46 completes flight testing required for October first aircraft delivery
The KC-46 Pegasus program achieved an important milestone July 6, 2018, at Boeing Field, Seattle, with completion of the final flight tests required for first aircraft delivery planned in late October.
11 July 2018 | RAF
RAF100 10th July Parade and Flypast in central London
Some of what was captured on the Mall, in the skies and outside Buckingham Palace on 10th July 2018 for the RAF100 celebrations.