Air National Guard paint facility completes 149th F-16 heritage paint scheme
26 May 2017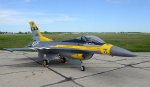 A U.S. Air Force F-16 assigned to the 149th Fighter Wing, Texas Air National Guard, was painted with World War II heritage markings by the Air National Guard Paint Facility in Sioux City, Iowa, and first photographed on May 26, 2017.

The 149th FW received authorization for the nonstandard markings in order to commemorate the United States Air Force 70th Anniversary. The markings represent the lineage of the 149th FW with the unit's origins dating back to the 396th Fighter Squadron "Thunder Bums" P-47 paint scheme from 1944.
2017
26 June 2017 | ACC
F-35 makes historic appearance at Paris Air Show
The U.S. made history when two F-35A Lightning IIs arrived at the Paris Air Show to fly the first public aerial demonstrations here, this week. Pulling off a historic event such as this takes months of careful planning and preparation. This team had only 36 days to make it happen.
23 June 2017 | ACC
Thunderbird Aircraft Mishap Update
The United States Air Force Thunderbirds were conducting a single-ship familiarization flight on
23 June 2017 | Defense-Aerospace
Eurofighter Confirms First Typhoon Delivery to Oman
Eurofighter GmbH welcomes the news that the Royal Air Force of Oman (RAFO) has taken delivery of its first Eurofighter Typhoon aircraft. The arrival of the first aircraft, one of a batch of 12 of the combat jets scheduled to be delivered to the Sultanate of Oman, was marked with a ceremony, held ...
20 June 2017 | ACC
USAF Weapons School F-16 hits 35 years old
The United States Air Force Weapons School F-16 Fighting Falcon division hosted a reunion for past and present members to celebrate its 35th Anniversary June 15, at Nellis Air Force Base, Nevada.
19 June 2017 | Flight Global
Syrian shoot-down marks first 'kill' for Super Hornet
A US Navy Boeing F/A-18E Super Hornet shot down a Syrian air force Sukhoi Su-22 in an engagement over Syria on 18 June. The US aircraft had been supporting Syrian opposition forces near Ja'Din, south of Tabqah, when the Su-22 released bombs against them.
16 June 2017 | Defense-Aerospace
Antonov's An−132D Flies to France for Paris Air Show
On June 15, 2017, the new AN−132D aircraft−demonstrator, flew from Kyiv to Le Bourget, France, to have an international debut at the 52nd International Paris Air Show. It will be demonstrated as part of the show's flight programme, and will also remain on static display throughout the show. The ...
15 June 2017 | Flight Global
​Qatar orders 36 F-15QA fighters
Qatar has signed a deal for 36 Boeing F-15QA fighter aircraft. The deal is reportedly worth $12 billion, according to media reports quoting official Qatari sources. [...] In November 2016, the US Defense Security Cooperation Agency (DSCA) expressed optimism that the deal would go through. The original number, however, was for 72 F-15QAs. The F-15QA is an advanced variant of the two-seat F-15E Strike Eagle. Equipped with an active electronically scanned array (AESA) radar, it is effective in both air-to-air and air-to-ground missions.
15 June 2017 | Combat Aircraft
Gripen E makes maiden flight
Saab's JAS 39 Gripen E has made its maiden flight today. It flew from Saab's Linköping site this morning. The Gripen E will operate at a higher all-up weight than the JAS 39C variant: 16.5 tonnes compared to 14 tonnes.…Read more ›
14 June 2017 | Flight Global
KC-390 tour kicks off with Swedish evaluation
Embraer has embarked on a 40-day international sales tour with its KC-390 tanker/transport, which will bring the twinjet to Sweden before making a debut Paris air show appearance next week.
13 June 2017 | IHS Jane's
Images show Myanmar Air Force JF-17/FC-1 conducting flight tests in China
Images have emerged on Chinese online forums showing what appears to be one of the first Pakistan Aeronautical Complex/Chengdu Aircraft Industry Corporation (PAC/CAC) JF-17 Thunder/FC-1 Xiaolong multirole combat aircraft on order for the Myanmar Air Force (MAF) conducting test flights in China.