First Boeing Apache, Chinook helicopters for India complete inaugural flights
28 Jul 2018

ARLINGTON, Va., July 27, 2018 — Boeing and India recently took a significant step toward modernizing the Indian Air Force's helicopter fleet by completing the first flights of Apache and Chinook helicopters destined for delivery next year.

"We look forward to delivering this phenomenal capability to India," said David Koopersmith, vice president and general manager, Boeing Vertical Lift. "From coastal operations to high-altitude mountainous missions, these aircraft will play vital roles with the Indian armed forces."

India ultimately will receive 22 AH-64E Apache attack, and 15 CH-47F(I) Chinook transport, helicopters.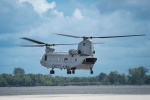 2018
30 July 2018 | Combat Aircraft
F-117s still going strong
Another video of active Lockheed F-117s has emerged, as reported by Tyler Rogoway. The latest video was posted in YouTube on July 26 and shows a pair of F-117As operating from the Tonopah Test Range. The aircraft use the callsigns…
28 July 2018 | MILAVIA News
First Boeing Apache, Chinook helicopters for India complete inaugural flights
Deliveries of 22 AH-64E Apache and 15 CH-47F(I) Chinook helicopters to India begin in 2019
27 July 2018 | Flight Global
Raytheon, Northrop fight for F/A-18C/D AESA radar upgrade
A two-way competition has started to fill a sudden requirement to replace mechanically-scanned Raytheon APG-73 radars on seven squadrons of US Marine Corps Boeing F/A-18C/Ds.
26 July 2018 | NAVAIR
FRCSW Site Camp Pendleton Inducts Last AH-1W Super Cobra
NAVAL AIR STATION NORTH ISLAND, Calif. - Artisans at Fleet Readiness Center Southwest (FRCSW) Site Camp Pendleton marked the end of an era July 18 with the induction of the last AH-1W Super Cobra to undergo the Integrated Maintenance Program...
23 July 2018 | RAF
Joint UK-Qatari Typhoon squadron stands up as defence relationship deepens
As part of the multi-billion-pound contract to supply Qatar with 24 Typhoon aircraft and 9 Hawk T2 aircraft, No.12 Squadron will integrate Qatari personnel, including pilots and ground-crew, from 2019. The personnel will be initially stationed at RAF Coningsby, and then in Qatar, undertaking a package of training and co-operation with their UK counterparts.
23 July 2018 | RAF
UK deployment in Mali reaches the next stage
British helicopters have arrived in West Africa as the UK's support to a key French counter-terrorism operation in Mali reaches its next phase. Three Royal Air Force Chinook helicopters from RAF Odiham, supported by RAF ground personnel, have now arrived in Mali ...
23 July 2018 | Flight Global
USAF offers rare glimpse of VC-25B configurations
The US Air Force s $3.9 billion contract with Boeing to modify two 747-8 commercial airliners into VC-25B presidential aircraft, commonly known as Air Force One, offered a rare glimpse into the aircrafts configurations.
16 July 2018 | IHS Jane's
Taiwan commissions first Apache brigade
Taiwan's Ministry of National Defense (MND) commissioned its first air brigade equipped with Boeing AH-64E Apache Guardian attack helicopters on 17 July. The 29 Apache helicopters will be operated by Republic of China Army's (RoCA's) 601st Air Cavalry Brigade, which operates under
16 July 2018 | Air Forces Monthly
Pakistan T129 ATAK order confirmed
Turkish Aerospace Industries (TAI) has confirmed a deal to supply the Pakistan Army with 30 T129 ATAK attack helicopters. The deal had previously been reported on May 24, in a political manifesto from Turkey's ruling Justice and Development Party, released…
16 July 2018 | Flight Global
FARNBOROUGH: Aero Vodochody unveils F/A-259 for OA-X bid
Aero Vodochody appears to have rebranded a new version of the L-159 advanced jet trainer as the F/A-259 Striker as it makes a late bid for the US Air Force's OA-X close air support programme.