BACK TO DIRECTORY

PREVIOUS / NEXT



Information

> History

Specifications

Picture Gallery

Related Links

Related News


History
The LCA is India's second attempt to develop its own combat aircraft. In the 1950s a limited number of Indian developed HF-24 Marut ground attack fighters were built by Hindustan Aeronautics Limited (HAL), but the design proved to be insuccessful. In 1983 the LCA was conceived by the Indian Air Force to replace its MiG-21 fleet in the front line tactical role.
The LCA was initially planned to be entering service between 2003 and 2005. The first LCA prototype (Technology Demonstrator TD-1) rolled out on 17 November 1995. It was powered by the US-built GE F404/F2J3. As a result of the nuclear tests conducted by India in 1998 the USA placed an embargo on the sale of the General Electric engine and the Lockheed-Martin fly-by-wire flight control system.
The first flight of the LCA had to be postponed until Aeronautical Development Establishment (ADE) finished development of a new flight control system and system integration test were completed. On 4 January 2001 the TD-1 made its first flight and after again much delay the second prototype (TD-2) made its maiden flight on 6 June 2002, also powered by the GE 404 engine. The LCA into service date was postponed to 2005 and 2007 but is more likely to become 2010.

In May 2005, the Tejas flight, now consisting of TD-1, TD-2 and the first Prototype Vehicle PV-1, completed 400 sorties. A fourth prototype, PV-2, was scheduled to make its first flight in June 2005. It has reduced structural weight and new avionics and cockpit displays.
In the mean time India started development of its own engine for the LCA. Flight testing for the Kaveri engine were planned to start in early 2003. The first prototype of the engine was undergoing system integration tests in August 2002. The second and third prototypes were expected to be ready for testing by the end of 2002 and by 2003 respectively. However the US is lifting its embargo and further GE 404 engine sales seem possible again.
Sources:
- Webpages, see related links
- Air Forces Monthly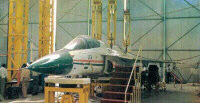 LCA TD-1 in development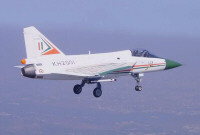 LCA first flight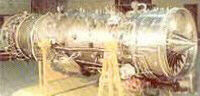 Kaveri turbofan