BACK TO DIRECTORY

PREVIOUS / NEXT



Introduction

History

Aircraft/Inventory

Units/Squadrons

> Airbases/Stations

Pilot Training

Picture Gallery

Related Links

Related Books




Airbases/Stations: Rhenen Logistics Centrum
Logistieke Divisie Rhenen (LDR - Logistic Division Rhenen) is located on an industrial area in the small town of Remmerden, which is part of Rhenen. LDR is part of the Logistics Center KLu, the other part being based at Woensdrecht. LDR main responsibility are the specialised (higher) and centralized maintenance and deployment of electronical systems of the air force. This includes inspections, repairs and modifications of the electrical part of systems and components, which are part of the aircraft, vehicles, weapons, radars and other measurement and test equipment. As secundary role the LDR provides support for operations, deployments and assistence for disaster relief.
The center includes a storage center for the electronic parts, but also for example tents, shelters and mobile catering units. It is not the task of the LDR to transport these goods, this task is undertaken by the Defensie Verkeers- en Vervoersorganisatie (Defence Traffic and Transport organisation) which is based at Soesterberg airbase.
Most aircraft logistics relocated to Woensdrecht in recent years.
Related Links

| RETURN TO MAP |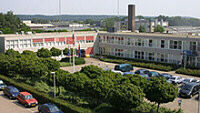 Location of the LDR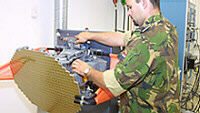 F-16 radar under maintenance