Portfolio Helmut Richter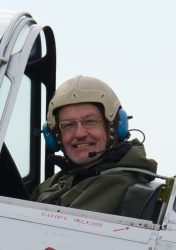 | | |
| --- | --- |
| Name | Helmut Richter |
| Location | Eichwalde , Germany |
I am 62 years old and I have been a total aviation person my life long. I started aircraft photography in the early 70's. After about 10 years, I stopped aircraft photography completely due to conflict with my professional and family life. However, the virus was only dormant, and I re-started again about 10 years ago. I very much enjoy the possibilities of todays D-SLR equipment compared with 40years ago when photography was still a lot about b&w darkroom activity and action photography was only a remote possibility with Kodachrome 25 slide films.

I was intrigued by milavia's collaborative concept and the contributions I made are my first web publications. However, quite a few of my 1970's photos have found their way into F-40 books on German Armed Forces aircraft.

In my professional life, I studied aeronautical engineering at Aachen and made my PhD in aero engines in 1983. I worked for Rolls-Royce for more than 25 years in aero engine R&D. Now I am in early retirement, but I still do consultancy for my old company.

I am married and I have 3 adult sons. I am grateful to my wife Heidi, who clearly believes I am crazy but still lives with me.



My Photos
My Published Work
milavia.net articles:
Published in January 2017

Report on the history and current status of the German Air Force's Penzing Air Base at Landsberg, while the C-160D fleet is slowly but surely retiring.

Published in January 2017

Photo report of the Airpower 16 airshow at Zeltweg air base in Austria including arrival day and Austrian SAR helicopters.

Published in September 2016

Internationale Luftfahrtausstellung (ILA) 2016 Berlin air show report with photos of the international participants and the Luftwaffe 60 year anniversary specials.

Published in July 2016

Photo report of the aircraft operating from Beja Air Base during exercise Real Thaw, the annual exercise of the Portuguese Air Force.

Published in February 2016

Visit to the German Army's Faßberg helicopter base, home of the Transporthubschrauberregiment 10 (THR10) and its NH90 Tactical Transport Helicopters.

Published in November 2015

Photo report of Poland's International Air Show 2015 at Radom-Sadkow air base held August 22-23. In addition to the Polish Air Force and Army aircraft formations, solos and display teams, also the Rafale, Typhoon, F-16, MiG-21, and others were there.

Published in October 2014

Photo report of the spotters day on June 20 prior to the Meeting de l'Air 2014 at BA120 Cazaux celebrating the 80 year anniversary of the French airforce.

Published in August 2014

Report from the Internationale Luftfahrtausstellung (ILA) 2014 held during May 20-25, 2014, at the Berlin ExpoCenter Airport near Schönefeld. Photos including the arrival and departure days.

Published in August 2014

Report from RAF Lossiemouth, Scotland, during the exercise Joint Warrior 2014-1. Maritime patrol aircraft deployed to the base included multiple P-3 Orions, P-8 Poseidon and Atlantique II.

Published in February 2014

Photo report featuring the F-4 Phantoms in the early years of West Germany's Air Force service when the F-4F replaced the F-104G Starfighters.

Published in December 2013

Photo report from the 2013 spotter day held at Neuburg air base in Bavaria by resident Jagdgeschwader 74 featuring Eurofighter EF2000 30+29 with Tiger Tail.

Published in November 2013

Photo report of the ER 2/33 'Savoie' spotter day at BA118 Mont-de-Marsan in April 2013. Mirage F1CR 604/118-CF special colour scheme in celebration of the centenary of Escadrille Br 11 'Cocotte' and 30 years of flying the Mirage F1CR.

Published in June 2013

Photo Report on the helicopter units of the Luftwaffe and Heeresflieger at Holzdorf Air Base in Germany, also including photos of NATO participants of the 2012 Combined Joint Personnel Recovery Standardization Course

Published in February 2013

Report with photos of the Bodø airshow of June 2012, celebrating 100 years of Norwegian military aviation. Featuring the Swedish Air Force Historic Flight AJS 37 Viggen and Hunter, RNoAF F-16s and others, RAF Typhoon, Finnish F-18 Hornet, and more.
My Contact Details
| | |
| --- | --- |
| Name | Helmut Richter |
| Email | |