Air Show Report : Planes of Fame Airshow 2005

On May 21-22 2005, the Planes of Fame Museum at Chino Airport in California organised their annual airshow. Although the show is dominated by the Planes of Fame's warbirds and vintage aircraft, also the US Navy and US Air Force participated with modern military jets, the F/A-18 Super Hornet and A-10 Thunderbolt II respectively. These performed the so called legacy and heritage formation flights with their ancestors. The F8F Bearcat for the Hornet, and the P-51 Mustang and P-47 Thunderbolt for the A-10.

The show was divided into several themed flights. The Pacific air war was commemorated by the Victory over Japan Navy Flight consisting of the A6M Zero against SBD Dauntless, FM-2 Wildcat, F4U Corsair and F6F Hellcat. While the Victory over Europe flight consisted of P-38 Lightning, P-51 Mustangs, P-40 Warhawk, Spitfire, Hurricane, a British Hellcat and the P-47 Thunderbolt. The Thunderbolt also performed a five aircraft formation flight. The B-25 commemorated the Doolittle Raid, and also the B-17 bomber was part of the show. And finally the Hawker Sea Fury performed its aerobatic display.

The display was not limited to WWII though, also the Korean Air War theme was part of the show with the F-86 Sabre dogfighting the MiG-15, and the A-1 Skyraider and Tigercat from that era were also present.

It was a great show with probably the one of the largest selection of warbirds in a single show ever seen. Although it was very hot, the weather was great for an airshow. Glenn E. Bloore was able to shoot these superb photos.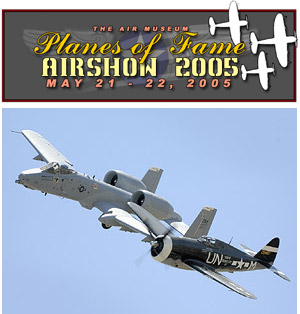 All photos by Glenn E. Bloore, GEB Photography
Many thanks to Glenn E. Bloore for sharing these superb photos with the MILAVIA website.

Additional information about the Planes of Fame airshow and museum can be found on the official Planes of Fame website
First Published: 31 May 2005
Last Modified: 8 April 2014

Update log:
04/08/14 Font-size
07/29/11 Upgraded layout
01/21/08 Fixed layout