Display Teams : RNLAF Apache Demo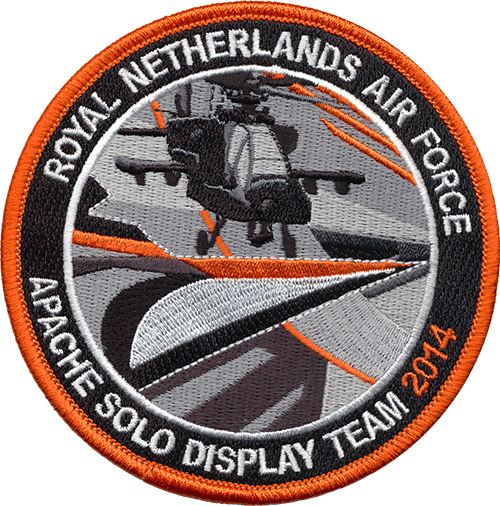 Royal Netherlands Air Force AH-64D Apache Demo Team
| | |
| --- | --- |
| Country | Netherlands |
| Unit | 301 Squadron 'Redskins', Defence Helicopter Command |
| Base | Gilze-Rijen Air Base |
| Aircraft | 1 x AH-64D Apache |
The Royal Netherlands Air Force became the first military service worldwide to form a dedicated airshow solo demonstration team using the Apache helicopter. The Apache Solo Display Team is provided by the 301 'Redskins' Apache Squadron of the Defence Helicopter Command based at Gilze-Rijen Air Base. The flying performed by the Apache Display Team includes loops and rolls among other helicopter aerobatic maneuvers, combined with the use of flares. The Apache Solo Display is very different from other attack helicopter demonstrations, which was further enhanced by adding a custom 'paintjob'.

Named the "Hawk", the Apache Solo Display uses a standard RNLAF AH-64D Apache dedicated to the team for the airshow season. The Hellfire racks and rocket pods are removed to save weight. Since 2013 the DIRCM Apache Modular Aircraft Survivability Equipment (AMASE) pods are equipped for full flares display. The 'paintjob' consists of easily removable prints and since 2011 the design is based on the outcome of a contest. For 2013, the Apache helicopter used by the demo team was Q-17, which received new, full-frame artwork commemorating 100 years of Dutch militairy aviation.

The demo Apache regularly joins up with the RNLAF F-16 Demo and sometimes historic aircraft for a formation flypast with the Apache flying top speed and the F-16 near its minimum airspeed.

Since the Apache Solo Display's introduction, the team disbanded after the 2004 season and did not return until 2010 due to operational commitments, Afghanistan in particular. The team also had to skip 2012 due to cutbacks, which had also resulted in the RNLAF not having its annual airshow. With 2013 marking 100 years of Dutch military aviation, both the RNLAF Open Days airshow and the Apache Solo Display Team returned.
RNLAF AH-64D Apache Demo Photo Gallery
RNLAF AH-64D Apache Demo Air Shows
RNLAF AH-64D Apache Demo Links