Exercise Report : Saber Junction 2016 - Aviano AB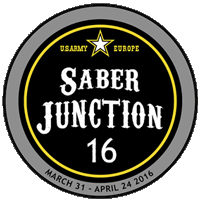 Exercise Saber Junction 2016
Valter Marchetti visited Aviano Air Base in Italy during the U.S. Army Europe's Saber Junction multinational airborne exercise.
The 173rd Airborne Brigade conducted U.S. Army Europe's largest combat training center rotation this year during exercise Saber Junction 16 at the Joint Multinational Readiness Center in Hohenfels, Germany, Mar. 31 -- Apr. 24.
Nearly 5,000 participants from 16 NATO and European partner nations took part in the exercise. Saber Junction 16, also known as JMRC Rotation 16-04, evaluated and certified the readiness of the 173rd, one of the U.S. Army's two Europe-based combat brigades. CTC rotations certify brigades as ready and deployable Army combat forces for contingency operations anywhere in the world.
Saber Junction 16 featured multi-national airborne jump near Hohenfels, followed by several days of air-land operations on the Hohenfels Training Area's Short Take-off and Landing (STOL) air strip.
While Saber Junction took place primarily in Germany, the exercise's main airborne assault force staged near the 173rd's homebase of Vicenza, Italy, and launched from nearby Aviano Airbase. No less than 14 C-130 Hercules and two C-17 Globemaster III aircraft were used for the multi-brigade airborne assault, coming from the following airlift units:
USAF
317th Airlift Group, stationed at Dyess Air Force Base
AFRES
908th Airlift Wing from Maxwell ARB
934th Airlift Wing from Minneapolis-St Paul ARS
94th Airlift Wing from Dobbins ARB
911th Airlift Wing from Pittsburgh ARS
315th Airlift Wing, which shares the same C-17 aircraft with the 437th AW from Charleston AFB
815th Airlift Squadron "Flying Jennies" from Keesler AFB
ANG
123rd Airlift Wing, Kentucky ANG
133rd Airlift Wing, Minnesota ANG
Royal Air Force

30 Squadron form RAF Brize Norton
Also present at Aviano Air Base and seen in the background here were two out of the three NATO C-17 Globemaster IIIs, aircraft 01 and 03.
With many thanks to Col Pil Stefano CIANFROCCA ITAF Aviano AB Commander and his staff for the great opportunity and to the 31st FW PAO for their support.
Valter Marchetti / AAFG (Aviano Aviation Friends Group)
Report and photos by Valter Marchetti ( view portfolio )
First Published: 5 May 2016
Last Modified: 5 May 2016