Display Teams : Turkish Stars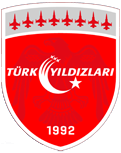 Türk Yıldızları - Turkish Stars
The Turkish Air Force (Türk Hava Kuvvetleri Air Demonstration Team "Türk Yıldızları" (Turkish Stars) performs formation aerobatic displays using eight NF-5 Freedom Fighters at national events and international airshows. The Turkish Stars based at Konya Air Base have a dedicated fleet of modified and upgraded NF-5A/B Freedom Fighters.

The Turkish Air Force had different jet formation display teams from 1952 to 1971, but the Turkish Stars became the first permanent full-time team to perform regularly. Established in 1992 with 132nd Weapons Tactics and Standardization Squadron of the 3rd Main Jet Base Command (Konya) four pilots were selected to start training for a four-ship display. On June 19,1993, the four presented their display to the military and officials. The aerobatic team received full squadron status shortly after becoming the 134th Aerobatic Team Squadron.

The 1st Air Supply and Maintenance Center (Eskişehir) started modification and painting of the aircraft in August 1993. Modifications included removal of the guns and chaff/flare dispensers, changes to the cockpit for better vision, and converting the wingtip fuel tanks to become part of the smoke system. During this period, training continued with the fifth and sixth being added. The Turkish Stars received its nine NF-5A and a single NF-5B two-seater. On October 5, the team was unveiled during the F-16 Activation Celebrations at Diyarbakır followed by a public display at the Day of the Republic ceremonies on October 29 in Ankara. The seventh aircraft was added to the display in 1995, followed by its international debut in Belgium. On August 24 2001, Turkish Stars performed a display for over a million people in Baku, Azerbaijan. The first show with 8 aircraft was performed on March 30,2004. From 2010 the Turkish Stars aircraft underwent the NF-5-2000 life extension upgrade and the squadron had 10 NF-5A-2000 and 6 NF-5B-2000 aircraft available to them in 2011.

A new paint scheme was introduced for 2013.
Turkish Stars Photo Gallery
Turkish Stars Air Shows
Turkish Stars Links