13 Aug 2007

First Flight NH90 Helicopter for the Royal Netherlands Navy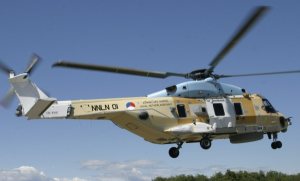 The first series produced NH90 NFH (NATO Frigate Helicopter) for the Royal Netherlands Navy made its maiden flight on Friday 10th August at AgustaWestland's Vergiate facility in Italy. The helicopter (NNLN001) took off at 14.45h and the flight duration was about 20 minutes.
The Dutch government ordered 20 NH90 naval helicopters for the Royal Netherlands Navy (RNN) in June 2000, with the first delivery scheduled for 2007. Assembly of NNLN001 started in May 2006. By this time the scheduled delivery date had slipped to April 2008. When in February 2007 concerns about the delay were expressed by the Dutch Ministry of Defense, NH Industries confirmed another delay of four to six months. Although NHI has taken steps to address the problems and increase production rates to overcome previous delays, deliveries to the RNN are not expected to commence until 2008.
Initially all 20 NH90 ordered would be NFH variants to replace the RNN fleet of 21 SH-14D Lynx helicopters, however in 2004 this was changed to 12 NFHs and eight Maritime Tactical Transport Helicopters (MTTHs). The transport variants will be operated by the Royal Netherlands Air Force (RNLAF) from Gilze-Rijen Air Base. Gilze-Rijen AB will become the air force's main helicopter base, combining all helicopter squadrons. Although the NFH variants will still be based at Naval Air Station De Kooy and operated under RNN command, it is planned all logistics support and maintenance will also take place at Gilze Rijen AB.
2020
23 March 2020 | RAF
Training update for the Red Arrows
… decision has been taken not to send the Royal Air Force Aerobatic Team, the Red Arrows, overseas for work-up training this year.
21 March 2020 | MILAVIA News
Air Show Cancellations
The challenging and unprecedented situation presented by this global crisis has forced many organizations to cancel or postpone air shows and other public aviation events.
13 March 2020 | ACC
U.S. Air Force update for air show support
"Department of the Air Force is suspending all outreach activities and support to community events through May 15. This includes, but is not limited to, on-base and civilian sponsored air shows, band performances and community engagements and meetings. "
2019
23 August 2019 | Embraer
Portugal Signs Contract for 5 Embraer KC-390s
Évora, Portugal, August 22, 2019 – The Portuguese Government and Embraer signed today, at a ceremony held at Embraer's facility in Évora, a contract for the acquisition of five multi-mission airlifters Embraer KC-390. Additionally, services and support and a flight simulator are included in the contract as part of the process to modernize Portuguese Air Force capabilities to support national Armed Forces operations and increase readiness in missions of public interest. Deliveries are scheduled to start in 2023.
23 August 2019 | RCAF
RCAF modernizing and increasing the CH-149 Cormorant search and rescue fleet
Investments in the CH-147 Cormorant helicopter fleet, announced on August 22, 2019, will see the fleet augmented by a minimum of two helicopters. The fleet will undergo upgrades and enhancements that will extend the life of the aircraft to at least 2042.
22 August 2019 | RAF
Red Arrows Join New York Flypast
The Red Arrows have joined their United States counterparts in a historic 19-aircraft flight down New York.
23 July 2019 | Combat Aircraft
ATAC moves ahead with Mirage aggressors
Textron Airborne Solution's Airborne Tactical Advantage Company (ATAC) has started high-speed taxi tests of its new Dassault Mirage F1s at its base at Alliance Airport, Texas. It initially tested Mirage F1CR registration N618AX (ex-French Air Force serial 229). On July 22, its two-seat Mirage F1B registration N601AX also joined testing (ex-French serial 502). ... Read more ›
30 May 2019 | Flight Global
Japan receives first E-2D Advanced Hawkeye
The Japan Air Self-Defense Force (JASDF) has taken delivery of its first Northrop Grumman E-2D Advanced Hawkeye airborne early warning & control (AEW&C) aircraft.
28 May 2019 | RAF
Transatlantic Season for Red Arrows gets Underway
Following months of training, the Royal Air Force Aerobatic Team has been given the go-ahead to begin one of its busiest ever seasons. The Red Arrows' 2019 campaign will culminate in a major tour of North America and displays and flypasts across the United Kingdom and mainland Europe.
27 May 2019 | Lockheed Martin
Sikorsky Formally Responds to Call for Competition for Germany's New Heavy Lift Helicopter
BERLIN May 27, 2019 – Sikorsky, a Lockheed Martin company, formally responded to the German Air Force "Schwerer Transporthubschrauber" (STH) Program call for competition. Sikorsky expects to offer the most modern heavy lift helicopter in production, the CH-53K King Stallion, in response to the official Request for Proposals, which is expected this summer. The new STH heavy lifter will allow the Bundeswehr to move troops and equipment more quickly, safely and effectively than ever before.