Fourth Airbus Military A400M makes first flight
20 Dec 2010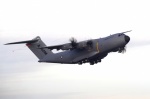 Grizzly fleet ends 2010 with 1,000 hours in the air

Madrid, 20 December 2010

The fourth Airbus Military A400M military airlifter has made its first flight – the culmination of a highly successful 2010 which also saw the fleet of Grizzly development aircraft complete just over 1,000 hours flight-time and 300 flights.

Known as Grizzly 4, the aircraft took off from Seville, Spain with a weight of 130 tonnes at 10h18 local time (GMT+1) and landed five hours and ten minutes later.

Experimental Test Pilot Klaus-Dietrich Flade captained the flight, supported by Experimental Test Pilot Christophe Cail. The crew also included Test Flight Engineers José Aragón-Gómez and, Bruno Bigand, and Flight Test Engineers José Casado-Corpas, and Catherine Schneider. Catherine is the first female Flight Test Engineer and test crew member to participate in an A400M first flight.

Grizzly 4 is the fourth of an eventual five aircraft which will conduct the 3,700 hour flight-test programme leading to first delivery in around two years time. It will be primarily dedicated to cargo and air-to-air refuelling operations and carries a medium flight-test instrumentation load.

Airbus Head of Flight Operations Fernando Alonso said: "The on-time first flight of Grizzly 4 highlights what has been an excellent first year of the flight-test programme. We end 2010 fully on schedule and with every expectation of rapidly building flight-hours and hitting our key test objectives in the year ahead. I am particularly proud of the seamless work done by the Airbus and Airbus Military teams in the Seville and Toulouse Flight Test Centres which has been instrumental in this achievement."

The maiden flight of Grizzly 4 followed the completion of a series of milestones in recent months – notably the first paratrooper jumps from the aircraft, which were highly successful and demonstrated the excellent potential of the aircraft for this military operation. Flights with the ramp and doors open have proceeded smoothly.

An extensive programme of flying the aircraft with simulated icing shapes attached to the wings and tail has been completed. These flights were performed by Airbus and European Aviation Safety Agency (EASA) flight crews and represent the first set of certification tests completed on the A400M.

Preliminary tests of protective kits for rough-field operations have been completed in preparation for next year´s trials.

Flight and ground load testing is complete, as is measurement of cruise performance. All major aircraft systems have been tested and flutter tests throughout the flight envelope are extremely close to completion.

The Europrop International (EPI) TP400 engines have been performing well, with the in-flight relight capability having been successfully demonstrated and ground starts following an overnight cold-soak recently performed. Behaviour of the auxiliary power unit has been excellent, and it has been started as high as 40,000ft.

Following the A400M's maiden flight on 11the December 2009, earlier this year Grizzly 2 and Grizzly 3 made their first flights in respectively April and July and their introduction into the fleet made possible the outstanding demonstrations of the A400M´s handling qualities at the Berlin and Farnborough airshows.
2022
12 January 2022 | ACC
Thunderbirds Kick-Off Inaugural Training Trip
The United States Air Force Air Demonstration Squadron "Thunderbirds" kicked off their first ever winter training trip in Truth or Consequences, New Mexico, Jan. 10. The Thunderbirds' training season, ranging from November through March, is a time to integrate and synchronize as a team and practice the demonstration.
2021
20 May 2021 | RAF
Red Arrows Return to UK Airshows
Audiences across the UK can once again enjoy the spectacular displays of the Red Arrows the first time in almost two years. 
14 March 2021 | RAF
RAF Typhoons conduct strikes against Daesh in support of Iraqi ground forces
RAF Typhoons operating as part of the counter-Daesh Coalition have conducted a series of air strikes in support of Iraqi ground forces.
11 March 2021 | USAF News
Air Force receives first F-15EX
The U.S. Air Force officially accepted the first F-15EX from the Boeing Co. March 10 at the company's St. Louis facility.
25 February 2021 | RAF
RAF Sentinel R1 aircraft conducts last operational flight
The RAF Sentinel R1 aircraft has carried out its last operational flight after 14 years of service. The Sentinel R1 aircraft of V (Army Cooperation) Squadron have flown circa 32,300 hours conducting approximately 4,870 sorties during its service life. The withdrawal from service was first announced as part of the 2015 Strategic Defence and Security Review.
17 February 2021 | RAF
RAF Typhoons carry out second round of airstrikes against Daesh targets in Iraq this year
RAF Typhoons have carried out airstrikes against Daesh targets in Iraq for the second time this year.
2020
23 March 2020 | RAF
Training update for the Red Arrows
… decision has been taken not to send the Royal Air Force Aerobatic Team, the Red Arrows, overseas for work-up training this year.
21 March 2020 | MILAVIA News
Air Show Cancellations
The challenging and unprecedented situation presented by this global crisis has forced many organizations to cancel or postpone air shows and other public aviation events.
13 March 2020 | ACC
U.S. Air Force update for air show support
"Department of the Air Force is suspending all outreach activities and support to community events through May 15. This includes, but is not limited to, on-base and civilian sponsored air shows, band performances and community engagements and meetings. "
2019
23 August 2019 | Embraer
Portugal Signs Contract for 5 Embraer KC-390s
Évora, Portugal, August 22, 2019 – The Portuguese Government and Embraer signed today, at a ceremony held at Embraer's facility in Évora, a contract for the acquisition of five multi-mission airlifters Embraer KC-390. Additionally, services and support and a flight simulator are included in the contract as part of the process to modernize Portuguese Air Force capabilities to support national Armed Forces operations and increase readiness in missions of public interest. Deliveries are scheduled to start in 2023.