55 Pilatus PC-21 Trainers Ordered for Royal Saudi Air Force
25 May 2012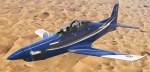 Pilatus Aircraft Ltd announced today that a contract has been signed with BAE Systems to supply the Royal Saudi Air Force (RSAF) with a fleet of 55 Pilatus PC-21 turboprop aircraft, together with an integrated ground based training system and logistics support.

Following agreement between Saudi Arabia and the United Kingdom under the Saudi British Defence Cooperation Programme (SBDCP), deliveries of the aircraft, ground based training systems and the logistics support package are scheduled to commence in 2014. The aircraft will provide basic flying training in Riyadh to the RSAF and will replace the PC-9 with the state-of-the-art PC-21 platform.

25 years have passed since the initial batch of Pilatus PC-9 training aircraft were delivered to the RSAF under an agreement with BAE Systems. The RSAF has selected the PC-21 aircraft and ground based training system following a thorough evaluation both in Stans, Switzerland, and under hot weather conditions in Riyadh Saudi Arabia.

After Switzerland, Singapore and the UAE, Saudi Arabia is now the fourth country to procure the PC-21 for training future pilots of advanced operational aircraft now coming into service with major air forces around the world.
2022
12 January 2022 | ACC
Thunderbirds Kick-Off Inaugural Training Trip
The United States Air Force Air Demonstration Squadron "Thunderbirds" kicked off their first ever winter training trip in Truth or Consequences, New Mexico, Jan. 10. The Thunderbirds' training season, ranging from November through March, is a time to integrate and synchronize as a team and practice the demonstration.
2021
20 May 2021 | RAF
Red Arrows Return to UK Airshows
Audiences across the UK can once again enjoy the spectacular displays of the Red Arrows the first time in almost two years. 
14 March 2021 | RAF
RAF Typhoons conduct strikes against Daesh in support of Iraqi ground forces
RAF Typhoons operating as part of the counter-Daesh Coalition have conducted a series of air strikes in support of Iraqi ground forces.
11 March 2021 | USAF News
Air Force receives first F-15EX
The U.S. Air Force officially accepted the first F-15EX from the Boeing Co. March 10 at the company's St. Louis facility.
25 February 2021 | RAF
RAF Sentinel R1 aircraft conducts last operational flight
The RAF Sentinel R1 aircraft has carried out its last operational flight after 14 years of service. The Sentinel R1 aircraft of V (Army Cooperation) Squadron have flown circa 32,300 hours conducting approximately 4,870 sorties during its service life. The withdrawal from service was first announced as part of the 2015 Strategic Defence and Security Review.
17 February 2021 | RAF
RAF Typhoons carry out second round of airstrikes against Daesh targets in Iraq this year
RAF Typhoons have carried out airstrikes against Daesh targets in Iraq for the second time this year.
2020
23 March 2020 | RAF
Training update for the Red Arrows
… decision has been taken not to send the Royal Air Force Aerobatic Team, the Red Arrows, overseas for work-up training this year.
21 March 2020 | MILAVIA News
Air Show Cancellations
The challenging and unprecedented situation presented by this global crisis has forced many organizations to cancel or postpone air shows and other public aviation events.
13 March 2020 | ACC
U.S. Air Force update for air show support
"Department of the Air Force is suspending all outreach activities and support to community events through May 15. This includes, but is not limited to, on-base and civilian sponsored air shows, band performances and community engagements and meetings. "
2019
23 August 2019 | Embraer
Portugal Signs Contract for 5 Embraer KC-390s
Évora, Portugal, August 22, 2019 – The Portuguese Government and Embraer signed today, at a ceremony held at Embraer's facility in Évora, a contract for the acquisition of five multi-mission airlifters Embraer KC-390. Additionally, services and support and a flight simulator are included in the contract as part of the process to modernize Portuguese Air Force capabilities to support national Armed Forces operations and increase readiness in missions of public interest. Deliveries are scheduled to start in 2023.