Eurofighter Typhoon Achieves 200,000 Flying Hours
09 Sep 2013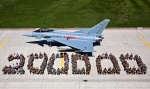 Eurofighter Typhoon has now achieved more than 200,000 flying hours since the entry-into-service of its worldwide fleet. Eurofighter Jagdflugzeug GmbH confirmed the milestone today adding that, with 719 aircraft on contract, 571 aircraft ordered and 378 aircraft delivered, the programme has "never looked stronger".

Alberto Gutierrez, Chief Executive Officer of Eurofighter Jagdflugzeug GmbH, said: "This impressive milestone underlines the outstanding track-record of the Eurofighter Typhoon. Today, our congratulations go to all the air forces who have achieved this target, to more than 100,000 employees in Europe who are involved in the development manufacturing and supply chain as well as to all the 400 companies who support us on a daily basis with their know-how and competences. This is indeed a proud day for all of them and a landmark day for Europe's largest defence programme."

The CEO added: "Every day our aircraft are protecting the skies in Europe, the Middle East and even in the Southern hemisphere. They are on Quick Reaction Alert (QRA) duty 24 hours a day, 7 days a week. Eurofighter Typhoon is combat proven since the Libya operations and is now gaining considerable momentum – indeed the programme has never looked stronger. It has become the backbone of the Air Forces in the UK, Germany, Italy, Spain and Austria. When the chips are down, air chiefs want an aircraft that is versatile, reliable, resilient and cost-effective. Eurofighter Typhoon fulfills all of these requirements and the operational experiences gained during these flying hours have proven it."

The first 5,000 flying hours were achieved in November 2005. 10,000 hours came in August 2006 and 20,000 in May 2007. By August 2008, the Eurofighter Typhoon fleet had surpassed 50,000 hours and 100,000 flying hours was reached in January 2011. In the course of these flying hours, Eurofighter has demonstrated 100 per cent availability in numerous international deployments including: Alaska; Malaysia; the United Arab Emirates; the USA; and India.

The global Eurofighter fleet now comprises 20 operating units with locations in Europe, the South Atlantic and the Middle East. Specifically there are: 7 units in the UK (4 in Coningsby, 2 in Leuchars and 1 in Mount Pleasant, Falkland Islands); 5 in Italy (2 in Grosseto, 2 in Gioia del Colle, 1 in Trapani); 3 in Germany (Laage, Neuburg and Nörvenich), as well as 3 in Spain (2 in Morón, 1 in Albacete) and one each in Austria (Zeltweg) and in the Kingdom of Saudi Arabia - all of them have contributed to the 200,000 flying hour total.

2022
12 January 2022 | ACC
Thunderbirds Kick-Off Inaugural Training Trip
The United States Air Force Air Demonstration Squadron "Thunderbirds" kicked off their first ever winter training trip in Truth or Consequences, New Mexico, Jan. 10. The Thunderbirds' training season, ranging from November through March, is a time to integrate and synchronize as a team and practice the demonstration.
2021
20 May 2021 | RAF
Red Arrows Return to UK Airshows
Audiences across the UK can once again enjoy the spectacular displays of the Red Arrows the first time in almost two years. 
14 March 2021 | RAF
RAF Typhoons conduct strikes against Daesh in support of Iraqi ground forces
RAF Typhoons operating as part of the counter-Daesh Coalition have conducted a series of air strikes in support of Iraqi ground forces.
11 March 2021 | USAF News
Air Force receives first F-15EX
The U.S. Air Force officially accepted the first F-15EX from the Boeing Co. March 10 at the company's St. Louis facility.
25 February 2021 | RAF
RAF Sentinel R1 aircraft conducts last operational flight
The RAF Sentinel R1 aircraft has carried out its last operational flight after 14 years of service. The Sentinel R1 aircraft of V (Army Cooperation) Squadron have flown circa 32,300 hours conducting approximately 4,870 sorties during its service life. The withdrawal from service was first announced as part of the 2015 Strategic Defence and Security Review.
17 February 2021 | RAF
RAF Typhoons carry out second round of airstrikes against Daesh targets in Iraq this year
RAF Typhoons have carried out airstrikes against Daesh targets in Iraq for the second time this year.
2020
23 March 2020 | RAF
Training update for the Red Arrows
… decision has been taken not to send the Royal Air Force Aerobatic Team, the Red Arrows, overseas for work-up training this year.
21 March 2020 | MILAVIA News
Air Show Cancellations
The challenging and unprecedented situation presented by this global crisis has forced many organizations to cancel or postpone air shows and other public aviation events.
13 March 2020 | ACC
U.S. Air Force update for air show support
"Department of the Air Force is suspending all outreach activities and support to community events through May 15. This includes, but is not limited to, on-base and civilian sponsored air shows, band performances and community engagements and meetings. "
2019
23 August 2019 | Embraer
Portugal Signs Contract for 5 Embraer KC-390s
Évora, Portugal, August 22, 2019 – The Portuguese Government and Embraer signed today, at a ceremony held at Embraer's facility in Évora, a contract for the acquisition of five multi-mission airlifters Embraer KC-390. Additionally, services and support and a flight simulator are included in the contract as part of the process to modernize Portuguese Air Force capabilities to support national Armed Forces operations and increase readiness in missions of public interest. Deliveries are scheduled to start in 2023.