25 Jul 2007

First Flight Canadian C-17 Globemaster III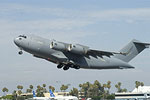 On July 25, 2007, the first of four Boeing C-17A Globemaster III strategic transport aircraft for the Canadian Defense Forces took flight for the first time Monday. Flown by Boeing crew, the aircraft lifted off from Long Beach, California, at 3:36 p.m. Pacific time, and flew for three hours and 45 minutes. The aircraft is scheduled to be delivered to Canada on August 8, 2007.
The direct commercial purchase contract for four aircraft was signed on February 2, 2007, making Canada the fourth nation to operate the C-17. The Canadian C-17s will be based at Canadian Forces Base in Trenton, Ontario. The last aircraft will be delivered in 2009.
The Royal Australian Air Force recently took delivery of its second C-17A Globemaster in May 2007. The Royal Air Force has ordered a fifth aircraft which is in production now. The RAF plans to buy the current four C-17s when their lease expires in 2008. Finally, NATO allies agreed on setting up a new NATO agency to acquire and operate three to four C-17s under the NATO Strategic Airlift Capability initiative. Meanwhile deliveries to the US Air Force are continuing, which ordered a total of 190 aircraft, of which more than 160 aircraft are in operation now. Without more orders from the US government, Boeing announced that the production line will close in 2009.
2019
30 April 2019 | MILAVIA News
U.S. Air Force F-35As conduct first combat employment
SOUTHWEST ASIA --
Two U.S. Air Force F-35A Lightning II aircraft conducted an air strike at Wadi Ashai, Iraq, in support of Combined Joint Task Force – Operation Inherent Resolve on April 30.
This strike marked the F-35A's first combat employment.
The F-35As conducted the airstrike using a Joint Direct Attack Munition to strike an entrenched Daesh tunnel network and weapons cache deep in the Hamrin Mountains, a location able to threaten friendly forces.
21 February 2019 | RAF
Royal Air Force Chief of the Air Staff takes final Tornado flight over Scotland
Nearly 26 years after being introduced at RAF Lossiemouth, the iconic Tornado aircraft returned to Scottish skies for the last time this week.
18 February 2019 | RAF
Britain to celebrate iconic Tornado during farewell flypast
With almost 40 years of Royal Air Force service coming to an end, the iconic Tornado jet is undertaking a series of finale flypasts around the UK.
7 February 2019 | RAF
Red Arrows' North American displays revealed
A list of locations where people can see the Red Arrows display during a major tour of North America has been released.
4 February 2019 | RAF
The end of an era: RAF Tornado returns from Operations for the last time
After almost 40 years serving the UK on military operations across the world, Tornado jets have returned home for the last time.
24 January 2019 | RAF
Royal Air Force Commemorates Iconic Tornado Fast Jet
The Royal Air Force has released stunning images of a unique aircraft formation to celebrate forty years of service by the Tornado GR4 fast jet.
7 January 2019 | IHS Jane's
Serbia resumes G-4 Super Galeb upgrade
Serbian Defence Minister Aleksandar Vulin told media on 29 December that work has resumed on the upgrade of the Soko G-4 Super Galeb single-engine advanced training and light attack aircraft. No further details were provided. In March 2018 the Serbian Ministry of Defence (MoD) presented the G-4
3 January 2019 | Flight Global
Modernised Tu-22M3M makes flight debut
Russia's first modernised Tupolev Tu-22M3M strategic bomber got airborne for the first time on 28 December 2018, completing a 37min sortie from the Kazan Aviation Plant.
3 January 2019 | Boeing
Boeing to Modernize Entire Spanish Chinook Helicopter Fleet
Will remanufacture 17 CH-47D Chinooks to the CH-47F configuration for Spain's Army
2018
21 December 2018 | Flight Global
Leonardo flies first production-standard M-345
Leonardo has flown the production-standard version of its M-345 jet trainer, as it works towards service entry with the Italian air force in 2020.