03 Oct 2007

First Merlin HC.3A Helicopters Unveiled at RAF Benson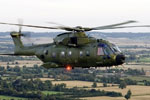 The first two of six new Merlin Helicopters acquired from Denmark were unveiled at RAF Benson on Wednesday 3 October 2007, by Minister of State for Defence Equipment and Support Lord Drayson. The Minister also announced the establishment of a new RAF Merlin Squadron - 78 Squadron - to be based at Benson.
Prior to delivery the Merlins have been undergoing modifications by AgustaWestland in Yeovil to upgrade the aircraft to RAF standards, with operational enhancements and the latest BERP IV advanced rotor-blades which offer improvements to speed, range and lift capacity of the platform, and will give the hot-high performance needed to deploy to Afghanistan. The new standard is designated HC.3A.
The Danish EH101 Mk 512 Merlins were equipped with Directional Infra-Red Countermeasures, chin-mounted Forward Looking Infra-Red turret, Electronic Support Measures, Electronic Warfare Suite, Enhanced Ground Proximity Warning System, secure digital intercommunications system and the RDR-1600 SAR Weather Aviodance Radar. Although so far only the RDR-1600 radar has been confirmed to be retained, this equipment would be well suited to the Special Ops role.
The six EH101 Merlins were originally bought by the Danish Government from AgustaWestland, four of which were configured for the SAR role. Before entering service in Denmark, it was agreed to transfer them to the UK in order to deliver a rapid increase in helicopters for the UK's operations. The UK MOD has entered into a contract with AgustaWestland to produce six new Merlin helicopters for Denmark as replacements for the six transferred.
The agreement with Denmark and AgustaWestland has a cost to the UK of £174.7m, including the airframes, some RAF specific modifications (including defensive aids), spares and new rotor-blades.
The existing RAF Merlin HC.3 fleet of 22 is currently operated by 28 (AC) Squadron from RAF Benson in Oxfordshire. A second Merlin Squadron, 78 Squadron, will be formed in December 2007 to operate the eight new HC.3A examples. At present crews are being trained for the new Squadron. The Merlin fleet will be split between the two Squadrons.
See also:
- <a href="http://www.milavia.net/news/2007/first-ex-rdaf-merlin-for-raf-arrived-at-raf-benson.html" class="news">First ex-RDAF Merlin for RAF Arrived at RAF Benson (01 Aug) </a>
- <a href="http://www.milavia.net/news/2007/first-danish-merlin-helicopters-for-raf-arrive-in-uk.html" class="news">Danish Merlin Helicopters for RAF Arrive in UK (29 June 2007)</a>.
Source: UK MOD / AFM Oct07
2018
22 November 2018 | Airbus Helicopters
Serbia receives first out of nine H145Ms
The Serbian Minister of Defence Aleksandar Vulin visited the Airbus Helicopters Donauwörth site to accept the first H145M for the Serbian Air Force.
19 November 2018 | IHS Jane's
F-35B first-of-class flight tests from Queen Elizabeth complete
F-35B Lightning first-of-class flight trials (fixed wing) (FOCFT[FW]) from the UK Royal Navy (RN) aircraft carrier HMS Queen Elizabeth have concluded after completion of a second phase of development testing (DT-2) off the US Eastern Seaboard. Wrapping up on 18 November, a day ahead of schedule,
19 November 2018 | ACC
F-35A combat power exercise conducted at Hill AFB
The active duty 388th Fighter Wing and Air Force Reserve 419th Fighter Wing conducted a combat power exercise Nov. 19, launching dozens of F-35A Lightning IIs within a condensed period of time.
15 November 2018 | Flight Global
Bahrain confirms purchase of 12 AH-1Z Vipers
Bahrain has confirmed its order for 12 Bell AH-1Z Vipers, six months after the US Department of State approved the deal, worth an estimated $912 million, under the Foreign Military Sales process.
15 November 2018 | Flight Global
Massive F-35 deal covers production into 2023
Lockheed Martin has won a $22.7 billion contract to supply 255 F-35 Lightning II fighters for the three branches of the US armed services and international operators.
12 November 2018 | Flight Global
F3-R-standard Rafale gains French approval
Dassault has achieved French military qualification for the F3-R-standard variant of the Rafale combat aircraft.
8 November 2018 | RAF
Eurofighter fleet passes 500,000 flying hours
A Royal Air Force Typhoon has received special markings to mark the global fleet of Eurofighter aircraft passing the 500,000 flying hours mark.
28 September 2018 | UK MOD
Fighter jets join forces with British aircraft carrier to make history
The first F-35 Lightning fighter jets have landed on the deck of the United Kingdom's new aircraft carrier, making history and marking the beginning of more than half-a-century of 'Carrier Strike' operations.
28 September 2018 | Flight Global
F-35 suffers first crash in South Carolina
One day after the US Marine Corps conducted its first air strike with the Lockheed Martin F-35B over Afghanistan, another one of the stealth fighters crashed near USMC Air Station Beaufort, South Carolina.
28 September 2018 | Flight Global
​Lockheed Martin F-35A price dips below $90m for first time
After drawn out negotiations with the Department of Defense, Lockheed Martin signed a contract to produce the eleventh lot of the F-35A for $89.2 million per unit.