03 Oct 2007

First Merlin HC.3A Helicopters Unveiled at RAF Benson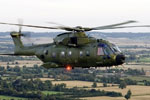 The first two of six new Merlin Helicopters acquired from Denmark were unveiled at RAF Benson on Wednesday 3 October 2007, by Minister of State for Defence Equipment and Support Lord Drayson. The Minister also announced the establishment of a new RAF Merlin Squadron - 78 Squadron - to be based at Benson.
Prior to delivery the Merlins have been undergoing modifications by AgustaWestland in Yeovil to upgrade the aircraft to RAF standards, with operational enhancements and the latest BERP IV advanced rotor-blades which offer improvements to speed, range and lift capacity of the platform, and will give the hot-high performance needed to deploy to Afghanistan. The new standard is designated HC.3A.
The Danish EH101 Mk 512 Merlins were equipped with Directional Infra-Red Countermeasures, chin-mounted Forward Looking Infra-Red turret, Electronic Support Measures, Electronic Warfare Suite, Enhanced Ground Proximity Warning System, secure digital intercommunications system and the RDR-1600 SAR Weather Aviodance Radar. Although so far only the RDR-1600 radar has been confirmed to be retained, this equipment would be well suited to the Special Ops role.
The six EH101 Merlins were originally bought by the Danish Government from AgustaWestland, four of which were configured for the SAR role. Before entering service in Denmark, it was agreed to transfer them to the UK in order to deliver a rapid increase in helicopters for the UK's operations. The UK MOD has entered into a contract with AgustaWestland to produce six new Merlin helicopters for Denmark as replacements for the six transferred.
The agreement with Denmark and AgustaWestland has a cost to the UK of £174.7m, including the airframes, some RAF specific modifications (including defensive aids), spares and new rotor-blades.
The existing RAF Merlin HC.3 fleet of 22 is currently operated by 28 (AC) Squadron from RAF Benson in Oxfordshire. A second Merlin Squadron, 78 Squadron, will be formed in December 2007 to operate the eight new HC.3A examples. At present crews are being trained for the new Squadron. The Merlin fleet will be split between the two Squadrons.
See also:
- <a href="http://www.milavia.net/news/2007/first-ex-rdaf-merlin-for-raf-arrived-at-raf-benson.html" class="news">First ex-RDAF Merlin for RAF Arrived at RAF Benson (01 Aug) </a>
- <a href="http://www.milavia.net/news/2007/first-danish-merlin-helicopters-for-raf-arrive-in-uk.html" class="news">Danish Merlin Helicopters for RAF Arrive in UK (29 June 2007)</a>.
Source: UK MOD / AFM Oct07
2019
21 February 2019 | RAF
Royal Air Force Chief of the Air Staff takes final Tornado flight over Scotland
Nearly 26 years after being introduced at RAF Lossiemouth, the iconic Tornado aircraft returned to Scottish skies for the last time this week.
18 February 2019 | RAF
Britain to celebrate iconic Tornado during farewell flypast
With almost 40 years of Royal Air Force service coming to an end, the iconic Tornado jet is undertaking a series of finale flypasts around the UK.
7 February 2019 | RAF
Red Arrows' North American displays revealed
A list of locations where people can see the Red Arrows display during a major tour of North America has been released.
4 February 2019 | RAF
The end of an era: RAF Tornado returns from Operations for the last time
After almost 40 years serving the UK on military operations across the world, Tornado jets have returned home for the last time.
24 January 2019 | RAF
Royal Air Force Commemorates Iconic Tornado Fast Jet
The Royal Air Force has released stunning images of a unique aircraft formation to celebrate forty years of service by the Tornado GR4 fast jet.
7 January 2019 | IHS Jane's
Serbia resumes G-4 Super Galeb upgrade
Serbian Defence Minister Aleksandar Vulin told media on 29 December that work has resumed on the upgrade of the Soko G-4 Super Galeb single-engine advanced training and light attack aircraft. No further details were provided. In March 2018 the Serbian Ministry of Defence (MoD) presented the G-4
3 January 2019 | Flight Global
Modernised Tu-22M3M makes flight debut
Russia's first modernised Tupolev Tu-22M3M strategic bomber got airborne for the first time on 28 December 2018, completing a 37min sortie from the Kazan Aviation Plant.
3 January 2019 | Boeing
Boeing to Modernize Entire Spanish Chinook Helicopter Fleet
Will remanufacture 17 CH-47D Chinooks to the CH-47F configuration for Spain's Army
2018
21 December 2018 | Flight Global
Leonardo flies first production-standard M-345
Leonardo has flown the production-standard version of its M-345 jet trainer, as it works towards service entry with the Italian air force in 2020.
18 December 2018 | Flight Global
​Tokyo set to become second biggest F-35 operator
The Japanese cabinet has approved a plan to add an additional 105 Lockheed Martin F-35s to its planned fleet of 42 examples, potentially making it the world s second largest F-35 operator.