19 Jul 2007

Northrop Grumman To Build Next Three E-2D Advanced Hawkeyes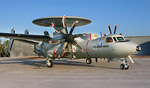 On July 19, 2007 - Northrop Grumman has been awarded a $408 million pilot production contract to produce the next three E-2D Advanced Hawkeye airborne early warning and battle management command and control (AEW/BMC2) aircraft for the U.S. Navy from 2007 to 2010.
This contract is a follow-on to the $1.93 billion System Development and Demonstration Contract (SD&D) awarded on August 4, 2003, for two test aircraft. The first E-2D Advanced Hawkeye development aircraft, known as Delta One, was rolled out on April 30, 2007. It is slated to fly in late summer, with the second SD&D aircraft scheduled for its first flight later in 2007.
Though externally similar in appearance to the E-2C, the systems are completely redesigned and the capabilities expanded. The E-2D is fitted with a new radar, Lockheed Martin's AN/APY-9, with better detection of small targets and at greater ranges than the current E-2C's AN/APS-145 radar. The new rotodome contains an electronically scanned array that provides continuous, 360-degree scanning. This capability allows flight operators to focus the radar on select areas of interest.
For better battlespace management and situational awareness by the operators, the aircraft will have new radar system workstations, integrated satellite communications capabilities and other management tools. The E-2D has furthermore a new modern glass cockpit that enables one of the two pilots to serve as an additional operator when necessary.
2019
21 February 2019 | RAF
Royal Air Force Chief of the Air Staff takes final Tornado flight over Scotland
Nearly 26 years after being introduced at RAF Lossiemouth, the iconic Tornado aircraft returned to Scottish skies for the last time this week.
18 February 2019 | RAF
Britain to celebrate iconic Tornado during farewell flypast
With almost 40 years of Royal Air Force service coming to an end, the iconic Tornado jet is undertaking a series of finale flypasts around the UK.
7 February 2019 | RAF
Red Arrows' North American displays revealed
A list of locations where people can see the Red Arrows display during a major tour of North America has been released.
4 February 2019 | RAF
The end of an era: RAF Tornado returns from Operations for the last time
After almost 40 years serving the UK on military operations across the world, Tornado jets have returned home for the last time.
24 January 2019 | RAF
Royal Air Force Commemorates Iconic Tornado Fast Jet
The Royal Air Force has released stunning images of a unique aircraft formation to celebrate forty years of service by the Tornado GR4 fast jet.
7 January 2019 | IHS Jane's
Serbia resumes G-4 Super Galeb upgrade
Serbian Defence Minister Aleksandar Vulin told media on 29 December that work has resumed on the upgrade of the Soko G-4 Super Galeb single-engine advanced training and light attack aircraft. No further details were provided. In March 2018 the Serbian Ministry of Defence (MoD) presented the G-4
3 January 2019 | Flight Global
Modernised Tu-22M3M makes flight debut
Russia's first modernised Tupolev Tu-22M3M strategic bomber got airborne for the first time on 28 December 2018, completing a 37min sortie from the Kazan Aviation Plant.
3 January 2019 | Boeing
Boeing to Modernize Entire Spanish Chinook Helicopter Fleet
Will remanufacture 17 CH-47D Chinooks to the CH-47F configuration for Spain's Army
2018
21 December 2018 | Flight Global
Leonardo flies first production-standard M-345
Leonardo has flown the production-standard version of its M-345 jet trainer, as it works towards service entry with the Italian air force in 2020.
18 December 2018 | Flight Global
​Tokyo set to become second biggest F-35 operator
The Japanese cabinet has approved a plan to add an additional 105 Lockheed Martin F-35s to its planned fleet of 42 examples, potentially making it the world s second largest F-35 operator.