19 Jul 2007

Northrop Grumman To Build Next Three E-2D Advanced Hawkeyes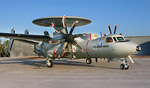 On July 19, 2007 - Northrop Grumman has been awarded a $408 million pilot production contract to produce the next three E-2D Advanced Hawkeye airborne early warning and battle management command and control (AEW/BMC2) aircraft for the U.S. Navy from 2007 to 2010.
This contract is a follow-on to the $1.93 billion System Development and Demonstration Contract (SD&D) awarded on August 4, 2003, for two test aircraft. The first E-2D Advanced Hawkeye development aircraft, known as Delta One, was rolled out on April 30, 2007. It is slated to fly in late summer, with the second SD&D aircraft scheduled for its first flight later in 2007.
Though externally similar in appearance to the E-2C, the systems are completely redesigned and the capabilities expanded. The E-2D is fitted with a new radar, Lockheed Martin's AN/APY-9, with better detection of small targets and at greater ranges than the current E-2C's AN/APS-145 radar. The new rotodome contains an electronically scanned array that provides continuous, 360-degree scanning. This capability allows flight operators to focus the radar on select areas of interest.
For better battlespace management and situational awareness by the operators, the aircraft will have new radar system workstations, integrated satellite communications capabilities and other management tools. The E-2D has furthermore a new modern glass cockpit that enables one of the two pilots to serve as an additional operator when necessary.
2018
22 November 2018 | Airbus Helicopters
Serbia receives first out of nine H145Ms
The Serbian Minister of Defence Aleksandar Vulin visited the Airbus Helicopters Donauwörth site to accept the first H145M for the Serbian Air Force.
19 November 2018 | IHS Jane's
F-35B first-of-class flight tests from Queen Elizabeth complete
F-35B Lightning first-of-class flight trials (fixed wing) (FOCFT[FW]) from the UK Royal Navy (RN) aircraft carrier HMS Queen Elizabeth have concluded after completion of a second phase of development testing (DT-2) off the US Eastern Seaboard. Wrapping up on 18 November, a day ahead of schedule,
19 November 2018 | ACC
F-35A combat power exercise conducted at Hill AFB
The active duty 388th Fighter Wing and Air Force Reserve 419th Fighter Wing conducted a combat power exercise Nov. 19, launching dozens of F-35A Lightning IIs within a condensed period of time.
15 November 2018 | Flight Global
Bahrain confirms purchase of 12 AH-1Z Vipers
Bahrain has confirmed its order for 12 Bell AH-1Z Vipers, six months after the US Department of State approved the deal, worth an estimated $912 million, under the Foreign Military Sales process.
15 November 2018 | Flight Global
Massive F-35 deal covers production into 2023
Lockheed Martin has won a $22.7 billion contract to supply 255 F-35 Lightning II fighters for the three branches of the US armed services and international operators.
12 November 2018 | Flight Global
F3-R-standard Rafale gains French approval
Dassault has achieved French military qualification for the F3-R-standard variant of the Rafale combat aircraft.
8 November 2018 | RAF
Eurofighter fleet passes 500,000 flying hours
A Royal Air Force Typhoon has received special markings to mark the global fleet of Eurofighter aircraft passing the 500,000 flying hours mark.
28 September 2018 | UK MOD
Fighter jets join forces with British aircraft carrier to make history
The first F-35 Lightning fighter jets have landed on the deck of the United Kingdom's new aircraft carrier, making history and marking the beginning of more than half-a-century of 'Carrier Strike' operations.
28 September 2018 | Flight Global
F-35 suffers first crash in South Carolina
One day after the US Marine Corps conducted its first air strike with the Lockheed Martin F-35B over Afghanistan, another one of the stealth fighters crashed near USMC Air Station Beaufort, South Carolina.
28 September 2018 | Flight Global
​Lockheed Martin F-35A price dips below $90m for first time
After drawn out negotiations with the Department of Defense, Lockheed Martin signed a contract to produce the eleventh lot of the F-35A for $89.2 million per unit.