13 Mar 2009

United Arab Emirates Selects M-346 Master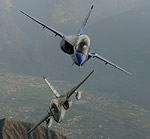 The United Arab Emirates government announced on February 25 at IDEX 2009 (International Defence Exhibition & Conference) in Abu Dhabi that it had begun negotiations for the acquisition of 48 Alenia Aermacchi M-346 "Master" advanced lead-in fighter trainer aircraft. The M-346 was selected over the BAE Systems Hawk Mk.128 and KAI T-50 Golden Eagle, which were also short-listed.
The agreement also includes the creation of a joint venture in the UAE between Alenia Aermacchi and the Mubadala Development Company (Mubadala) to establish a final assembly line for the M-346. The UAE Government's selection of the M-346 forms part of a broader industrial co-operation agreement recently signed by Alenia Aermacchi parent company Finmeccanica and Mubadala.
First deliveries to the UAE Air Force (UAEAF) are expected around 2012. The M-346 "Master" will be operated by the UAEAF as advanced trainer in its fighter pilot training programme as well as for the combat air support role. Although the exact split between training and combat aircraft was not revealed, the Request for Proposals issued last year stated 20 trainer variants, 20 combat variants, and eight aircraft to form an aerobatic display team.
Source: Alenia / AFM Apr 09
2018
12 September 2018 | Defense-Aerospace
Wildcat Makes First Landing on HMS Queen Elizabeth
A Wildcat helicopter has landed on board HMS Queen Elizabeth for the first time. The aircraft carrier will shortly be at sea off the coast of the United States, having arrived in Florida last week, to conduct flight trials. The ship will be joined by HMS Monmouth during the trials, the Type 23...
12 September 2018 | Flight Global
Spain plans to take more NH90 helicopters
Spain's government has given approval for the acquisition of an additional 23 NH Industries NH90 troop transport helicopters.
11 September 2018 | Defense-Aerospace
Russia Delivers Four Su-30SM to Operational Squadrons in Kursk
It is reported that four Su-30SM jet fighters have entered the service with an air regiment stationed in Kursk region, Western Military District. Pilots received four 4++ generation jet fighters at the Irkut Plant and made a flight from the airfield to home station. In 2017, the first squadron...
10 September 2018 | Flight Global
​Japan cleared to buy nine additional E-2Ds
The US government has cleared Tokyo to obtain nine additional Northrop Grumman E-2D Advanced Hawkeye airborne early warning & control (AEW&C) aircraft.
10 September 2018 | Boeing
Boeing Awarded $2.9 Billion for Fourth KC-46A Tanker Production Lot
EVERETT, Wash., Sept. 10, 2018 – The U.S. Air Force today awarded Boeing a $2.9 billion contract for 18 KC-46A tanker aircraft, spares, support equipment, spare engines and wing air refueling pod kits. With this fourth production lot, Boeing now is on contract for 52 KC-46 tankers. Boeing received its first two production lots, for 7 and 12 aircraft, in August 2016. The third lot, for 15 aircraft, was awarded in January 2017.
10 September 2018 | USAF
Moody A-10 engine maintainers make history
For the first time, Moody's 23rd Maintenance Squadron's propulsion flight accomplished an unprecedented feat by ensuring every TF34 engine in their fleet is repaired to serviceable status.
10 September 2018 | Flight Global
AVIC rolls out first FTC-2000G light fighter
AVIC has rolled out the first FTC-2000G, a light combat variant of its FTC-2000 trainer.
7 September 2018 | Flight Global
India's Tejas clears in-flight refuelling hurdle
India s long-delayed Tejas programme has successfully demonstrated the ability of a specially modified Mk1 example of the fighter to undergo air-to-air refuelling behind an Ilyushin Il-78MKI tanker.
6 September 2018 | Combat Aircraft
F-35Bs join Middle East operations
US Marine Corps F-35Bs of VMFA-211 'Avengers', embarked with the 13th Marine Expeditionary Unit (MEU) aboard the amphibious assault ship USS Essex (LHD 2) are operating with US Central Command for the first time. The USS Essex is now in…Read more ›
4 September 2018 | NATO News
Italy takes up NATO air patrols over Iceland
Four Italian Air Force Eurofighter Typhoon jets have arrived at Iceland's Keflavik Air Base, and from today (4 September 2018) they will help ensure the safety of Iceland's airspace. Over the next few weeks, the Italian pilots will provide intercept capabilities and train together with the Icelandic Coast Guard and the NATO Control and Reporting Centre. The Italian jets will complement the air surveillance which Iceland executes with its four remote radar and communication sites.