Strike Eagle Extreme; Nearly 70 F-15Es take to sky
17 Apr 2012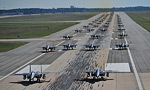 by Tech. Sgt. Tammie Moore
4th Fighter Wing Public Affairs

4/17/2012 - SEYMOUR JOHNSON AIR FORCE, N.C. -- Airmen from the 4th Fighter Wing at Seymour Johnson Air Force Base, N.C., came together to honor their heritage by launching nearly 70 F-15E Strike Eagles in a Turkey Shoot training mission April 16.

The nearly 70 Strike Eagles taxied one after the next simultaneously down the base flightline before heading to bombing ranges across North Carolina to destroy more than 1,000 targets. The purpose of this mass launch was two-fold.

"This F-15E Strike package and Turkey Shoot honored the excellence and sacrifices of our Wing's past while 'flexing' 4th FW airpower today, sharpening our warfighting spirit and skills as we look toward the future," said Col. Patrick Doherty, 4th FW commander.

The term Turkey Shoot dates back to a mission that took place June 19, 1944 during World War II.

On this day U.S. Navy carrier aircraft downed 373 Japanese planes with the loss of only 23 American planes," said Dr. Roy Heidicker, 4th FW historian. A Navy pilot who participated in this mission was attributed as saying, "It was like a turkey shoot" and the term stuck.

Toward the end of WWII the greatest challenge in Europe for the 8th Air Force was destroying a Luftwaffe that refused to take to the air. One of the 4th FG's most notorious missions during WWII was also its final major mission. The group's Airmen were tasked to take out the Luftwaffe or German air force. In two airfield attacks the group's aviators destroyed 105 enemy aircraft April 15, 1945.

"While 'A' Group attacked airfields in the region of Prague, 'B' Group, devastated the Luftwaffe base at Gablingen in 40 minutes of continuous strafing," Heidicker said. "That same day other 8th Air Force fighter groups attacked Luftwaffe airfields all over Germany, claiming a total of 752 aircraft destroyed. The Luftwaffe never recovered from this terrible and devastating blow."

During World War II competition began between the 4th and 56th Fighter Groups to see what unit could destroy the most enemy aircraft. The 4th FG finished the war with 1,016 aircraft destroyed and the 56th FG's final tally was 1,006. While supporting the war effort the 4th FG destroyed more enemy aircraft than any group or wing in Air Force history.

"We proudly carry on the legacy of the 4th FG's victories, as well as those of the wing's Korean, Vietnam, Gulf War efforts and believe it is critically important that current and future generations of Airmen understand and celebrate our history, so they can visualize what they will be capable of doing in the future," Doherty said.

A wide variety of Airmen from multiple Air Force specialties ranging from ammo to radar approach control technicians came together to ensure the aircraft launched safely.

"The entire Seymour team of professionals and dedicated Airmen, along with our phenomenal community, pitched in to make this effort a great success," Doherty said.


2016
25 June 2016 | MILAVIA News
Blue Angels Resume Schedule
The U.S. Navy Blue Angels will return to its 2016 demonstration schedule July 2-4 in Traverse City, Michigan, Commander, Naval Air Forces announced.
21 June 2016 | Flight Global
Airbus to test solution for A400M helicopter refuelling
Airbus Defence & Space believes it has found a solution to a problem that was late last year revealed as leaving its A400M tactical transport incapable of refuelling helicopters in flight.
20 June 2016 | IHS Jane's
Afghan Air Force gets five more MD 530F attack helicopters
Five additional MD 530F Cayuse Warrior light attack helicopters arrived in Kabul on 17 June to boost the Afghan Air Force's (AAF's) capability to support Afghan National Army ground operations. The latest delivery raises the number of such airframes provided by the United States to the AAF from 13
17 June 2016 | IHS Jane's
PLAAF reportedly receives first Y-20 airlifter
The People's Liberation Army Air Force (PLAAF) has reportedly received the first of more than 1,000 Xian Aircraft Corporation (XAC) Y-20 heavy strategic transport aircraft. Chinese social media reported the delivery of aircraft 11051 and 11052 to Chengdu-Qionglai Air Base on 15 June, though there has been no official confirmation.
16 June 2016 | Google News
After Tragic Crash, Blue Angels Resume Air Show Training - Military.com
The Navy's elite flight demonstration team took to the sky again Thursday morning, just two weeks after a soloist was killed in a tragic crash during air show practice in Tennessee. The Blue Angels announced it would fly its first training flight over downtown Pensacola and Pensacola Beach, Florida, not far from the squadron's headquarters at Naval Air Station Pensacola. The team will fly the iconic blue-and-yellow F/A-18C Hornets in a five-aircraft "Big V" formation, officials said in a press release.
16 June 2016 | Flight Global
RAF cancels Red Arrows aerobatic display at Farnborough
The Royal Air Force s BAE Systems Hawk T1-equipped Red Arrows team will not carry out its aerobatic display during July s Farnborough air show, amid concerns surrounding the safety of high-speed displays over populated areas following the fatal crash of a Hawker Hunter at the Shoreham air show last August.
15 June 2016 | DefenseNews.com
Gripens To Replace Botswana F-5 Fighter Jets
The Botswana Defense Force has confirmed it is negotiating with Swedish aircraft manufacturer Försvarets Materielverk for the acquisition of JAS Gripen "C" and "D" aircraft variants.        
15 June 2016 | RUaviation
Russian Army to Receive Further 55 Multirole Su-30SM Fighters by 2019
Russia's Armed Forces will receive another batch of 55 Su-30SM multirole fighters by 2019, the production director of Russia's Irkut Corporation, Sergei Yamanov, said Wednesday. Earlier in June, Yamanov said that the Irkutsk Aviation Plant, belonging to the Irkut Corporation aircraft manufacturer, has supplied 61 Su-30SM jets to the Russian Air & Space Forces and the Russian Navy's naval aviation.
10 June 2016 | Defense-Aerospace
Denmark to Buy Only 21 F-35s As Final Six Are Conditional
COPENHAGEN --- An agreement was concluded between the government and the Social Democrats, the Danish People's Party, the Liberal Alliance and the Social Liberals for the acquisition of new fighter aircraft to replace the current F-16 aircraft.
9 June 2016 | Flight Global
Israel accepts final M-346 Lavi trainer
Israel's air force on 7 June accepted delivery of its last Aermacchi M-346 "Lavi" trainer from Leonardo-Finmeccanica, with all 30 of its examples having been accepted since March 2014.