Strike Eagle Extreme; Nearly 70 F-15Es take to sky
17 Apr 2012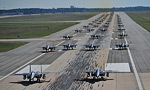 by Tech. Sgt. Tammie Moore
4th Fighter Wing Public Affairs

4/17/2012 - SEYMOUR JOHNSON AIR FORCE, N.C. -- Airmen from the 4th Fighter Wing at Seymour Johnson Air Force Base, N.C., came together to honor their heritage by launching nearly 70 F-15E Strike Eagles in a Turkey Shoot training mission April 16.

The nearly 70 Strike Eagles taxied one after the next simultaneously down the base flightline before heading to bombing ranges across North Carolina to destroy more than 1,000 targets. The purpose of this mass launch was two-fold.

"This F-15E Strike package and Turkey Shoot honored the excellence and sacrifices of our Wing's past while 'flexing' 4th FW airpower today, sharpening our warfighting spirit and skills as we look toward the future," said Col. Patrick Doherty, 4th FW commander.

The term Turkey Shoot dates back to a mission that took place June 19, 1944 during World War II.

On this day U.S. Navy carrier aircraft downed 373 Japanese planes with the loss of only 23 American planes," said Dr. Roy Heidicker, 4th FW historian. A Navy pilot who participated in this mission was attributed as saying, "It was like a turkey shoot" and the term stuck.

Toward the end of WWII the greatest challenge in Europe for the 8th Air Force was destroying a Luftwaffe that refused to take to the air. One of the 4th FG's most notorious missions during WWII was also its final major mission. The group's Airmen were tasked to take out the Luftwaffe or German air force. In two airfield attacks the group's aviators destroyed 105 enemy aircraft April 15, 1945.

"While 'A' Group attacked airfields in the region of Prague, 'B' Group, devastated the Luftwaffe base at Gablingen in 40 minutes of continuous strafing," Heidicker said. "That same day other 8th Air Force fighter groups attacked Luftwaffe airfields all over Germany, claiming a total of 752 aircraft destroyed. The Luftwaffe never recovered from this terrible and devastating blow."

During World War II competition began between the 4th and 56th Fighter Groups to see what unit could destroy the most enemy aircraft. The 4th FG finished the war with 1,016 aircraft destroyed and the 56th FG's final tally was 1,006. While supporting the war effort the 4th FG destroyed more enemy aircraft than any group or wing in Air Force history.

"We proudly carry on the legacy of the 4th FG's victories, as well as those of the wing's Korean, Vietnam, Gulf War efforts and believe it is critically important that current and future generations of Airmen understand and celebrate our history, so they can visualize what they will be capable of doing in the future," Doherty said.

A wide variety of Airmen from multiple Air Force specialties ranging from ammo to radar approach control technicians came together to ensure the aircraft launched safely.

"The entire Seymour team of professionals and dedicated Airmen, along with our phenomenal community, pitched in to make this effort a great success," Doherty said.


2016
23 September 2016 | Lockheed Martin
Roll Out of Japan Air Self Defense Force's First F-35A
Mr. Kenji Wakamiya, Japan's State Minister of Defense, address the ceremony audience as Japan's first F-35A aircraft is revealed at the Lockheed Martin's production facility in Fort Worth, Texas, Sept. 23.
23 September 2016 | Flight Global
India signs 36-unit Rafale contract
India has concluded a deal to acquire 36 Dassault Rafale fighters, with a contract signed in New Delhi by the nation s defence minister, Manohar Parrikar, and his French counterpart Jean-Yves Le Drian on 23 September.
19 September 2016 | USAF News
The B-21 has a name: Raider
The Air Force's long-range strike bomber has officially been named the B-21 Raider.
18 September 2016 | IHS Jane's
Aero L-39NG completes first phase of development
The first phase of development work on Aero Vodochody's new generation L-39NG is complete, company officials told IHS Jane's on 15 September. The L-39NG is powered with a new Williams FJ44-4M engine and has been under development for two years. The aircraft made its first flight on 14 September
16 September 2016 | RUaviation
Russia to Supply 12 Mi-35M Helicopters to Nigeria by 2018
Russia will deliver 12 multipurpose Mi-35 helicopters to Nigeria by 2018 as the African country is carrying out the modernization program of its armed forces, the deputy head of Russia's Federal Service for Military-Technical Cooperation said Friday.
13 September 2016 | Flight Global
Boeing unveils contender for Northrop T-38 replacement
Boeing and Saab finally took the wraps off a purposely-designed jet trainer today to offer as a replacement initially for the US Air Force s fleet of more than 400 Northrop T-38s.
13 September 2016 | Defense-Aerospace
India Finalizes Details of Rafale Contract But New IGA Needed
NEW DELHI --- Details of the multi-billion euro contract for 36 Rafale fighter aircraft have been finalised and the government is now working on the inter-governmental agreement (IGA) with France. Government sources said the cost, offsets and service details have been finalised and now the effort...
12 September 2016 | Lockheed Martin
Final Australian MH-60R delivered to Royal Australian Navy
NOWRA, Australia, Sept. 12, 2016 – Lockheed Martin, together with the U.S. Navy, ceremonially delivered the 24th, and final, MH-60R SEAHAWK helicopter to the Royal Australian Navy (RAN). The hand-over occurred during a ribbon-cutting ceremony at Lockheed Martin's purpose-built logistics and maintenance facility in Nowra which will house and maintain the new fleet.
12 September 2016 | Defense-Aerospace
First Operational Mission for NZ's New Seasprites
One of the Royal New Zealand Air Force's (RNZAF) newly acquired fleet of Seasprite helicopters will help transport 23 government staff and about seven tonnes of vital equipment and supplies to the remote Kermadec Islands on its first operational mission with an offshore patrol vessel (OPV).
2 September 2016 | RUaviation
Eastern MD air unit received new Su-34 fighter-bombers
Another batch of new Su-34 fighter-bombers reinforced the air unit located at Khurba airfield.near Komsomolsk-on-Amur (Khabarovsk Krai)