Strike Eagle Extreme; Nearly 70 F-15Es take to sky
17 Apr 2012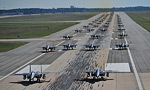 by Tech. Sgt. Tammie Moore
4th Fighter Wing Public Affairs

4/17/2012 - SEYMOUR JOHNSON AIR FORCE, N.C. -- Airmen from the 4th Fighter Wing at Seymour Johnson Air Force Base, N.C., came together to honor their heritage by launching nearly 70 F-15E Strike Eagles in a Turkey Shoot training mission April 16.

The nearly 70 Strike Eagles taxied one after the next simultaneously down the base flightline before heading to bombing ranges across North Carolina to destroy more than 1,000 targets. The purpose of this mass launch was two-fold.

"This F-15E Strike package and Turkey Shoot honored the excellence and sacrifices of our Wing's past while 'flexing' 4th FW airpower today, sharpening our warfighting spirit and skills as we look toward the future," said Col. Patrick Doherty, 4th FW commander.

The term Turkey Shoot dates back to a mission that took place June 19, 1944 during World War II.

On this day U.S. Navy carrier aircraft downed 373 Japanese planes with the loss of only 23 American planes," said Dr. Roy Heidicker, 4th FW historian. A Navy pilot who participated in this mission was attributed as saying, "It was like a turkey shoot" and the term stuck.

Toward the end of WWII the greatest challenge in Europe for the 8th Air Force was destroying a Luftwaffe that refused to take to the air. One of the 4th FG's most notorious missions during WWII was also its final major mission. The group's Airmen were tasked to take out the Luftwaffe or German air force. In two airfield attacks the group's aviators destroyed 105 enemy aircraft April 15, 1945.

"While 'A' Group attacked airfields in the region of Prague, 'B' Group, devastated the Luftwaffe base at Gablingen in 40 minutes of continuous strafing," Heidicker said. "That same day other 8th Air Force fighter groups attacked Luftwaffe airfields all over Germany, claiming a total of 752 aircraft destroyed. The Luftwaffe never recovered from this terrible and devastating blow."

During World War II competition began between the 4th and 56th Fighter Groups to see what unit could destroy the most enemy aircraft. The 4th FG finished the war with 1,016 aircraft destroyed and the 56th FG's final tally was 1,006. While supporting the war effort the 4th FG destroyed more enemy aircraft than any group or wing in Air Force history.

"We proudly carry on the legacy of the 4th FG's victories, as well as those of the wing's Korean, Vietnam, Gulf War efforts and believe it is critically important that current and future generations of Airmen understand and celebrate our history, so they can visualize what they will be capable of doing in the future," Doherty said.

A wide variety of Airmen from multiple Air Force specialties ranging from ammo to radar approach control technicians came together to ensure the aircraft launched safely.

"The entire Seymour team of professionals and dedicated Airmen, along with our phenomenal community, pitched in to make this effort a great success," Doherty said.


2017
4 December 2017 | RCAF
RCAF announces pilot and theme for 2018 CF-18 Demonstration Team
Captain Stefan Porteous will pilot the RCAF's CF-18 Demo Hornet for the 2018 airshow season. This year, the fighter jet's paint scheme will commemorate the 60th anniversary of the North American Aerospace Defense Command (NORAD).
6 November 2017 | Lockheed Martin
International Allies Receive F-35 Full Mission Simulators
Lockheed Martin recently delivered F-35 Full Mission Simulators (FMS) to the Israeli, Italian, Japanese and Norwegian Air Forces – the first-ever deliveries to international F-35 operators. The simulators are critical components of the pilot training capability at F-35 operating bases in these four countries, where they will facilitate pilot qualification training, continuation training and mission rehearsal training.
6 November 2017 | Defense-Aerospace
Norway Receives First Three F-35s
On November 3rd, three Norwegian F-35 aircraft flew from Fort Worth, Texas and landed at Ørland Air Base, Norway. "Receiving the first three aircraft is a major milestone for Norway. On November 10th, Norway will celebrate First Aircraft Arrival of the first three F-35s on Norwegian soil. Achievi...
6 November 2017 | Air Forces Monthly
339 Mira disbands at Andravida
An official ceremony was held at Andravida air base on October 31 for the disbandment of 339 'Aias' Mira, one of the two locally based F-4E (AUP) Phantom II squadrons belonging to the Hellenic Air Force's 117 Combat Wing. The…Read more ›
5 November 2017 | IHS Jane's
Montenegrin military modernisation includes Bell 412EPI helicopters
The Armed Forces of Montenegro (Vojska Crne Gore, VCG) will be equipped with three Bell 412EPI twin-engine utility helicopters as part of the modernisation process it began after the country joined NATO in June. The contract, expected to be finalised and signed in early 2018, includes EUR29.9
5 November 2017 | Google News
Dubai Airshow flying display announced
Dubai Airshow has announced the first round of aircraft taking part in the flying display at this year's event. Aerobatic displays at this year will include PLAAF August 1st Air Demonstration Team from China performing in J10As and the Russian Knights in Sukhoi SU30Ms, in addition to the UAE's Al Fursan flying their Aermacchi MB-339NATs.
3 November 2017 | Defense-Aerospace
F-35 Detachment Arrives in Okinawa
KADENA AIR BASE, Okinawa --- Twelve U.S. Air Force F-35A Lightning IIs and approximately 300 Airmen from the 388th and 419th Fighter Wings, Hill Air Force Base, Utah, arrived here for the aircraft's first operational deployment to the Indo-Asia-Pacific region Nov. 2. This is the first time the F-35s have deployed as part of a planned U.S. Pacific Command Theater Security Package.
2 November 2017 | IHS Jane's
Chile eyes F-16 upgrades, new AESA radars
The Chilean Air Force is studying options for upgrading its fleet of 46 F-16 fighters to keep the aircraft up-to-date through the 2030s, and any resulting programme would become the service's top priority, senior military sources in Santiago told Jane's . The plan, set to be launched between
2 November 2017 | Flight Global
New long-range missile project emerges in US budget
The existence of a two-year-old project to develop a new air-to-air missile capable of intercepting targets at great distances has emerged in US budget documents. The Office of the Secretary Defense (OSD) launched a two-year engineering assessment of a new long-range engagement weapon (LREW) designed with the goal of "maintaining air dominance", according to budget documents released last March.
1 November 2017 | Flight Global
Czech Republic shortlists UH-1Y and AW139 for helicopter acquisition
The Czech Republic has shortlisted bids from Bell Helicopter and Leonardo Helicopters for a 12-unit requirement for multirole rotorcraft.