Strike Eagle Extreme; Nearly 70 F-15Es take to sky
17 Apr 2012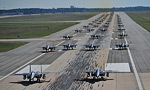 by Tech. Sgt. Tammie Moore
4th Fighter Wing Public Affairs

4/17/2012 - SEYMOUR JOHNSON AIR FORCE, N.C. -- Airmen from the 4th Fighter Wing at Seymour Johnson Air Force Base, N.C., came together to honor their heritage by launching nearly 70 F-15E Strike Eagles in a Turkey Shoot training mission April 16.

The nearly 70 Strike Eagles taxied one after the next simultaneously down the base flightline before heading to bombing ranges across North Carolina to destroy more than 1,000 targets. The purpose of this mass launch was two-fold.

"This F-15E Strike package and Turkey Shoot honored the excellence and sacrifices of our Wing's past while 'flexing' 4th FW airpower today, sharpening our warfighting spirit and skills as we look toward the future," said Col. Patrick Doherty, 4th FW commander.

The term Turkey Shoot dates back to a mission that took place June 19, 1944 during World War II.

On this day U.S. Navy carrier aircraft downed 373 Japanese planes with the loss of only 23 American planes," said Dr. Roy Heidicker, 4th FW historian. A Navy pilot who participated in this mission was attributed as saying, "It was like a turkey shoot" and the term stuck.

Toward the end of WWII the greatest challenge in Europe for the 8th Air Force was destroying a Luftwaffe that refused to take to the air. One of the 4th FG's most notorious missions during WWII was also its final major mission. The group's Airmen were tasked to take out the Luftwaffe or German air force. In two airfield attacks the group's aviators destroyed 105 enemy aircraft April 15, 1945.

"While 'A' Group attacked airfields in the region of Prague, 'B' Group, devastated the Luftwaffe base at Gablingen in 40 minutes of continuous strafing," Heidicker said. "That same day other 8th Air Force fighter groups attacked Luftwaffe airfields all over Germany, claiming a total of 752 aircraft destroyed. The Luftwaffe never recovered from this terrible and devastating blow."

During World War II competition began between the 4th and 56th Fighter Groups to see what unit could destroy the most enemy aircraft. The 4th FG finished the war with 1,016 aircraft destroyed and the 56th FG's final tally was 1,006. While supporting the war effort the 4th FG destroyed more enemy aircraft than any group or wing in Air Force history.

"We proudly carry on the legacy of the 4th FG's victories, as well as those of the wing's Korean, Vietnam, Gulf War efforts and believe it is critically important that current and future generations of Airmen understand and celebrate our history, so they can visualize what they will be capable of doing in the future," Doherty said.

A wide variety of Airmen from multiple Air Force specialties ranging from ammo to radar approach control technicians came together to ensure the aircraft launched safely.

"The entire Seymour team of professionals and dedicated Airmen, along with our phenomenal community, pitched in to make this effort a great success," Doherty said.


2017
14 April 2017 | Flight Global
USAF F-35A deploys to Europe
A small squadron of the US Air Force s F-35As will fly to Europe this weekend for training with NATO allies, marking the F-35A s first international deployment.
14 April 2017 | Defense-Aerospace
US Unexpectedly Drops 'Mother of All Bombs' In Afghanistan
For the first time on April 13, US forces dropped a GBU-43/B Massive Ordnance Air Blast bomb, the most powerful conventional bomb in the US inventory, against an ISIS tunnel network in Afghanistan.
14 April 2017 | Defense-Aerospace
F-16 Drops New B61-12 Nuclear Bomb in Development Test
KIRTLAND AFB, N.M. --- An Air Force F-16 aircraft released an inert B61 nuclear bomb in a test recently, demonstrating the aircraft's capability to deliver the weapon and testing the functioning of the weapon's non-nuclear components, including the arming and fire control system, radar altimeter, sp...
11 April 2017 | Flight Global
Eurofighter delivers 500th Typhoon
Eurofighter has delivered to the Italian air force its 500th Typhoon, 14 years after it handed over the first example to the UK Royal Air Force.
10 April 2017 | Flight Global
First MiG-35 nears delivery for Egypt
Egypt appears to be close to receiving the first of its RAC MiG-35 fighters, with a lead example having been photographed during flight testing near Moscow late last month. Images show a twin-seat trainer bearing the registration 811 being flown in Egyptian air force livery from Ramenskoye airport on 31 March.
28 March 2017 | Combat Aircraft
Dassault announces latest Rafale standard
French Minister for Defense, Jean-Yves Le Drian, authorized the start of development of the new Dassault Rafale F4 standard on March 20. As early as 2023, a first version of the F4 standard will follow the F3-R standard, which is scheduled for qualification in 2018.
22 March 2017 | RAF
End of an era for RAF Lossiemouth Tornados
XV(Reserve) Squadron, the Tornado Operational Conversion Unit, completed its final formal flying on Friday 17 March 2017.
16 March 2017 | Boeing
Boeing, U.S. Army Sign $3.4B Contract for 268 AH-64E Apache Helicopters
MESA, Ariz., March 16, 2017 – Boeing and the U.S. government recently signed a five-year, $3.4 billion contract through which the Army, and a customer outside the U.S., will acquire the latest Apache attack helicopter at a significant savings to taxpayers. This is the first multi-year agreement for the Apache "E" variant. The Army will receive 244 remanufactured Apaches while 24 new ones will go to the international customer.
10 March 2017 | Flight Global
India poised to retire iconic Tu-142 fleet
The Indian navy will retire its iconic Tupolev Tu-142ME Albatross long-range maritime patrol aircraft at the end of March.
9 March 2017 | Flight Global
​Indian Navy Retires Aircraft Carrier INS Viraat
The Indian Navy formally decommissioned the aircraft carrier INS Viraat (ex HMS Hermes) on 6 March, after 30 years of operational service.