Strike Eagle Extreme; Nearly 70 F-15Es take to sky
17 Apr 2012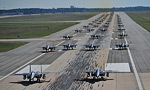 by Tech. Sgt. Tammie Moore
4th Fighter Wing Public Affairs

4/17/2012 - SEYMOUR JOHNSON AIR FORCE, N.C. -- Airmen from the 4th Fighter Wing at Seymour Johnson Air Force Base, N.C., came together to honor their heritage by launching nearly 70 F-15E Strike Eagles in a Turkey Shoot training mission April 16.

The nearly 70 Strike Eagles taxied one after the next simultaneously down the base flightline before heading to bombing ranges across North Carolina to destroy more than 1,000 targets. The purpose of this mass launch was two-fold.

"This F-15E Strike package and Turkey Shoot honored the excellence and sacrifices of our Wing's past while 'flexing' 4th FW airpower today, sharpening our warfighting spirit and skills as we look toward the future," said Col. Patrick Doherty, 4th FW commander.

The term Turkey Shoot dates back to a mission that took place June 19, 1944 during World War II.

On this day U.S. Navy carrier aircraft downed 373 Japanese planes with the loss of only 23 American planes," said Dr. Roy Heidicker, 4th FW historian. A Navy pilot who participated in this mission was attributed as saying, "It was like a turkey shoot" and the term stuck.

Toward the end of WWII the greatest challenge in Europe for the 8th Air Force was destroying a Luftwaffe that refused to take to the air. One of the 4th FG's most notorious missions during WWII was also its final major mission. The group's Airmen were tasked to take out the Luftwaffe or German air force. In two airfield attacks the group's aviators destroyed 105 enemy aircraft April 15, 1945.

"While 'A' Group attacked airfields in the region of Prague, 'B' Group, devastated the Luftwaffe base at Gablingen in 40 minutes of continuous strafing," Heidicker said. "That same day other 8th Air Force fighter groups attacked Luftwaffe airfields all over Germany, claiming a total of 752 aircraft destroyed. The Luftwaffe never recovered from this terrible and devastating blow."

During World War II competition began between the 4th and 56th Fighter Groups to see what unit could destroy the most enemy aircraft. The 4th FG finished the war with 1,016 aircraft destroyed and the 56th FG's final tally was 1,006. While supporting the war effort the 4th FG destroyed more enemy aircraft than any group or wing in Air Force history.

"We proudly carry on the legacy of the 4th FG's victories, as well as those of the wing's Korean, Vietnam, Gulf War efforts and believe it is critically important that current and future generations of Airmen understand and celebrate our history, so they can visualize what they will be capable of doing in the future," Doherty said.

A wide variety of Airmen from multiple Air Force specialties ranging from ammo to radar approach control technicians came together to ensure the aircraft launched safely.

"The entire Seymour team of professionals and dedicated Airmen, along with our phenomenal community, pitched in to make this effort a great success," Doherty said.


2014
30 September 2014 | DefenseNews.com
Britain Carries Out First Air Strikes Against IS In Iraq
British fighter jets on Tuesday bombed an artillery post and an armed truck used by the Islamic State group in Iraq in the Royal Air Force's first strikes in the US-led air campaign.
30 September 2014 | ACC
AFGSC provides deterrence for the modern era
BARKSDALE AIR FORCE BASE, La. -- The Air Force recently demonstrated its nuclear deterrence and power projection capabilities through a coordinated display of strategic combat power. Air Force Global Strike Command Airmen -- responsible for two legs of the nation's nuclear triad -- conducted the demonstrations, which included participation in a large combined forces exercise in the Pacific, a nuclear-capable cruise missile weapon system evaluation over the Utah Test and Training Range, and an ICBM operational test launch from Vandenberg AFB, California.
30 September 2014 | Flight Global
First PC-21s head for Qatar
​Pilatus has delivered its first two PC-21 trainers to Qatar, with the pair having left its Stans manufacturing site in Switzerland for the Middle East on 29 September.
30 September 2014 | Flight Global
More T-6C trainers head for New Zealand
​Beechcraft has transferred its second batch of two T-6C trainers to New Zealand, with the aircraft having left its Wichita production site in Kansas.
30 September 2014 | RUaviation
First class of Russian helicopter pilots completes training on new Ansat-U
The first group of third-year students at the Syzran campus of the Zhukovsky and Gagarin Air Force Academy's Military Training Centre have completed training on new Ansat-U helicopters designed and built at Kazan Helicopters. [...] Training on the Ansat-U was completed by 29 students, who next year will receive training on the Mi-8/17 series and Mi-24 helicopters.
29 September 2014 | IHS Jane's
Thai Air Force selects Piaggio Avanti II for recon role
The Royal Thai Air Force has signed a contract to buy a Piaggio P.180 Avanti II aircraft to fulfill a requirement for a photo reconnaissance aircraft, the Italian company announced on 30 September. The P.180 Avanti II will be "customised for territorial multifunctional surveillance, featuring
29 September 2014 | IHS Jane's
Mexico orders additional UH-60M Black Hawk helos
Sikorsky has been awarded a USD93.3 million contract to build eight "uniquely configured" UH-60M Black Hawk utility helicopters for Mexico, the US Department of Defense (DoD) announced on 29 September. The contract, which was placed on behalf of Mexico's secretary of national defence, is
26 September 2014 | USAF News
A-29 Super Tucano arrives at Moody AFB
The first of 20 A-29 Super Tucano aircraft arrived here Sept. 26, in preparation for the Afghanistan pilot and maintenance training mission.
26 September 2014 | ACC
End of an era: 65th AGRS set to inactivate
NELLIS AIR FORCE BASE, Nev. -- After almost a decade of unyielding service, the 65th Aggressor Squadron will become inactive. Since being reactivated on Sept. 15, 2005, the 65th AGRS has helped provide air combat training for military members from the different branches as well as foreign allies.
26 September 2014 | RCAF
Snowbirds Year End Show : CT-114 Tutor 50th anniversary
15 Wing Moose Jaw, Saskatchewan, invites all past and present Tutor instructors, technicians, students and demonstration pilots, honoured guests, and the general public to attend the 50th anniversary of the CT-114 Tutor on October 3-4, 2014.