Strike Eagle Extreme; Nearly 70 F-15Es take to sky
17 Apr 2012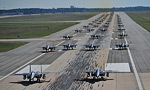 by Tech. Sgt. Tammie Moore
4th Fighter Wing Public Affairs

4/17/2012 - SEYMOUR JOHNSON AIR FORCE, N.C. -- Airmen from the 4th Fighter Wing at Seymour Johnson Air Force Base, N.C., came together to honor their heritage by launching nearly 70 F-15E Strike Eagles in a Turkey Shoot training mission April 16.

The nearly 70 Strike Eagles taxied one after the next simultaneously down the base flightline before heading to bombing ranges across North Carolina to destroy more than 1,000 targets. The purpose of this mass launch was two-fold.

"This F-15E Strike package and Turkey Shoot honored the excellence and sacrifices of our Wing's past while 'flexing' 4th FW airpower today, sharpening our warfighting spirit and skills as we look toward the future," said Col. Patrick Doherty, 4th FW commander.

The term Turkey Shoot dates back to a mission that took place June 19, 1944 during World War II.

On this day U.S. Navy carrier aircraft downed 373 Japanese planes with the loss of only 23 American planes," said Dr. Roy Heidicker, 4th FW historian. A Navy pilot who participated in this mission was attributed as saying, "It was like a turkey shoot" and the term stuck.

Toward the end of WWII the greatest challenge in Europe for the 8th Air Force was destroying a Luftwaffe that refused to take to the air. One of the 4th FG's most notorious missions during WWII was also its final major mission. The group's Airmen were tasked to take out the Luftwaffe or German air force. In two airfield attacks the group's aviators destroyed 105 enemy aircraft April 15, 1945.

"While 'A' Group attacked airfields in the region of Prague, 'B' Group, devastated the Luftwaffe base at Gablingen in 40 minutes of continuous strafing," Heidicker said. "That same day other 8th Air Force fighter groups attacked Luftwaffe airfields all over Germany, claiming a total of 752 aircraft destroyed. The Luftwaffe never recovered from this terrible and devastating blow."

During World War II competition began between the 4th and 56th Fighter Groups to see what unit could destroy the most enemy aircraft. The 4th FG finished the war with 1,016 aircraft destroyed and the 56th FG's final tally was 1,006. While supporting the war effort the 4th FG destroyed more enemy aircraft than any group or wing in Air Force history.

"We proudly carry on the legacy of the 4th FG's victories, as well as those of the wing's Korean, Vietnam, Gulf War efforts and believe it is critically important that current and future generations of Airmen understand and celebrate our history, so they can visualize what they will be capable of doing in the future," Doherty said.

A wide variety of Airmen from multiple Air Force specialties ranging from ammo to radar approach control technicians came together to ensure the aircraft launched safely.

"The entire Seymour team of professionals and dedicated Airmen, along with our phenomenal community, pitched in to make this effort a great success," Doherty said.


2014
25 November 2014 | Flight Global
F-35B makes first flight with UK weapons
​A UK test team has completed an initial series of handling flights of a Lockheed Martin F-35B Lightning II carrying trial rounds of the Raytheon Systems Paveway IV precision-guided bomb and MBDA ASRAAM air-to-air missile.
21 November 2014 | Flight Global
Lockheed seals $4.7bn deal for latest lot of F-35 fighters
The US government and Lockheed Martin on 21 November finalised a $4.7 billion contract for 43 F-35 Lightning II aircraft. Included in the eighth low-rate initial production (LRIP) deal is $500 million in advanced procurement funding for later productions lots, according to the F-35 joint programme office. The deal includes 39 jets for the US military and 14 for various international customers.
20 November 2014 | IHS Jane's
Russia flies first radar- and avionics-upgraded Tu-160 bomber
The first upgraded Tupolev Tu-160 'Blackjack' strategic bomber aircraft made its maiden flight on 16 November, Russian state media has announced. The flight, which took place out of the Kazan Aircraft Plant (KAPO) east of Moscow, lasted two hours and 40 minutes, the TASS news agency reported.
20 November 2014 | IHS Jane's
Japan announces Global Hawk, Osprey, Hawkeye purchases
Japan has announced the selection of the Northrop Grumman RQ-4 Global Hawk for its high-altitude unmanned aerial vehicle (UAV) requirement and the Bell-Boeing V-22 Osprey for its tilt-rotor requirement. The Ministry of Defence (MoD) also confirmed that it would buy a Northrop Grumman E-2D Advanced Hawkeye airborne early warning and control (AEW&C) aircraft.
20 November 2014 | IHS Jane's
Italy deploys latest Mangusta attack helo variant to Afghanistan
The Pakistan Air Force (PAF) has received into service 'a squadron' of Lockheed Martin F-16 fighter aircraft from the Royal Jordanian Air Force (RJAF), a senior PAF service official disclosed on 19 November. Speaking under the Chatham House Rule at the IQPC Fighter Conference in London, the officer said that the F-16A/B fighters had recently arrived in Pakistan, and will be used to augment the PAF's existing F-16 fleet, which is heavily involved in counterinsurgency operations along the country's border area with Afghanistan.
20 November 2014 | RAF
€1bn Contract To Develop Cutting Edge Radar For Typhoon Announced
The £800m contract for the development of a new electronic radar system for the Eurofighter Typhoon has been signed in Scotland. The Active Electronically Scanned Array (AESA) radar capability contract was awarded to Eurofighter Jadgflugzeug GmbH by NETMA – the NATO Eurofighter and Tornado Management Agency - on behalf of the UK, Germany, Spain and Italy.
20 November 2014 | Flight Global
Brazil begins flight training on Gripen
The first two Brazilian pilots to undergo training for the Saab Gripen NG multirole fighter have completed their first flight on the type: a 50min training sortie conducted over the Baltic Sea on 19 November.
20 November 2014 | Flight Global
India resumes Su-30MKI flights following safety checks
​The Indian air force has resumed flying activities with its Sukhoi Su-30MKI combat aircraft, after removing a grounding order imposed after an uncommanded ejection involving the type on 21 October.
20 November 2014 | Airbus Defence and Space
France announces order for Airbus A330 MRTT
Airbus Defence and Space has been selected by the French Ministry of Defence to supply 12 A330 MRTT new generation air-to-air refuelling aircraft for the French Air Force. The first delivery is foreseen for 2018, followed by the second in 2019, and then at a rate of one or two per year.
19 November 2014 | ACC
F-35 and F-22 combine capabilities in operational integration training
EGLIN AIR FORCE BASE, Fla. -- The U.S. Air Force deployed four F-22 Raptors from Joint Base Langley-Eustis, Virginia, to Eglin Air Force Base, earlier this month for the unit's first operational integration training mission with the F-35A Lightning II assigned to the 33rd Fighter Wing here.