Strike Eagle Extreme; Nearly 70 F-15Es take to sky
17 Apr 2012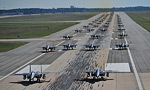 by Tech. Sgt. Tammie Moore
4th Fighter Wing Public Affairs

4/17/2012 - SEYMOUR JOHNSON AIR FORCE, N.C. -- Airmen from the 4th Fighter Wing at Seymour Johnson Air Force Base, N.C., came together to honor their heritage by launching nearly 70 F-15E Strike Eagles in a Turkey Shoot training mission April 16.

The nearly 70 Strike Eagles taxied one after the next simultaneously down the base flightline before heading to bombing ranges across North Carolina to destroy more than 1,000 targets. The purpose of this mass launch was two-fold.

"This F-15E Strike package and Turkey Shoot honored the excellence and sacrifices of our Wing's past while 'flexing' 4th FW airpower today, sharpening our warfighting spirit and skills as we look toward the future," said Col. Patrick Doherty, 4th FW commander.

The term Turkey Shoot dates back to a mission that took place June 19, 1944 during World War II.

On this day U.S. Navy carrier aircraft downed 373 Japanese planes with the loss of only 23 American planes," said Dr. Roy Heidicker, 4th FW historian. A Navy pilot who participated in this mission was attributed as saying, "It was like a turkey shoot" and the term stuck.

Toward the end of WWII the greatest challenge in Europe for the 8th Air Force was destroying a Luftwaffe that refused to take to the air. One of the 4th FG's most notorious missions during WWII was also its final major mission. The group's Airmen were tasked to take out the Luftwaffe or German air force. In two airfield attacks the group's aviators destroyed 105 enemy aircraft April 15, 1945.

"While 'A' Group attacked airfields in the region of Prague, 'B' Group, devastated the Luftwaffe base at Gablingen in 40 minutes of continuous strafing," Heidicker said. "That same day other 8th Air Force fighter groups attacked Luftwaffe airfields all over Germany, claiming a total of 752 aircraft destroyed. The Luftwaffe never recovered from this terrible and devastating blow."

During World War II competition began between the 4th and 56th Fighter Groups to see what unit could destroy the most enemy aircraft. The 4th FG finished the war with 1,016 aircraft destroyed and the 56th FG's final tally was 1,006. While supporting the war effort the 4th FG destroyed more enemy aircraft than any group or wing in Air Force history.

"We proudly carry on the legacy of the 4th FG's victories, as well as those of the wing's Korean, Vietnam, Gulf War efforts and believe it is critically important that current and future generations of Airmen understand and celebrate our history, so they can visualize what they will be capable of doing in the future," Doherty said.

A wide variety of Airmen from multiple Air Force specialties ranging from ammo to radar approach control technicians came together to ensure the aircraft launched safely.

"The entire Seymour team of professionals and dedicated Airmen, along with our phenomenal community, pitched in to make this effort a great success," Doherty said.


2015
28 January 2015 | Flight Global
Ukraine gives approval for An-70 production start
​The Ukrainian defence ministry has given its approval for Antonov's An-70 tactical transport to enter series production for the nation's air force, 20 years after the company's first prototype took to the air. Confirmation of the move came during an event at Antonov's facilities on 22 Jan
28 January 2015 | DefenseNews.com
US Defense Budget Request Will Feature 6th Gen Fighter Development
[...] Pentagon acquisition chief Frank Kendall told a Senate panel that there is money in the next budget for the Air Force to begin work on its 6th generation fighter [...] The DARPA 6th generation fighter program has been dubbed the Air Dominance Initiative.
28 January 2015 | DefenseNews.com
AFSOC in Pacific Welcomes MC-130J
The first of US Air Force Special Operations Command's MC-130J Commando II arrived in the Pacific, as the command retires the venerable MC-130P Combat Shadow.        
28 January 2015 | RUaviation
Russian air force delivery of Sukhoi T-50 fighters will commence in 2016
Deliveries of T-50 (PAK FA) fifth-generation fighter will be started in 2016 as planned. It was stated by the Commander-in-Chief of the Russian air forces, Colonel General Viktor Bondarev, at a meeting with veterans of Barnaul military flight school disbanded in 2006, TASS reports.
28 January 2015 | Flight Global
Bulgaria turns to Poland for MiG-29 maintenance
Bulgaria is in negotiations to shift the maintenance of its RAC MiG-29 fighters from Russia to Poland's Military Aviation Works No. 2 (WZL-2) in Bydgoszcz, defence minister Nikolai Nenchev has announced.
27 January 2015 | DefenseNews.com
Zambia To Boost AF Trainer, Lift Capabilities
The Zambian Air Force will take delivery of an undisclosed number of trainer, transport and fighter aircraft and aerial defense systems this year as part of a major re-equipment program to improve operational and airlift capabilities. [...] "The expected machines include additional SF 260TW trainer aircraft, the C-27J transport aircraft, the L-15 fighter aircraft and the Mi-17 helicopters. These machines will greatly improve the aircraft capability of the Air Force and we are indebted to the government for this gesture. Allied to this is the procurement of air defense equipment such as P-18 radars,"        
26 January 2015 | IHS Jane's
Boeing awarded Indonesian AH-64E contract
Boeing has been awarded a USD295.8 million firm-fixed-price foreign military sales contract for eight AH64E Apache Guardian attack helicopters for Indonesia, the Department of Defence (DoD) disclosed on 27 January. The contract will be complete by 28 February 2018.
26 January 2015 | Flight Global
UK details operational conversion unit plan for F-35
​The UK's future operational conversion unit for the Lockheed Martin F-35 Lightning II is expected to begin providing training using five of the stealthy aircraft, the Ministry of Defence has revealed.
23 January 2015 | Flight Global
Finnish NH90s creep towards 50% operational serviceability rate
​Ahead of the delivery of its final NH Industries NH90 transport helicopter in the coming weeks, the Finnish army is only achieving an approximate 40% operational serviceability rate on the current fleet, its chief of aviation has claimed.
22 January 2015 | IHS Jane's
Bahraini air force details modernisation plans
The Royal Bahraini Air Force (RBAF) is to embark on a comprehensive modernisation plan to enhance the capabilities of both its fixed- and rotary-winged combat fleets, a senior officer disclosed on 22 January. Speaking at the IQPC International Military Helicopter conference in London, Colonel Salah