Strike Eagle Extreme; Nearly 70 F-15Es take to sky
17 Apr 2012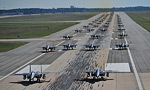 by Tech. Sgt. Tammie Moore
4th Fighter Wing Public Affairs

4/17/2012 - SEYMOUR JOHNSON AIR FORCE, N.C. -- Airmen from the 4th Fighter Wing at Seymour Johnson Air Force Base, N.C., came together to honor their heritage by launching nearly 70 F-15E Strike Eagles in a Turkey Shoot training mission April 16.

The nearly 70 Strike Eagles taxied one after the next simultaneously down the base flightline before heading to bombing ranges across North Carolina to destroy more than 1,000 targets. The purpose of this mass launch was two-fold.

"This F-15E Strike package and Turkey Shoot honored the excellence and sacrifices of our Wing's past while 'flexing' 4th FW airpower today, sharpening our warfighting spirit and skills as we look toward the future," said Col. Patrick Doherty, 4th FW commander.

The term Turkey Shoot dates back to a mission that took place June 19, 1944 during World War II.

On this day U.S. Navy carrier aircraft downed 373 Japanese planes with the loss of only 23 American planes," said Dr. Roy Heidicker, 4th FW historian. A Navy pilot who participated in this mission was attributed as saying, "It was like a turkey shoot" and the term stuck.

Toward the end of WWII the greatest challenge in Europe for the 8th Air Force was destroying a Luftwaffe that refused to take to the air. One of the 4th FG's most notorious missions during WWII was also its final major mission. The group's Airmen were tasked to take out the Luftwaffe or German air force. In two airfield attacks the group's aviators destroyed 105 enemy aircraft April 15, 1945.

"While 'A' Group attacked airfields in the region of Prague, 'B' Group, devastated the Luftwaffe base at Gablingen in 40 minutes of continuous strafing," Heidicker said. "That same day other 8th Air Force fighter groups attacked Luftwaffe airfields all over Germany, claiming a total of 752 aircraft destroyed. The Luftwaffe never recovered from this terrible and devastating blow."

During World War II competition began between the 4th and 56th Fighter Groups to see what unit could destroy the most enemy aircraft. The 4th FG finished the war with 1,016 aircraft destroyed and the 56th FG's final tally was 1,006. While supporting the war effort the 4th FG destroyed more enemy aircraft than any group or wing in Air Force history.

"We proudly carry on the legacy of the 4th FG's victories, as well as those of the wing's Korean, Vietnam, Gulf War efforts and believe it is critically important that current and future generations of Airmen understand and celebrate our history, so they can visualize what they will be capable of doing in the future," Doherty said.

A wide variety of Airmen from multiple Air Force specialties ranging from ammo to radar approach control technicians came together to ensure the aircraft launched safely.

"The entire Seymour team of professionals and dedicated Airmen, along with our phenomenal community, pitched in to make this effort a great success," Doherty said.


2014
23 April 2014 | USAF News
Altus, McConnell AFBs selected to receive KC-46A Pegasus aircraft
WASHINGTON (AFNS) -- Air Force officials announced April 23, that Altus Air Force Base, Okla., is the Air Force's KC-46A Pegasus formal training unit and McConnell AFB, Kan., is the first active duty-led Pegasus main operating base. [...] The formal training unit and first main operating base will begin receiving aircraft in fiscal year 2016. A final basing decision for the first Air National Guard main operating base is expected in summer 2014, with the first aircraft scheduled to arrive in fiscal 2018.
22 April 2014 | Flight Global
Australia to confirm 58-aircraft F-35 order
Australian Prime Minister Tony Abbott will on 23 April announce that his government has approved the acquisition of 58 more Lockheed Martin F-35A Lightning II Joint Strike Fighters.
22 April 2014 | RUaviation
Russian Ministry of Defense orders 16 more MiG-29SMT aircraft
16 multi-role MiG-29SMT fighters will be delivered to Russian air forces by the end of 2016. The corresponding state contract has been signed by the Deputy Minister of Defense, Yuri Borisov, and CEO of RAC MiG (part of United Aircraft Corporation), Sergey Korotkov, the corporation's press-service reports.
17 April 2014 | RAF
F-35B set to make international debut at RIAT and Farnborough
F-35 Lightning II will fly in Britain for the first time this summer, making its international debut in July at the Royal International Air Tattoo in Fairford, also flying at the Farnborough International Air Show.
16 April 2014 | ACC
Last four 95th FS Raptors arrive
TYNDALL AIR FORCE BASE, Fla. -- The last four F-22 Raptors arrived from Holloman Air Force Base, N.M., April 8, completing the 95th Fighter Squadron and making Tyndall AFB the largest contingent of the 5th generation jet in the world.
15 April 2014 | Lockheed Martin
F-35 Fleet Surpasses 15,000 Flying Hours
FORT WORTH, Texas, April 15, 2014 - The Lockheed Martin F-35 Lightning II fleet recently surpassed 15,000 flight hours, marking a major milestone for the program.
10 April 2014 | AgustaWestland
Armed Forces of Malta Acquire Second AW139 Helicopter
The Armed Forces of Malta has taken up the option for a second AW139 intermediate twin engine helicopter. The helicopter will be used to conduct mainly maritime border control missions. The delivery of the second AW139 is scheduled for June 2015, while the first helicopter will be delivered in June 2014.
10 April 2014 | USAF News
Installation of backup oxygen system in F-22 combat fleet continues
The Air Force Life Cycle Management Center's F-22 Division is on-track to complete installation of the Automatic Back-up Oxygen System (ABOS) in the Air Force's F-22 Raptor combat fleet by December 2014.
10 April 2014 | IHS Jane's
Germany offers Typhoons to bolster Baltic air policing
Germany has offered to send six Eurofighter Typhoon fighter aircraft to help bolster the NATO Baltic Air Policing Mission, an alliance spokesperson confirmed to IHS Jane's on 9 April. The offer has been made to support the Portuguese rotation of four Lockheed Martin F-16 Fighting Falcons, which is...
9 April 2014 | Flight Global
Israel welcomes arrival of first C-130J transport
​The Israeli air force's first Lockheed Martin C-130J "Samson" tactical transport has been formally delivered to its Nevatim air base, during a 9 April ceremony.