Strike Eagle Extreme; Nearly 70 F-15Es take to sky
17 Apr 2012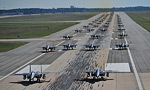 by Tech. Sgt. Tammie Moore
4th Fighter Wing Public Affairs

4/17/2012 - SEYMOUR JOHNSON AIR FORCE, N.C. -- Airmen from the 4th Fighter Wing at Seymour Johnson Air Force Base, N.C., came together to honor their heritage by launching nearly 70 F-15E Strike Eagles in a Turkey Shoot training mission April 16.

The nearly 70 Strike Eagles taxied one after the next simultaneously down the base flightline before heading to bombing ranges across North Carolina to destroy more than 1,000 targets. The purpose of this mass launch was two-fold.

"This F-15E Strike package and Turkey Shoot honored the excellence and sacrifices of our Wing's past while 'flexing' 4th FW airpower today, sharpening our warfighting spirit and skills as we look toward the future," said Col. Patrick Doherty, 4th FW commander.

The term Turkey Shoot dates back to a mission that took place June 19, 1944 during World War II.

On this day U.S. Navy carrier aircraft downed 373 Japanese planes with the loss of only 23 American planes," said Dr. Roy Heidicker, 4th FW historian. A Navy pilot who participated in this mission was attributed as saying, "It was like a turkey shoot" and the term stuck.

Toward the end of WWII the greatest challenge in Europe for the 8th Air Force was destroying a Luftwaffe that refused to take to the air. One of the 4th FG's most notorious missions during WWII was also its final major mission. The group's Airmen were tasked to take out the Luftwaffe or German air force. In two airfield attacks the group's aviators destroyed 105 enemy aircraft April 15, 1945.

"While 'A' Group attacked airfields in the region of Prague, 'B' Group, devastated the Luftwaffe base at Gablingen in 40 minutes of continuous strafing," Heidicker said. "That same day other 8th Air Force fighter groups attacked Luftwaffe airfields all over Germany, claiming a total of 752 aircraft destroyed. The Luftwaffe never recovered from this terrible and devastating blow."

During World War II competition began between the 4th and 56th Fighter Groups to see what unit could destroy the most enemy aircraft. The 4th FG finished the war with 1,016 aircraft destroyed and the 56th FG's final tally was 1,006. While supporting the war effort the 4th FG destroyed more enemy aircraft than any group or wing in Air Force history.

"We proudly carry on the legacy of the 4th FG's victories, as well as those of the wing's Korean, Vietnam, Gulf War efforts and believe it is critically important that current and future generations of Airmen understand and celebrate our history, so they can visualize what they will be capable of doing in the future," Doherty said.

A wide variety of Airmen from multiple Air Force specialties ranging from ammo to radar approach control technicians came together to ensure the aircraft launched safely.

"The entire Seymour team of professionals and dedicated Airmen, along with our phenomenal community, pitched in to make this effort a great success," Doherty said.


2014
19 October 2014 | DefenseNews.com
Canada Seeks ISR Planes for Spec Ops
Canada's special operations forces are planning to acquire a small fleet of intelligence, surveillance and reconnaissance aircraft to improve their capability to track and target insurgents on the ground.
17 October 2014 | DefenseNews.com
British RAF Now Flying Improved Typhoon Aircraft
Typhoon fighters equipped with a package of new capabilities have entered operational service with the Royal Air Force.
16 October 2014 | Flight Global
Northrop Grumman flies second MQ-4C prototype
​The US Navy has flown the second Northrop Grumman MQ-4C Triton unmanned aircraft system (UAS), a maritime-focused derivative of the high-altitude, long-endurance RQ-4 Global Hawk.
16 October 2014 | RUaviation
Another batch of Su-34 bombers delivered to Russian air force
Sukhoi Holding Company delivered another batch of Su-34 bombers to Russian air forces. The handover ceremony was held at Novosibirsk Aviation Plant named after V.P. Chkalov (NAZ), press-service of Sukhoi Company reports.
16 October 2014 | NAVAIR
U.S. Navy's E-2D Advanced Hawkeye achieves Initial Operational Capability
The Airborne Command Control and Logistics Wing announced Oct. 16 that the latest variant of the E-2 aircraft, the E-2D Advanced Hawkeye, achieved Initial Operational Capability Oct. 10. IOC signifies that the first operational squadron, Carrier Airborne Early Warning Squadron (VAW) 125, is manned, trained, equipped and ready to start deployment preparation with E-2D aircraft.
16 October 2014 | RAF
UK Deploys Reaper To The Middle East
The Defence Secretary has announced that UK Reaper Remotely Piloted Aircraft Systems (RPAS) will be deployed in the efforts to combat ISIL.
15 October 2014 | DefenseNews.com
Pentagon, Pratt Cut Deal for F-35 Engines, Modifications
The F-35 joint program office (JPO) announced Tuesday evening that it has reached an agreement with engine manufacturer Pratt & Whitney on two key milestones - identifying the root cause of an engine issue that caused a fire in June, and on a contract for the next lot of engines for the stealthy fighter.
14 October 2014 | IHS Jane's
Afghanistan to weaponise MD 530F helos
The Afghan Air Force (AAF) is to arm its MD Helicopters Inc (MDHI) MD 530F helicopters to give them a dual role as both training and close-support platforms, the company confirmed to IHS Jane's on 15 October. The five helicopters currently in service (six were delivered in 2011, but one was lost to
14 October 2014 | Flight Global
New Algerian Super Lynx nears delivery
​AgustaWestland is close to delivering its first of six new Super Lynx 300-series helicopters to the Algerian navy, with the manufacturer having recently conducted flight trials of the type carrying South African-produced missiles.
14 October 2014 | Airbus Defence and Space
First German Air Force A400M makes its maiden flight
The first Airbus A400M new generation airlifter ordered by the German Air Force has made its maiden flight, marking a key milestone towards its delivery. The aircraft, known as MSN18, took off from Seville, Spain today at 14:30 local time (GMT+1) and landed back on site 4 hours and 58 minutes later.