Strike Eagle Extreme; Nearly 70 F-15Es take to sky
17 Apr 2012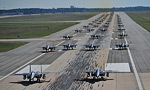 by Tech. Sgt. Tammie Moore
4th Fighter Wing Public Affairs

4/17/2012 - SEYMOUR JOHNSON AIR FORCE, N.C. -- Airmen from the 4th Fighter Wing at Seymour Johnson Air Force Base, N.C., came together to honor their heritage by launching nearly 70 F-15E Strike Eagles in a Turkey Shoot training mission April 16.

The nearly 70 Strike Eagles taxied one after the next simultaneously down the base flightline before heading to bombing ranges across North Carolina to destroy more than 1,000 targets. The purpose of this mass launch was two-fold.

"This F-15E Strike package and Turkey Shoot honored the excellence and sacrifices of our Wing's past while 'flexing' 4th FW airpower today, sharpening our warfighting spirit and skills as we look toward the future," said Col. Patrick Doherty, 4th FW commander.

The term Turkey Shoot dates back to a mission that took place June 19, 1944 during World War II.

On this day U.S. Navy carrier aircraft downed 373 Japanese planes with the loss of only 23 American planes," said Dr. Roy Heidicker, 4th FW historian. A Navy pilot who participated in this mission was attributed as saying, "It was like a turkey shoot" and the term stuck.

Toward the end of WWII the greatest challenge in Europe for the 8th Air Force was destroying a Luftwaffe that refused to take to the air. One of the 4th FG's most notorious missions during WWII was also its final major mission. The group's Airmen were tasked to take out the Luftwaffe or German air force. In two airfield attacks the group's aviators destroyed 105 enemy aircraft April 15, 1945.

"While 'A' Group attacked airfields in the region of Prague, 'B' Group, devastated the Luftwaffe base at Gablingen in 40 minutes of continuous strafing," Heidicker said. "That same day other 8th Air Force fighter groups attacked Luftwaffe airfields all over Germany, claiming a total of 752 aircraft destroyed. The Luftwaffe never recovered from this terrible and devastating blow."

During World War II competition began between the 4th and 56th Fighter Groups to see what unit could destroy the most enemy aircraft. The 4th FG finished the war with 1,016 aircraft destroyed and the 56th FG's final tally was 1,006. While supporting the war effort the 4th FG destroyed more enemy aircraft than any group or wing in Air Force history.

"We proudly carry on the legacy of the 4th FG's victories, as well as those of the wing's Korean, Vietnam, Gulf War efforts and believe it is critically important that current and future generations of Airmen understand and celebrate our history, so they can visualize what they will be capable of doing in the future," Doherty said.

A wide variety of Airmen from multiple Air Force specialties ranging from ammo to radar approach control technicians came together to ensure the aircraft launched safely.

"The entire Seymour team of professionals and dedicated Airmen, along with our phenomenal community, pitched in to make this effort a great success," Doherty said.


2015
30 April 2015 | Flight Global
Russia to reestablish Tu-160 supersonic bomber production line
​The Russian defense ministry has confirmed that it will restart the production line for the Soviet-era Tupolev Tu-160 "Blackjack" supersonic strategic bomber.
30 April 2015 | RAF
Red Arrows and new Team Leader begin 2015 season following display approval
After months of training, the Red Arrows' 2015 display season is officially getting underway, with a new Team Leader taking over this year.
30 April 2015 | NATO News
Norway takes the lead in NATO's Baltic Air Policing mission
Norway will assume lead responsibility for NATO's air policing mission over the Baltic states of Estonia, Latvia and Lithuania on Friday (1 May 2015). The United Kingdom will also rejoin the mission while Italy and Belgium will continue their participation. A handover ceremony is taking place on Thursday (30 April 2015) at Šiauliai airbase in Lithuania, where Italy will formally transfer lead responsibility for the mission to Norway.
30 April 2015 | Flight Global
Sweden to boost operational readiness with Gripen
The Swedish government has outlined its defence priorities for the period to 2020, with new measures to include increasing the number of fully operational Saab Gripen squadrons and potentially ordering a further 10 E-model examples.
29 April 2015 | IHS Jane's
Qatar selects Rafale fighter aircraft
Qatar will sign for 24 Dassault Rafale combat aircraft to fulfil its fighter procurement requirement on 4 May. The upcoming contract, which was announced by Dassault on 30 April, will be signed in Doha during a visit by French President François Hollande. The deal follows French media reports
29 April 2015 | Flight Global
Peru accepts first locally-assembled KT-1P trainer
​Peruvian company Seman has delivered its first locally-­assembled example of the Korea Aerospace Industries KT-1 trainer to the Latin American ­nation's air force.
29 April 2015 | Defense-Aerospace
First of Two KC-130Rs Delivered to Chilean Air Force
NEWTOWN, Conn. --- The Chilean Air Force has taken delivery of a Lockheed Martin KC-130R Hercules refueling/transport aircraft. The aircraft is the first of two to be delivered this year to Chile's Aviation Group No. 10. The KC-130R was previously flown by the USMC and offered by the U.S. Defense...
23 April 2015 | DefenseNews.com
Boeing: Five C-17As Still for Sale
Boeing said it still had five C-17A Globemaster transports for sale following confirmation that the Royal Australian Air Force would take another two.        
23 April 2015 | Flight Global
USN X-47B completes air-to-air refuelling test
​The US Navy has achieved the final testing objective of its Northrop Grumman X-47B unmanned combat air vehicle demonstrator programme, following the successful air-to-air (AAR) refuelling of the aircraft on 22 April.
22 April 2015 | IHS Jane's
Poland selects Patriot system for its Wisla air-defence programme
Key Points The US Patriot system has been selected by Poland for its Wisla medium-range air- and missile-defence requirement The Raytheon system was competing for the requirement against Eurosam's SAMP/T Poland has selected the US Patriot missile system for the country's Wisla medium-range air-