Strike Eagle Extreme; Nearly 70 F-15Es take to sky
17 Apr 2012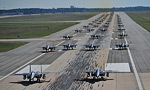 by Tech. Sgt. Tammie Moore
4th Fighter Wing Public Affairs

4/17/2012 - SEYMOUR JOHNSON AIR FORCE, N.C. -- Airmen from the 4th Fighter Wing at Seymour Johnson Air Force Base, N.C., came together to honor their heritage by launching nearly 70 F-15E Strike Eagles in a Turkey Shoot training mission April 16.

The nearly 70 Strike Eagles taxied one after the next simultaneously down the base flightline before heading to bombing ranges across North Carolina to destroy more than 1,000 targets. The purpose of this mass launch was two-fold.

"This F-15E Strike package and Turkey Shoot honored the excellence and sacrifices of our Wing's past while 'flexing' 4th FW airpower today, sharpening our warfighting spirit and skills as we look toward the future," said Col. Patrick Doherty, 4th FW commander.

The term Turkey Shoot dates back to a mission that took place June 19, 1944 during World War II.

On this day U.S. Navy carrier aircraft downed 373 Japanese planes with the loss of only 23 American planes," said Dr. Roy Heidicker, 4th FW historian. A Navy pilot who participated in this mission was attributed as saying, "It was like a turkey shoot" and the term stuck.

Toward the end of WWII the greatest challenge in Europe for the 8th Air Force was destroying a Luftwaffe that refused to take to the air. One of the 4th FG's most notorious missions during WWII was also its final major mission. The group's Airmen were tasked to take out the Luftwaffe or German air force. In two airfield attacks the group's aviators destroyed 105 enemy aircraft April 15, 1945.

"While 'A' Group attacked airfields in the region of Prague, 'B' Group, devastated the Luftwaffe base at Gablingen in 40 minutes of continuous strafing," Heidicker said. "That same day other 8th Air Force fighter groups attacked Luftwaffe airfields all over Germany, claiming a total of 752 aircraft destroyed. The Luftwaffe never recovered from this terrible and devastating blow."

During World War II competition began between the 4th and 56th Fighter Groups to see what unit could destroy the most enemy aircraft. The 4th FG finished the war with 1,016 aircraft destroyed and the 56th FG's final tally was 1,006. While supporting the war effort the 4th FG destroyed more enemy aircraft than any group or wing in Air Force history.

"We proudly carry on the legacy of the 4th FG's victories, as well as those of the wing's Korean, Vietnam, Gulf War efforts and believe it is critically important that current and future generations of Airmen understand and celebrate our history, so they can visualize what they will be capable of doing in the future," Doherty said.

A wide variety of Airmen from multiple Air Force specialties ranging from ammo to radar approach control technicians came together to ensure the aircraft launched safely.

"The entire Seymour team of professionals and dedicated Airmen, along with our phenomenal community, pitched in to make this effort a great success," Doherty said.


2015
30 June 2015 | DefenseNews.com
South Korea Selects Airbus for $1.33B Tanker Contract
European aerospace giant Airbus won a $1.33 billion deal Tuesday to supply air refueling tankers to South Korea, beating US rival Boeing, Seoul's military procurement agency said.        
30 June 2015 | Lockheed Martin
Lockheed Martin's Legion Pod™ Takes to the Skies
Equipped with an IRST21™ infrared sensor and advanced networking and data processing technology, Legion Pod provides high-fidelity detection and tracking of airborne targets. It also accommodates additional sensors without costly system or aircraft modifications.
30 June 2015 | Flight Global
​PICTURES: First RAAF C-27J arrives in Australia
The first of ten Alenia C-27J tactical transports for the Royal Australian Air Force (RAAF) has arrived in country.
29 June 2015 | Northrop Grumman
Northrop Grumman, US Navy Celebrate Legacy of EA-6B Prowler
The US Navy's last Northrop Grumman EA-6B Prowler electronic warfare aircraft flew its final flight from Naval Air Station Whidbey Island in Washington on 27 June, concluding 44 years in service with the force. As the Navy's last operational EA-6B Prowler, aircraft bureau number 163890 took part in a ceremonial final take-off and flyaway from its previous home base, leading the way for the Boeing EA-18G Growler to take over as its replacement. The departure of the last Navy Prowler from Whidbey Island does not mark the end of the Prowler's service to the U.S. military. The U.S. Marines, who have operated the aircraft since 1977, plan to keep flying the jet from Marine Corps Air Station Cherry Point, North Carolina through 2019.
29 June 2015 | NAVAIR
HX-21 completes first flight with developmental electronic warfare pod
NAVAL AIR SYSTEMS COMMAND, Patuxent River, Md. -- On June 8, 2015, a UH-1Y from Air Test and Evaluation Squadron (HX) 21 completed the first test flight with a developmental electronic warfare (EW) pod. The pod would represent a new tactical capability for U.S. Marine Corps rotary wing aircraft...
26 June 2015 | RUaviation
Ministry of Defence of Belarus ordered 12 Mi-8MTV-5 transport helicopters
During the international military technology forum Army-2015 on 16 June 2015, Russian Helicopters (part of State Corporation Rostec) announced that a contract has been signed with the Belarusian Defence Ministry for delivery of 12 Russian-made Mi-8MTV-5 military transport helicopters over 2016-2017.
25 June 2015 | ACC
31st TES F-35s take on Green Flag 15-08
NELLIS AFB, Nev. --- F-35A Lightning IIs from the 31st Test and Evaluation Squadron played the U.S. Army's primary close air support platform during the latest iteration of the Green Flag exercise, GF 15-08, as the Air Force's program works toward its goal of declaring initial operational capability by the end of this year.
25 June 2015 | IHS Jane's
First Israeli Air Force cadets complete initial training on new M-346 jets
The Israel Air Force (IAF) has awarded officers' ranks to the first group of cadets to complete their initial flight training on the new Alenia Aermacchi M-346 jet trainers. The ceremony held at Hatzerim Air Base on 23 June marked six months of the cadets flying the M-346, which is called Lavi (Hebrew for Lion) by the IAF. The IAF received its first two M-346s in July 2014 and declared the type operational in January. Senior flight squadron trainers at Hatzerim said the Lavi has now completely replaced the previous training platforms: the F-16A and Skyhawk.
25 June 2015 | IHS Jane's
Iraqi F-16 crashes in Arizona
An Iraqi Air Force Lockheed Martin F-16 Fighting Falcon combat aircraft crashed on 24 June in southern Arizona, according to Iraq's Ministry of Defence. Brigadier General Rasid Muhammad Sadiq, who was conducting a training mission at the time and was the only person on board, was killed, the ministry said. The aircraft was stationed at the 162nd Fighter Wing of the Arizona Air National Guard, and crashed near Arizona's border with Mexico and New Mexico. Iraqi officials have said they expect the country's F-16s to arrive at Balad Air Base within months.
25 June 2015 | IHS Jane's
Philippines looking to acquire ex-Japanese P-3Cs
The Philippines Department of National Defense (DND) is looking to acquire from Japan second-hand Lockheed Martin P-3C Orion maritime patrol aircraft, DND spokesman Peter Paul G Galvez told IHS Jane's on 26 June. Galvez said the P-3C is required by the Philippines to enhance maritime security and confirmed that the aircraft could meet a stated requirement within the Philippine Air Force (PAF). Earlier this week the PAF announced its mid-term force modernisation programme - called Flight Plan 2028 - in which it said it wanted to acquire four long-range patrol aircraft before 2022.