Strike Eagle Extreme; Nearly 70 F-15Es take to sky
17 Apr 2012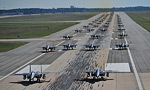 by Tech. Sgt. Tammie Moore
4th Fighter Wing Public Affairs

4/17/2012 - SEYMOUR JOHNSON AIR FORCE, N.C. -- Airmen from the 4th Fighter Wing at Seymour Johnson Air Force Base, N.C., came together to honor their heritage by launching nearly 70 F-15E Strike Eagles in a Turkey Shoot training mission April 16.

The nearly 70 Strike Eagles taxied one after the next simultaneously down the base flightline before heading to bombing ranges across North Carolina to destroy more than 1,000 targets. The purpose of this mass launch was two-fold.

"This F-15E Strike package and Turkey Shoot honored the excellence and sacrifices of our Wing's past while 'flexing' 4th FW airpower today, sharpening our warfighting spirit and skills as we look toward the future," said Col. Patrick Doherty, 4th FW commander.

The term Turkey Shoot dates back to a mission that took place June 19, 1944 during World War II.

On this day U.S. Navy carrier aircraft downed 373 Japanese planes with the loss of only 23 American planes," said Dr. Roy Heidicker, 4th FW historian. A Navy pilot who participated in this mission was attributed as saying, "It was like a turkey shoot" and the term stuck.

Toward the end of WWII the greatest challenge in Europe for the 8th Air Force was destroying a Luftwaffe that refused to take to the air. One of the 4th FG's most notorious missions during WWII was also its final major mission. The group's Airmen were tasked to take out the Luftwaffe or German air force. In two airfield attacks the group's aviators destroyed 105 enemy aircraft April 15, 1945.

"While 'A' Group attacked airfields in the region of Prague, 'B' Group, devastated the Luftwaffe base at Gablingen in 40 minutes of continuous strafing," Heidicker said. "That same day other 8th Air Force fighter groups attacked Luftwaffe airfields all over Germany, claiming a total of 752 aircraft destroyed. The Luftwaffe never recovered from this terrible and devastating blow."

During World War II competition began between the 4th and 56th Fighter Groups to see what unit could destroy the most enemy aircraft. The 4th FG finished the war with 1,016 aircraft destroyed and the 56th FG's final tally was 1,006. While supporting the war effort the 4th FG destroyed more enemy aircraft than any group or wing in Air Force history.

"We proudly carry on the legacy of the 4th FG's victories, as well as those of the wing's Korean, Vietnam, Gulf War efforts and believe it is critically important that current and future generations of Airmen understand and celebrate our history, so they can visualize what they will be capable of doing in the future," Doherty said.

A wide variety of Airmen from multiple Air Force specialties ranging from ammo to radar approach control technicians came together to ensure the aircraft launched safely.

"The entire Seymour team of professionals and dedicated Airmen, along with our phenomenal community, pitched in to make this effort a great success," Doherty said.


2014
22 October 2014 | IHS Jane's
Images show JF-17 flying with CM-400AKG hypersonic ASM
Recent images of two China Aerospace Science and Industry Corporation (CASIC) CM-400AKG high-speed air-to-surface missiles fitted to an airborne Chengdu Aircraft Corporation (CAC) FC-1/JF-17 fighter suggest that China continues to develop the missile. While the source or date of the photos is not
21 October 2014 | IHS Jane's
Embraer rolls out first KC-390 prototype
Embraer rolled out the first of two KC-390 prototype transport aircraft at its Gaviao Peixoto production facility, north of Sao Paulo, on 21 October. The ceremony, which was attended by officials from 32 countries, marked a major milestone in the programme ahead of the maiden flight, currently
21 October 2014 | IHS Jane's
Taiwanese pilot dies after AT-3 midair collision
A member of Taiwan's Thunder Tiger Aerobatics Team was killed on 21 October after his AT-3 (Tzu Chung) advanced jet trainer collided with another AT-3 during what Republic of China Air Force (RoCAF) officials said was a "routine aerobatic training mission". Defence officials said the
21 October 2014 | Airbus Helicopters
Royal Thai Navy and Air Force acquire five EC645 T2 and two EC725
The airborne capabilities of Thailand's navy and air force will be significantly enhanced with the acquisition of two mission-ready Airbus Helicopters rotorcraft types: the light-utility EC645 T2 and the 11-ton-class EC725.
21 October 2014 | RAF
Air Strikes In Iraq
British forces have continued to conduct air operations to assist the Iraqi government in its fight against ISIL. Early last week, 2 Tornado GR4s, while on an armed reconnaissance patrol, were tasked to attack an ISIL main battle tank which coalition forces had been tracking near Ramadi.
21 October 2014 | RAF
RAF Surveillance missions over Syria confirmed
The Defence Secretary has announced that UK Reaper and Rivet Joint aircraft will fly surveillance missions over Syria.
21 October 2014 | RCAF
Canada's CF-188 Hornets depart for Operation Impact
"The RCAF is making a significant contribution of air assets to Canada's Operation Impact in support to the coalition efforts in Iraq."
20 October 2014 | IHS Jane's
A-7 Corsair II finally retires from service
The Hellenic Air Force (HAF) held a decommissioning ceremony for its LTV (later Vought) A-7 Corsair II aircraft at Araxos Air Base, home of the 116 Combat Wing, on 17 October. The world's last operator of the A-7 Corsair II, 336 Squadron, decommissioned 15 A-7E and two TA-7C aircraft at the event.
20 October 2014 | RUaviation
A composite regiment operating Su-30SM jets came on duty in Transbaikal
A composite regiment operating Su-30SM fighters has come on duty in Transbaikal. Its objective is to protect the area located near the state border and stretching from Baikal to Amur
20 October 2014 | Flight Global
Australia's first MH-60R arrives by C-17
The first of the Royal Australian Navy's Lockheed Martin/Sikorsky MH-60R combat helicopters has been delivered in-country from US Navy Air Station, Jacksonville, Florida, where the squadron has been training alongside US personnel.