Strike Eagle Extreme; Nearly 70 F-15Es take to sky
17 Apr 2012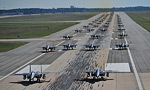 by Tech. Sgt. Tammie Moore
4th Fighter Wing Public Affairs

4/17/2012 - SEYMOUR JOHNSON AIR FORCE, N.C. -- Airmen from the 4th Fighter Wing at Seymour Johnson Air Force Base, N.C., came together to honor their heritage by launching nearly 70 F-15E Strike Eagles in a Turkey Shoot training mission April 16.

The nearly 70 Strike Eagles taxied one after the next simultaneously down the base flightline before heading to bombing ranges across North Carolina to destroy more than 1,000 targets. The purpose of this mass launch was two-fold.

"This F-15E Strike package and Turkey Shoot honored the excellence and sacrifices of our Wing's past while 'flexing' 4th FW airpower today, sharpening our warfighting spirit and skills as we look toward the future," said Col. Patrick Doherty, 4th FW commander.

The term Turkey Shoot dates back to a mission that took place June 19, 1944 during World War II.

On this day U.S. Navy carrier aircraft downed 373 Japanese planes with the loss of only 23 American planes," said Dr. Roy Heidicker, 4th FW historian. A Navy pilot who participated in this mission was attributed as saying, "It was like a turkey shoot" and the term stuck.

Toward the end of WWII the greatest challenge in Europe for the 8th Air Force was destroying a Luftwaffe that refused to take to the air. One of the 4th FG's most notorious missions during WWII was also its final major mission. The group's Airmen were tasked to take out the Luftwaffe or German air force. In two airfield attacks the group's aviators destroyed 105 enemy aircraft April 15, 1945.

"While 'A' Group attacked airfields in the region of Prague, 'B' Group, devastated the Luftwaffe base at Gablingen in 40 minutes of continuous strafing," Heidicker said. "That same day other 8th Air Force fighter groups attacked Luftwaffe airfields all over Germany, claiming a total of 752 aircraft destroyed. The Luftwaffe never recovered from this terrible and devastating blow."

During World War II competition began between the 4th and 56th Fighter Groups to see what unit could destroy the most enemy aircraft. The 4th FG finished the war with 1,016 aircraft destroyed and the 56th FG's final tally was 1,006. While supporting the war effort the 4th FG destroyed more enemy aircraft than any group or wing in Air Force history.

"We proudly carry on the legacy of the 4th FG's victories, as well as those of the wing's Korean, Vietnam, Gulf War efforts and believe it is critically important that current and future generations of Airmen understand and celebrate our history, so they can visualize what they will be capable of doing in the future," Doherty said.

A wide variety of Airmen from multiple Air Force specialties ranging from ammo to radar approach control technicians came together to ensure the aircraft launched safely.

"The entire Seymour team of professionals and dedicated Airmen, along with our phenomenal community, pitched in to make this effort a great success," Doherty said.


2015
24 November 2015 | DefenseNews.com
Turkey Shoots Down Russian Jet on Syrian Border
Two Turkish F-16 fighter aircraft "intervened" and shot down a Russian Su-24 jet Nov. 24 near Turkey's Syrian border.        
24 November 2015 | RUaviation
Russian jet downed when returning to Hmeimim airbase — Defense Ministry
"The Russian Su-24 warplane was downed in Syria's territory by a Turkish F-16 fighter jet. The objective control data analysis has shown unmistakably that Turkey's air space was not violated," the Russian defense ministry said
24 November 2015 | RAF
Century of sorties for RAF Airseeker and Sentinel
The Royal Air Force's newest surveillance aircraft, Airseeker, and the RAF Sentinel battlefield surveillance aircraft both reached a major milestone last week as they flew their 100th operational sorties in the fight against ISIL.
23 November 2015 | Flight Global
​UK to obtain nine P-8 maritime patrol aircraft
The UK is set to announce plans to obtain nine Boeing P-8 Poseidon maritime patrol aircraft, as well as extend the service life of the Royal Air Force s Eurofighter Typhoon fighters.
20 November 2015 | RUaviation
Russian Air Force Carries Out 394 Sorties, Hits 731 Targets in Three Days
Russian jets have carried out 394 sorties from the Hmeymim airbase in Syria in the last three days, base commander Alexey Maksimtsev told Russian President Vladimir Putin during a Defense Ministry briefing. The airstrikes by the Russian Aerospace Forces have helped the Syrian Army advance in all directions, with the most progress made outside Aleppo and in the mountainous area of Latakia, Major General Alexei Maksimtsev, Commander of the Russia Air Force Unit at the Hmeymim air base, reported to Russian President Vladimir Putin.
20 November 2015 | Defense-Aerospace
Marine Corps AV-8Bs Join Airstrikes from Gulf Waters
ARABIAN GULF --- Naval Aviation rejoined the fight against ISIL Nov. 19 when AV-8B Harriers from Marine Medium Tiltrotor Squadron (VMM)162(Reinforced)launched from the amphibious assault ship USS Kearsarge (LHD 3) to conduct their first missions over Iraq in support of Operation Inherent Resolve (OI...
19 November 2015 | Flight Global
Russian bombers deploy Kh-101 cruise missiles over Syria
Russia's aerial campaign in Syria is being used to test weapon systems that have not previously been employed under combat conditions including the Raduga Kh-101 air-launched cruise missile.
18 November 2015 | IHS Jane's
Russia to supply China with 24 Su-35 fighters
Russia is to supply China with 24 multirole Su-35 fighters in a deal stated as being worth USD2 billion (USD83 million per unit), Russian defence conglomerate Rostec has announced. "Lengthy negotiations have concluded in a contract to supply 24 Su-35 multi-purpose fighters to China,"
18 November 2015 | RUaviation
Russian Su-34 Bombers Strike ISIL-Controlled Oil Facilities
Russian Su-34 bombers have launched strikes on ISIL-controlled oil facilities and fuel trucks, Russia's General Staff said Wednesday. About 500 terrorists' fuel trucks that had been illegally transporting oil from Syria to Iraq were destroyed by Russian aviation in a few days, Col. Gen. Andrei Kartapolov, Chief of the Main Operational Directorate of the General Staff of the Russian Armed Forces, said.
18 November 2015 | Defense-Aerospace
Russia Hits ISIL with Massive Syria Airstrikes
In accordance to the task assigned by the Supreme Commander-in-Chief of the Russian Armed Forces concerning enhancing combat operations of the aviation in the Syrian Arab Republic, crews of Tu-160, Tu-95MS and Tu-22M3 long-range aircraft of the Russian Aerospace Forces carried out strikes with air-b...