Strike Eagle Extreme; Nearly 70 F-15Es take to sky
17 Apr 2012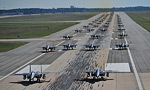 by Tech. Sgt. Tammie Moore
4th Fighter Wing Public Affairs

4/17/2012 - SEYMOUR JOHNSON AIR FORCE, N.C. -- Airmen from the 4th Fighter Wing at Seymour Johnson Air Force Base, N.C., came together to honor their heritage by launching nearly 70 F-15E Strike Eagles in a Turkey Shoot training mission April 16.

The nearly 70 Strike Eagles taxied one after the next simultaneously down the base flightline before heading to bombing ranges across North Carolina to destroy more than 1,000 targets. The purpose of this mass launch was two-fold.

"This F-15E Strike package and Turkey Shoot honored the excellence and sacrifices of our Wing's past while 'flexing' 4th FW airpower today, sharpening our warfighting spirit and skills as we look toward the future," said Col. Patrick Doherty, 4th FW commander.

The term Turkey Shoot dates back to a mission that took place June 19, 1944 during World War II.

On this day U.S. Navy carrier aircraft downed 373 Japanese planes with the loss of only 23 American planes," said Dr. Roy Heidicker, 4th FW historian. A Navy pilot who participated in this mission was attributed as saying, "It was like a turkey shoot" and the term stuck.

Toward the end of WWII the greatest challenge in Europe for the 8th Air Force was destroying a Luftwaffe that refused to take to the air. One of the 4th FG's most notorious missions during WWII was also its final major mission. The group's Airmen were tasked to take out the Luftwaffe or German air force. In two airfield attacks the group's aviators destroyed 105 enemy aircraft April 15, 1945.

"While 'A' Group attacked airfields in the region of Prague, 'B' Group, devastated the Luftwaffe base at Gablingen in 40 minutes of continuous strafing," Heidicker said. "That same day other 8th Air Force fighter groups attacked Luftwaffe airfields all over Germany, claiming a total of 752 aircraft destroyed. The Luftwaffe never recovered from this terrible and devastating blow."

During World War II competition began between the 4th and 56th Fighter Groups to see what unit could destroy the most enemy aircraft. The 4th FG finished the war with 1,016 aircraft destroyed and the 56th FG's final tally was 1,006. While supporting the war effort the 4th FG destroyed more enemy aircraft than any group or wing in Air Force history.

"We proudly carry on the legacy of the 4th FG's victories, as well as those of the wing's Korean, Vietnam, Gulf War efforts and believe it is critically important that current and future generations of Airmen understand and celebrate our history, so they can visualize what they will be capable of doing in the future," Doherty said.

A wide variety of Airmen from multiple Air Force specialties ranging from ammo to radar approach control technicians came together to ensure the aircraft launched safely.

"The entire Seymour team of professionals and dedicated Airmen, along with our phenomenal community, pitched in to make this effort a great success," Doherty said.


2018
16 July 2018 | IHS Jane's
Taiwan commissions first Apache brigade
Taiwan's Ministry of National Defense (MND) commissioned its first air brigade equipped with Boeing AH-64E Apache Guardian attack helicopters on 17 July. The 29 Apache helicopters will be operated by Republic of China Army's (RoCA's) 601st Air Cavalry Brigade, which operates under
16 July 2018 | Air Forces Monthly
Pakistan T129 ATAK order confirmed
Turkish Aerospace Industries (TAI) has confirmed a deal to supply the Pakistan Army with 30 T129 ATAK attack helicopters. The deal had previously been reported on May 24, in a political manifesto from Turkey's ruling Justice and Development Party, released…
16 July 2018 | Flight Global
FARNBOROUGH: Aero Vodochody unveils F/A-259 for OA-X bid
Aero Vodochody appears to have rebranded a new version of the L-159 advanced jet trainer as the F/A-259 Striker as it makes a late bid for the US Air Force's OA-X close air support programme.
16 July 2018 | Combat Aircraft
UK launches new fighter program
The UK's leading aerospace industry companies and the UK Ministry of Defence (MoD) have unveiled a next-generation fighter jet concept model on the first day of the Farnborough International Air Show. Defence Secretary Gavin Williamson launched the new UK national…Read more ›
15 July 2018 | MILAVIA News
Air Tattoo Celebrates RAF100 In Style
A record crowd of 185,000 people enjoyed a feast of flying as the Royal International Air Tattoo staged international celebrations marking the Royal Air Force's Centenary at RAF Fairford.

In total, 302 aircraft, from 43 air arms representing 30 nations attended the airshow, of which 121 took part in the flying display.
14 July 2018 | RAF
Royal International Air Tattoo 2018 Saturday round-up
Aircraft displays highlights from Saturday 14th July 2018 at the Royal International Air Tattoo.
14 July 2018 | RAF
RAF receives 20th Atlas transport aircraft
The RAF has taken delivery of the 20th next-generation Atlas transport aircraft.
13 July 2018 | ACC
Checkered Flag 18-2 takes to the skies at Tyndall
Checkered Flag 18-2, a large force exercise, kicked off at Tyndall July 9, 2018, and will conclude July 20. Checkered Flag is a large-scale aerial exercise designed to integrate fourth and fifth-generation airframes to enhance the capabilities of Airmen while providing training to rapidly respond to current, real-world conflicts and preparing for the future of air superiority.
13 July 2018 | USAF News
KC-46 completes flight testing required for October first aircraft delivery
The KC-46 Pegasus program achieved an important milestone July 6, 2018, at Boeing Field, Seattle, with completion of the final flight tests required for first aircraft delivery planned in late October.
11 July 2018 | RAF
RAF100 10th July Parade and Flypast in central London
Some of what was captured on the Mall, in the skies and outside Buckingham Palace on 10th July 2018 for the RAF100 celebrations.