Strike Eagle Extreme; Nearly 70 F-15Es take to sky
17 Apr 2012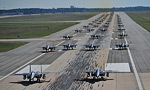 by Tech. Sgt. Tammie Moore
4th Fighter Wing Public Affairs

4/17/2012 - SEYMOUR JOHNSON AIR FORCE, N.C. -- Airmen from the 4th Fighter Wing at Seymour Johnson Air Force Base, N.C., came together to honor their heritage by launching nearly 70 F-15E Strike Eagles in a Turkey Shoot training mission April 16.

The nearly 70 Strike Eagles taxied one after the next simultaneously down the base flightline before heading to bombing ranges across North Carolina to destroy more than 1,000 targets. The purpose of this mass launch was two-fold.

"This F-15E Strike package and Turkey Shoot honored the excellence and sacrifices of our Wing's past while 'flexing' 4th FW airpower today, sharpening our warfighting spirit and skills as we look toward the future," said Col. Patrick Doherty, 4th FW commander.

The term Turkey Shoot dates back to a mission that took place June 19, 1944 during World War II.

On this day U.S. Navy carrier aircraft downed 373 Japanese planes with the loss of only 23 American planes," said Dr. Roy Heidicker, 4th FW historian. A Navy pilot who participated in this mission was attributed as saying, "It was like a turkey shoot" and the term stuck.

Toward the end of WWII the greatest challenge in Europe for the 8th Air Force was destroying a Luftwaffe that refused to take to the air. One of the 4th FG's most notorious missions during WWII was also its final major mission. The group's Airmen were tasked to take out the Luftwaffe or German air force. In two airfield attacks the group's aviators destroyed 105 enemy aircraft April 15, 1945.

"While 'A' Group attacked airfields in the region of Prague, 'B' Group, devastated the Luftwaffe base at Gablingen in 40 minutes of continuous strafing," Heidicker said. "That same day other 8th Air Force fighter groups attacked Luftwaffe airfields all over Germany, claiming a total of 752 aircraft destroyed. The Luftwaffe never recovered from this terrible and devastating blow."

During World War II competition began between the 4th and 56th Fighter Groups to see what unit could destroy the most enemy aircraft. The 4th FG finished the war with 1,016 aircraft destroyed and the 56th FG's final tally was 1,006. While supporting the war effort the 4th FG destroyed more enemy aircraft than any group or wing in Air Force history.

"We proudly carry on the legacy of the 4th FG's victories, as well as those of the wing's Korean, Vietnam, Gulf War efforts and believe it is critically important that current and future generations of Airmen understand and celebrate our history, so they can visualize what they will be capable of doing in the future," Doherty said.

A wide variety of Airmen from multiple Air Force specialties ranging from ammo to radar approach control technicians came together to ensure the aircraft launched safely.

"The entire Seymour team of professionals and dedicated Airmen, along with our phenomenal community, pitched in to make this effort a great success," Doherty said.


2015
27 September 2015 | DefenseNews.com
France Carries Out First Airstrikes On ISIS In Syria
France carried out its first airstrikes against the Islamic State group in Syria on Sunday, launching a military operation as Russia and Western powers sought the upper hand in shaping the future of the war-torn country. President Francois Hollande said six French warplanes hit an IS training camp near the eastern city of Deir Ezzor, and that more airstrikes could follow in the coming weeks.
25 September 2015 | Boeing
Boeing, U.S. Air Force KC-46A Tanker Completes Successful First Flight
The Boeing and U.S. Air Force team successfully completed the first flight of a KC-46A tanker aircraft today, taking off from Paine Field at 1:24 p.m. (PST) and landing four hours later at Boeing Field in Seattle. This was the first flight of a KC-46A tanker-configured aircraft, following ongoing flights of the program's first test aircraft, a 767-2C.
23 September 2015 | IHS Jane's
Egypt to buy the two ex-Russian Mistral carriers
Egypt will buy the two Mistral-class helicopter carriers that were built for Russia, according to a brief announcement posted on the official website of the French president's office on 23 September. French officials have said delivery will take place in March 2016 and that Egypt will pay EUR950 million (USD1 billion) ...
22 September 2015 | Flight Global
USAF stripping 30 B-52Hs of nuclear weapons capability
As US Air Force Global Strike Command anticipates the introduction of the nuclear-capable Long-Range Strike Bomber in the mid-2020s, the command is de-arming its air-launched cruise missile-carrying Boeing B-52 bombers to comply with New START treaty limits with Russia.
15 September 2015 | Flight Global
First flight for new Aero Vodochody L-39NG
Aero Vodochody performed the maiden sortie of its updated L-39NG trainer from its Odolena Voda facility in the Czech Republic on 14 September.
15 September 2015 | UK MOD
Royal Navy's Merlin Mk 2 helicopters ready for action
The Royal Navy's anti-submarine warfare helicopter, the Merlin Mk2, has achieved Full Operating Capability (FOC), on time and under budget.
15 September 2015 | Airbus Defence and Space
UK accepts seventh Airbus A400M
UK Ministry of Defence to declare that the key contractual milestone known as In-Service Delivery (ISD) has been met following the handing-over of its seventh Airbus A400M new-generation airlifter.
11 September 2015 | DefenseNews.com
Irkut Signs Two New Su-30 Fighter Contracts
Russian aircraft manufacturer Irkut has lined up orders with the Russian Defence Ministry and Algeria for the delivery of 22 Su-30 heavy multi-role fighter jets over the next two years, Russian officials said this week.         
11 September 2015 | Flight Global
Eurofighter announces Kuwait selection
Kuwait has reached an agreement with the Italian government linked to the planned acquisition of 28 Eurofighter Typhoons.
11 September 2015 | UK MOD
RAF Typhoons intercept Russian aircraft near UK airspace
Royal Air Force Typhoon jets have flown from RAF Lossiemouth to intercept Russian 'Blackjack' aircraft flying in international air space.