Strike Eagle Extreme; Nearly 70 F-15Es take to sky
17 Apr 2012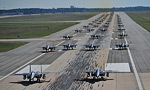 by Tech. Sgt. Tammie Moore
4th Fighter Wing Public Affairs

4/17/2012 - SEYMOUR JOHNSON AIR FORCE, N.C. -- Airmen from the 4th Fighter Wing at Seymour Johnson Air Force Base, N.C., came together to honor their heritage by launching nearly 70 F-15E Strike Eagles in a Turkey Shoot training mission April 16.

The nearly 70 Strike Eagles taxied one after the next simultaneously down the base flightline before heading to bombing ranges across North Carolina to destroy more than 1,000 targets. The purpose of this mass launch was two-fold.

"This F-15E Strike package and Turkey Shoot honored the excellence and sacrifices of our Wing's past while 'flexing' 4th FW airpower today, sharpening our warfighting spirit and skills as we look toward the future," said Col. Patrick Doherty, 4th FW commander.

The term Turkey Shoot dates back to a mission that took place June 19, 1944 during World War II.

On this day U.S. Navy carrier aircraft downed 373 Japanese planes with the loss of only 23 American planes," said Dr. Roy Heidicker, 4th FW historian. A Navy pilot who participated in this mission was attributed as saying, "It was like a turkey shoot" and the term stuck.

Toward the end of WWII the greatest challenge in Europe for the 8th Air Force was destroying a Luftwaffe that refused to take to the air. One of the 4th FG's most notorious missions during WWII was also its final major mission. The group's Airmen were tasked to take out the Luftwaffe or German air force. In two airfield attacks the group's aviators destroyed 105 enemy aircraft April 15, 1945.

"While 'A' Group attacked airfields in the region of Prague, 'B' Group, devastated the Luftwaffe base at Gablingen in 40 minutes of continuous strafing," Heidicker said. "That same day other 8th Air Force fighter groups attacked Luftwaffe airfields all over Germany, claiming a total of 752 aircraft destroyed. The Luftwaffe never recovered from this terrible and devastating blow."

During World War II competition began between the 4th and 56th Fighter Groups to see what unit could destroy the most enemy aircraft. The 4th FG finished the war with 1,016 aircraft destroyed and the 56th FG's final tally was 1,006. While supporting the war effort the 4th FG destroyed more enemy aircraft than any group or wing in Air Force history.

"We proudly carry on the legacy of the 4th FG's victories, as well as those of the wing's Korean, Vietnam, Gulf War efforts and believe it is critically important that current and future generations of Airmen understand and celebrate our history, so they can visualize what they will be capable of doing in the future," Doherty said.

A wide variety of Airmen from multiple Air Force specialties ranging from ammo to radar approach control technicians came together to ensure the aircraft launched safely.

"The entire Seymour team of professionals and dedicated Airmen, along with our phenomenal community, pitched in to make this effort a great success," Doherty said.


2017
13 August 2017 | Google News
Solo Turk and Saudi Hawks to participate in PAF's Aug 14 air show
ISLAMABAD: Aerobatic teams from Turkey and Saudi Arabia will be performing in the biggest show by the Pakistan Air Force (PAF) in the country's history to mark its 70th anniversary on Monday.
11 August 2017 | ACC
F-35As fly in weapons evaluation
Airmen from the 388th and 419th Fighter Wings supported and flew their F-35A Lightning II aircraft during Combat Hammer, the first operational air-to-ground weapons evaluation for the Air Force's newest fighter jets.
10 August 2017 | Flight Global
USAF returns mothballed Raptor to fleet
The US Air Force has taken a Lockheed Martin F-22 out of storage and plans to return the Raptor to flying status by the end of this year, a USAF source has confirmed to FlightGlobal.
9 August 2017 | Air Forces Monthly
First flight for Slovak Spartan
The first C-27J Spartan for the Slovak Air Force completed its maiden at Leonardo's production facility at Turin-Caselle Airport on August 7. It wears the experimental serial CSX62302 and yellow primer paint. On December 22, 2008 it was announced by the…Read more ›
7 August 2017 | Air Forces Monthly
Germany leases M28 Skytrucks
In a surprise move, the Luftwaffe (German Air Force) has revealed a lease deal for two M28 Skytrucks. German evaluation of the twin-turboprop has been going on for some time. In Luftwaffe service the M28 will be mainly used for parachute jump training. A first Skytruck has apparently already been handed over while a second aircraft is still at PZL awaiting delivery.
4 August 2017 | ACC
8th Fighter Squadron reactivated after six years
The Black Sheep have returned. The 8th Fighter Squadron was reactivated at Holloman Air Force Base, N.M., Aug. 4, 2017, six years after its last inactivation May 13, 2011. [...] 8th FS will now maintain and pilot F-16 fighter jets, with its sister squadrons, the 311th FS and 314th FS here.
3 August 2017 | Flight Global
US approves A-29 sale to Nigeria despite concerns
The US State Department has approved the sale of 12 Embraer A-29 Super Tucanos to Nigeria, despite concerns from the previous administration over the Nigerian government's bombing of civilians. The department notified the US Congress, which has 30 days to approve the deal, of the $593 million foreign military sale on 2 August. The package includes the aircraft, weapons, training, spare parts and facilities to support the programme, according to a 3 August announced by the Defense Security Cooperation Agency. In January 2017, a Nigerian Air Force fighter bombed a northeast refugee camp near the border with Cameroon, which reportedly killed at least 100 civilians. The attack prompted the Obama administration to put the Super Tucano sale on hold. The Trump Administration restarted the approval process a few months later, pushing for the sale to support Nigeria's fight against the terrorist group Boko Haram.
2 August 2017 | RAF
RAF Sentinel aircraft returns from the Middle East
A Royal Air Force Sentinel R1 aircraft based at RAF Waddington, was today welcomed back following the latest successful mission supporting the coalition in the fight against Daesh in the Middle East. The 5 (Army Cooperation) Squadron aircraft landed today after eight weeks away where the crew have been supporting coalition operations by supplying information that ensures the strikes carried out by the RAF and other coalition aircraft are accurate.
31 July 2017 | Combat Aircraft
USAF 550th Fighter Squadron 'Silver Eagles' back in business
The active duty Air Force detachment at Kingsley Field, Oregon, has been designated as the 550th Fighter Squadron following an activation ceremony at Kingsley Field, July 21, 2017. In 2014, the detachment was activated as a part of the Total Force Integration (TFI), which brought active-duty F-15C/D Eagle airman to Kingsley Field for the first time. They were originally designated as Detachment 2, 56th Operations Group.
28 July 2017 | Boeing
Boeing improves Chinook for CH-47F Block II
The U.S. Army's Chinook Block II program to extend production and fleet's lifespan of the CH-47F. Boeing has recently been awarded a $276 million Army contract to fund the building and testing of three helicopters to validate Block II enhancements. An improved drivetrain will transfer greater power from the engines to the all-new, swept-tip Advanced Chinook Rotor Blades, which have been engineered to lift 1,500 additional pounds on their own. The current configuration of six fuel tanks – three on each side – will become two, allowing the aircraft to carry more fuel and shed weight. Additionally, the fuselage's structure will be strengthened in critical areas to allow the aircraft to carry additional payload.