Strike Eagle Extreme; Nearly 70 F-15Es take to sky
17 Apr 2012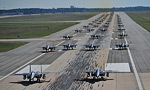 by Tech. Sgt. Tammie Moore
4th Fighter Wing Public Affairs

4/17/2012 - SEYMOUR JOHNSON AIR FORCE, N.C. -- Airmen from the 4th Fighter Wing at Seymour Johnson Air Force Base, N.C., came together to honor their heritage by launching nearly 70 F-15E Strike Eagles in a Turkey Shoot training mission April 16.

The nearly 70 Strike Eagles taxied one after the next simultaneously down the base flightline before heading to bombing ranges across North Carolina to destroy more than 1,000 targets. The purpose of this mass launch was two-fold.

"This F-15E Strike package and Turkey Shoot honored the excellence and sacrifices of our Wing's past while 'flexing' 4th FW airpower today, sharpening our warfighting spirit and skills as we look toward the future," said Col. Patrick Doherty, 4th FW commander.

The term Turkey Shoot dates back to a mission that took place June 19, 1944 during World War II.

On this day U.S. Navy carrier aircraft downed 373 Japanese planes with the loss of only 23 American planes," said Dr. Roy Heidicker, 4th FW historian. A Navy pilot who participated in this mission was attributed as saying, "It was like a turkey shoot" and the term stuck.

Toward the end of WWII the greatest challenge in Europe for the 8th Air Force was destroying a Luftwaffe that refused to take to the air. One of the 4th FG's most notorious missions during WWII was also its final major mission. The group's Airmen were tasked to take out the Luftwaffe or German air force. In two airfield attacks the group's aviators destroyed 105 enemy aircraft April 15, 1945.

"While 'A' Group attacked airfields in the region of Prague, 'B' Group, devastated the Luftwaffe base at Gablingen in 40 minutes of continuous strafing," Heidicker said. "That same day other 8th Air Force fighter groups attacked Luftwaffe airfields all over Germany, claiming a total of 752 aircraft destroyed. The Luftwaffe never recovered from this terrible and devastating blow."

During World War II competition began between the 4th and 56th Fighter Groups to see what unit could destroy the most enemy aircraft. The 4th FG finished the war with 1,016 aircraft destroyed and the 56th FG's final tally was 1,006. While supporting the war effort the 4th FG destroyed more enemy aircraft than any group or wing in Air Force history.

"We proudly carry on the legacy of the 4th FG's victories, as well as those of the wing's Korean, Vietnam, Gulf War efforts and believe it is critically important that current and future generations of Airmen understand and celebrate our history, so they can visualize what they will be capable of doing in the future," Doherty said.

A wide variety of Airmen from multiple Air Force specialties ranging from ammo to radar approach control technicians came together to ensure the aircraft launched safely.

"The entire Seymour team of professionals and dedicated Airmen, along with our phenomenal community, pitched in to make this effort a great success," Doherty said.


2019
30 May 2019 | Flight Global
Japan receives first E-2D Advanced Hawkeye
The Japan Air Self-Defense Force (JASDF) has taken delivery of its first Northrop Grumman E-2D Advanced Hawkeye airborne early warning & control (AEW&C) aircraft.
28 May 2019 | RAF
Transatlantic Season for Red Arrows gets Underway
Following months of training, the Royal Air Force Aerobatic Team has been given the go-ahead to begin one of its busiest ever seasons. The Red Arrows' 2019 campaign will culminate in a major tour of North America and displays and flypasts across the United Kingdom and mainland Europe.
27 May 2019 | Lockheed Martin
Sikorsky Formally Responds to Call for Competition for Germany's New Heavy Lift Helicopter
BERLIN May 27, 2019 – Sikorsky, a Lockheed Martin company, formally responded to the German Air Force "Schwerer Transporthubschrauber" (STH) Program call for competition. Sikorsky expects to offer the most modern heavy lift helicopter in production, the CH-53K King Stallion, in response to the official Request for Proposals, which is expected this summer. The new STH heavy lifter will allow the Bundeswehr to move troops and equipment more quickly, safely and effectively than ever before.
26 May 2019 | Airbus Helicopters
French Ministry of the Armed Forces brings development of future Joint Light Helicopter forward
Marignane, The French Minister of the Armed Forces, Florence Parly, has announced that the launch of the Joint Light Helicopter (Hélicoptère Interarmées Léger; HIL) programme has been brought forward to 2021. The HIL programme, for which the Airbus Helicopters' H160 was selected in 2017, was initially scheduled for launch in 2022 by the current military budget law. Launching the programme earlier will enable delivery of the first H160Ms to the French Armed Forces to be advanced to 2026.
24 May 2019 | ACC
Hill Airmen deploy F-35 to Europe as part of Theater Security Package
The U.S. Air Force has deployed one squadron of F-35A Lightning II fighter jets, Airmen, and associated equipment to Aviano Air Base, Italy, from the 388th and 419th Fighter Wings, at Hill AFB, Utah, to participate in exercises and conduct training with other Europe-based aircraft as part of a Theater Security Package for the European Deterrence Initiative. The TSP provides a more robust U.S. military rotational presence in the European theater capable of deterring adversaries and assuring partners and allies of U.S. commitment to regional security.
21 May 2019 | Combat Aircraft
USAF aggressor plans laid out
The USAF plans to reactivate the 65th Aggressor Squadron at Nellis AFB, Nevada, and will assign nine early production F-35As to the unit. The move is part of an initiative to improve training for fifth-generation fighters against stealthy opposition. The…Read more ›
30 April 2019 | MILAVIA News
U.S. Air Force F-35As conduct first combat employment
SOUTHWEST ASIA --
Two U.S. Air Force F-35A Lightning II aircraft conducted an air strike at Wadi Ashai, Iraq, in support of Combined Joint Task Force – Operation Inherent Resolve on April 30.
This strike marked the F-35A's first combat employment.
The F-35As conducted the airstrike using a Joint Direct Attack Munition to strike an entrenched Daesh tunnel network and weapons cache deep in the Hamrin Mountains, a location able to threaten friendly forces.
21 February 2019 | RAF
Royal Air Force Chief of the Air Staff takes final Tornado flight over Scotland
Nearly 26 years after being introduced at RAF Lossiemouth, the iconic Tornado aircraft returned to Scottish skies for the last time this week.
18 February 2019 | RAF
Britain to celebrate iconic Tornado during farewell flypast
With almost 40 years of Royal Air Force service coming to an end, the iconic Tornado jet is undertaking a series of finale flypasts around the UK.
7 February 2019 | RAF
Red Arrows' North American displays revealed
A list of locations where people can see the Red Arrows display during a major tour of North America has been released.