Strike Eagle Extreme; Nearly 70 F-15Es take to sky
17 Apr 2012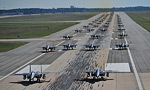 by Tech. Sgt. Tammie Moore
4th Fighter Wing Public Affairs

4/17/2012 - SEYMOUR JOHNSON AIR FORCE, N.C. -- Airmen from the 4th Fighter Wing at Seymour Johnson Air Force Base, N.C., came together to honor their heritage by launching nearly 70 F-15E Strike Eagles in a Turkey Shoot training mission April 16.

The nearly 70 Strike Eagles taxied one after the next simultaneously down the base flightline before heading to bombing ranges across North Carolina to destroy more than 1,000 targets. The purpose of this mass launch was two-fold.

"This F-15E Strike package and Turkey Shoot honored the excellence and sacrifices of our Wing's past while 'flexing' 4th FW airpower today, sharpening our warfighting spirit and skills as we look toward the future," said Col. Patrick Doherty, 4th FW commander.

The term Turkey Shoot dates back to a mission that took place June 19, 1944 during World War II.

On this day U.S. Navy carrier aircraft downed 373 Japanese planes with the loss of only 23 American planes," said Dr. Roy Heidicker, 4th FW historian. A Navy pilot who participated in this mission was attributed as saying, "It was like a turkey shoot" and the term stuck.

Toward the end of WWII the greatest challenge in Europe for the 8th Air Force was destroying a Luftwaffe that refused to take to the air. One of the 4th FG's most notorious missions during WWII was also its final major mission. The group's Airmen were tasked to take out the Luftwaffe or German air force. In two airfield attacks the group's aviators destroyed 105 enemy aircraft April 15, 1945.

"While 'A' Group attacked airfields in the region of Prague, 'B' Group, devastated the Luftwaffe base at Gablingen in 40 minutes of continuous strafing," Heidicker said. "That same day other 8th Air Force fighter groups attacked Luftwaffe airfields all over Germany, claiming a total of 752 aircraft destroyed. The Luftwaffe never recovered from this terrible and devastating blow."

During World War II competition began between the 4th and 56th Fighter Groups to see what unit could destroy the most enemy aircraft. The 4th FG finished the war with 1,016 aircraft destroyed and the 56th FG's final tally was 1,006. While supporting the war effort the 4th FG destroyed more enemy aircraft than any group or wing in Air Force history.

"We proudly carry on the legacy of the 4th FG's victories, as well as those of the wing's Korean, Vietnam, Gulf War efforts and believe it is critically important that current and future generations of Airmen understand and celebrate our history, so they can visualize what they will be capable of doing in the future," Doherty said.

A wide variety of Airmen from multiple Air Force specialties ranging from ammo to radar approach control technicians came together to ensure the aircraft launched safely.

"The entire Seymour team of professionals and dedicated Airmen, along with our phenomenal community, pitched in to make this effort a great success," Doherty said.


2016
29 April 2016 | Flight Global
Thai navy accepts first pair of H145M rotorcraft
Thailand s navy has completed the technical acceptance of its first two H145M rotorcraft from Airbus Helicopters, with the airframer now set to begin training the service s pilots on the multirole type.
29 April 2016 | Flight Global
​Two-seat variant of JF-17 to fly by end-2016
A two-seat variant of the Chengdu/Pakistan Aeronautical Complex JF-17 Thunder fighter is under development, with a first flight planned for late 2016.
18 April 2016 | RUaviation
New batch of Russian strike fighters delivered to Iraq — ministry
A new batch of Russia's Sukhoi Su-25 strike fighters has been delivered to Iraq, spokesman for the Iraqi Defense Ministry Nasir Nouri Mohammed al-Tamimi said on Monday.
14 April 2016 | Boeing
Boeing, U.S. Army to Remanufacture 117 Apache Helicopters
Agreement provides for upgrading AH-64D Apaches to new AH-64E, training, support and spares
31 March 2016 | Flight Global
Philippine navy orders two AW159 Wildcats
Finmeccanica has announced the Philippine navy will acquire two AgustaWestland AW159 Wildcat anti-submarine and anti-surface warfare rotorcraft under a contract valued at 100 million ($114 million).
30 March 2016 | Flight Global
RAF Tornado successfully trials BriteCloud protection system
Finmeccanica is hopeful that the Royal Air Force will be the launch customer for its BriteCloud active decoy, following the completion of a series of tests of the system onboard the service s Panavia Tornado GR4 combat aircraft.
29 March 2016 | Flight Global
Slimmed-down F-35 Gen III helmet to be introduced sooner
The Pentagon is bullish about resolving issues with the F-35 Lightning II s escape system that has restricted lightweight pilots of from flying the fifth-generation combat jet, with the joint programme office (JPO) now expecting delivery of a slimmed-down Gen III helmet from Rockwell Collins by November for rollout in 2017.
29 March 2016 | DefenseNews.com
Qatar, France Complete Dassault Rafale Fighter Jet Deal
France and Qatar completed the deal for 24 Dassault Rafale fighter jets at the opening day of the Doha International Maritime Defence Exhibition and Conference.        
29 March 2016 | Flight Global
FIDAE: Embraer displays Phenom 300 and Super Tucano, but no KC-390
Embraer s flagship programmes the KC-390 and the E2 may be absent from FIDAE, but the Brazilian manufacturer is represented with a Phenom 300 business jet and Brazilian air force A-29 Super Tucano trainer/light combat aircraft, one of 162 operating in the region.
25 March 2016 | DefenseNews.com
F-35 Will Fly Until 2070 — Six Years Longer Than Planned
The F-35 Joint Strike Fighter will fly until 2070, reflecting a decision by the US armed services to extend the operational life of the fleet by six years.