Strike Eagle Extreme; Nearly 70 F-15Es take to sky
17 Apr 2012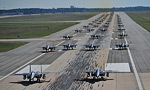 by Tech. Sgt. Tammie Moore
4th Fighter Wing Public Affairs

4/17/2012 - SEYMOUR JOHNSON AIR FORCE, N.C. -- Airmen from the 4th Fighter Wing at Seymour Johnson Air Force Base, N.C., came together to honor their heritage by launching nearly 70 F-15E Strike Eagles in a Turkey Shoot training mission April 16.

The nearly 70 Strike Eagles taxied one after the next simultaneously down the base flightline before heading to bombing ranges across North Carolina to destroy more than 1,000 targets. The purpose of this mass launch was two-fold.

"This F-15E Strike package and Turkey Shoot honored the excellence and sacrifices of our Wing's past while 'flexing' 4th FW airpower today, sharpening our warfighting spirit and skills as we look toward the future," said Col. Patrick Doherty, 4th FW commander.

The term Turkey Shoot dates back to a mission that took place June 19, 1944 during World War II.

On this day U.S. Navy carrier aircraft downed 373 Japanese planes with the loss of only 23 American planes," said Dr. Roy Heidicker, 4th FW historian. A Navy pilot who participated in this mission was attributed as saying, "It was like a turkey shoot" and the term stuck.

Toward the end of WWII the greatest challenge in Europe for the 8th Air Force was destroying a Luftwaffe that refused to take to the air. One of the 4th FG's most notorious missions during WWII was also its final major mission. The group's Airmen were tasked to take out the Luftwaffe or German air force. In two airfield attacks the group's aviators destroyed 105 enemy aircraft April 15, 1945.

"While 'A' Group attacked airfields in the region of Prague, 'B' Group, devastated the Luftwaffe base at Gablingen in 40 minutes of continuous strafing," Heidicker said. "That same day other 8th Air Force fighter groups attacked Luftwaffe airfields all over Germany, claiming a total of 752 aircraft destroyed. The Luftwaffe never recovered from this terrible and devastating blow."

During World War II competition began between the 4th and 56th Fighter Groups to see what unit could destroy the most enemy aircraft. The 4th FG finished the war with 1,016 aircraft destroyed and the 56th FG's final tally was 1,006. While supporting the war effort the 4th FG destroyed more enemy aircraft than any group or wing in Air Force history.

"We proudly carry on the legacy of the 4th FG's victories, as well as those of the wing's Korean, Vietnam, Gulf War efforts and believe it is critically important that current and future generations of Airmen understand and celebrate our history, so they can visualize what they will be capable of doing in the future," Doherty said.

A wide variety of Airmen from multiple Air Force specialties ranging from ammo to radar approach control technicians came together to ensure the aircraft launched safely.

"The entire Seymour team of professionals and dedicated Airmen, along with our phenomenal community, pitched in to make this effort a great success," Doherty said.


2018
12 September 2018 | Defense-Aerospace
Wildcat Makes First Landing on HMS Queen Elizabeth
A Wildcat helicopter has landed on board HMS Queen Elizabeth for the first time. The aircraft carrier will shortly be at sea off the coast of the United States, having arrived in Florida last week, to conduct flight trials. The ship will be joined by HMS Monmouth during the trials, the Type 23...
12 September 2018 | Flight Global
Spain plans to take more NH90 helicopters
Spain's government has given approval for the acquisition of an additional 23 NH Industries NH90 troop transport helicopters.
11 September 2018 | Defense-Aerospace
Russia Delivers Four Su-30SM to Operational Squadrons in Kursk
It is reported that four Su-30SM jet fighters have entered the service with an air regiment stationed in Kursk region, Western Military District. Pilots received four 4++ generation jet fighters at the Irkut Plant and made a flight from the airfield to home station. In 2017, the first squadron...
10 September 2018 | Flight Global
​Japan cleared to buy nine additional E-2Ds
The US government has cleared Tokyo to obtain nine additional Northrop Grumman E-2D Advanced Hawkeye airborne early warning & control (AEW&C) aircraft.
10 September 2018 | Boeing
Boeing Awarded $2.9 Billion for Fourth KC-46A Tanker Production Lot
EVERETT, Wash., Sept. 10, 2018 – The U.S. Air Force today awarded Boeing a $2.9 billion contract for 18 KC-46A tanker aircraft, spares, support equipment, spare engines and wing air refueling pod kits. With this fourth production lot, Boeing now is on contract for 52 KC-46 tankers. Boeing received its first two production lots, for 7 and 12 aircraft, in August 2016. The third lot, for 15 aircraft, was awarded in January 2017.
10 September 2018 | USAF
Moody A-10 engine maintainers make history
For the first time, Moody's 23rd Maintenance Squadron's propulsion flight accomplished an unprecedented feat by ensuring every TF34 engine in their fleet is repaired to serviceable status.
10 September 2018 | Flight Global
AVIC rolls out first FTC-2000G light fighter
AVIC has rolled out the first FTC-2000G, a light combat variant of its FTC-2000 trainer.
7 September 2018 | Flight Global
India's Tejas clears in-flight refuelling hurdle
India s long-delayed Tejas programme has successfully demonstrated the ability of a specially modified Mk1 example of the fighter to undergo air-to-air refuelling behind an Ilyushin Il-78MKI tanker.
6 September 2018 | Combat Aircraft
F-35Bs join Middle East operations
US Marine Corps F-35Bs of VMFA-211 'Avengers', embarked with the 13th Marine Expeditionary Unit (MEU) aboard the amphibious assault ship USS Essex (LHD 2) are operating with US Central Command for the first time. The USS Essex is now in…Read more ›
4 September 2018 | NATO News
Italy takes up NATO air patrols over Iceland
Four Italian Air Force Eurofighter Typhoon jets have arrived at Iceland's Keflavik Air Base, and from today (4 September 2018) they will help ensure the safety of Iceland's airspace. Over the next few weeks, the Italian pilots will provide intercept capabilities and train together with the Icelandic Coast Guard and the NATO Control and Reporting Centre. The Italian jets will complement the air surveillance which Iceland executes with its four remote radar and communication sites.