Strike Eagle Extreme; Nearly 70 F-15Es take to sky
17 Apr 2012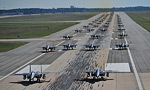 by Tech. Sgt. Tammie Moore
4th Fighter Wing Public Affairs

4/17/2012 - SEYMOUR JOHNSON AIR FORCE, N.C. -- Airmen from the 4th Fighter Wing at Seymour Johnson Air Force Base, N.C., came together to honor their heritage by launching nearly 70 F-15E Strike Eagles in a Turkey Shoot training mission April 16.

The nearly 70 Strike Eagles taxied one after the next simultaneously down the base flightline before heading to bombing ranges across North Carolina to destroy more than 1,000 targets. The purpose of this mass launch was two-fold.

"This F-15E Strike package and Turkey Shoot honored the excellence and sacrifices of our Wing's past while 'flexing' 4th FW airpower today, sharpening our warfighting spirit and skills as we look toward the future," said Col. Patrick Doherty, 4th FW commander.

The term Turkey Shoot dates back to a mission that took place June 19, 1944 during World War II.

On this day U.S. Navy carrier aircraft downed 373 Japanese planes with the loss of only 23 American planes," said Dr. Roy Heidicker, 4th FW historian. A Navy pilot who participated in this mission was attributed as saying, "It was like a turkey shoot" and the term stuck.

Toward the end of WWII the greatest challenge in Europe for the 8th Air Force was destroying a Luftwaffe that refused to take to the air. One of the 4th FG's most notorious missions during WWII was also its final major mission. The group's Airmen were tasked to take out the Luftwaffe or German air force. In two airfield attacks the group's aviators destroyed 105 enemy aircraft April 15, 1945.

"While 'A' Group attacked airfields in the region of Prague, 'B' Group, devastated the Luftwaffe base at Gablingen in 40 minutes of continuous strafing," Heidicker said. "That same day other 8th Air Force fighter groups attacked Luftwaffe airfields all over Germany, claiming a total of 752 aircraft destroyed. The Luftwaffe never recovered from this terrible and devastating blow."

During World War II competition began between the 4th and 56th Fighter Groups to see what unit could destroy the most enemy aircraft. The 4th FG finished the war with 1,016 aircraft destroyed and the 56th FG's final tally was 1,006. While supporting the war effort the 4th FG destroyed more enemy aircraft than any group or wing in Air Force history.

"We proudly carry on the legacy of the 4th FG's victories, as well as those of the wing's Korean, Vietnam, Gulf War efforts and believe it is critically important that current and future generations of Airmen understand and celebrate our history, so they can visualize what they will be capable of doing in the future," Doherty said.

A wide variety of Airmen from multiple Air Force specialties ranging from ammo to radar approach control technicians came together to ensure the aircraft launched safely.

"The entire Seymour team of professionals and dedicated Airmen, along with our phenomenal community, pitched in to make this effort a great success," Doherty said.


2015
27 August 2015 | RUaviation
Belarus signs follow-on contract for Yak-130 jets at MAKS-2015 airshow
On August 26th Belarusian Ministry of Defense and Irkut Corporation signed a contract for delivery of four Yak-130 operational trainers at MAKS-2015 international airshow. The jets will be delivered to Belarus in 2016. [...] In April 2015 Irkut Corporation delivered the first batch of Yak-130 jets to Belarus under a contract signed in 2013.
25 August 2015 | RUaviation
Russian Navy plans to take delivery of more than 50 Su-30SM fighters by 2020
Naval aviation of Russian navy will take delivery of more than 50 Su-30SM fighters by 2020, RIA Novosti reports with reference to Commander of the naval aviation, Major General Igor Kozhin. "The first Su-30SM fighter was delivered to naval aviation of Russian navy in July 2014. Last year the naval aviation took delivery of three Su-30SM aircraft; two more jets of the type were delivered to the navy on August 17th 2015 and three more ones will be delivered in September – October 2015. It is planned that naval aviation of Russian navy will take delivery of more than 50 Su-30SM fighters by 2020," he said.
21 August 2015 | DefenseNews.com
Pakistan Finalizes Hind Deal With Russia
Pakistan and Russia finalized a deal for the purchase of four Hind helicopter gunships.        
20 August 2015 | IHS Jane's
Airbus begins work on Tiger Mk3 attack helicopter
Airbus Helicopters is working on a new version of its Tiger attack helicopter, dubbed the Tiger Mk3. The work is being conducted under an 'architecture study' commissioned by the Organisation for Joint Armament Cooperation (OCCAR) on 31 July. According to OCCAR the study aims "to define the so-called 'Tiger Mk3' - the future configurations materialising the mid-life upgrade (MLU)" to the helicopter.
17 August 2015 | Flight Global
TAI completes deliveries of first T129 batch to Turkish army
The Turkish army has received its first nine-strong fleet of Turkish Aerospace Industries T129 ATAK helicopters, the last of which was delivered on 31 July.
16 August 2015 | IHS Jane's
Argentine Air Force cuts working hours, retires Mirage fleet
The Argentine Air Force is drastically cutting staff working hours and decommissioning its last fighter aircraft amid continuing budget issues. A recently published daily agenda indicates that the service's working hours have been significantly reduced, from 0800 to 1300; rationing of food, energy
13 August 2015 | IHS Jane's
Russia to launch MiG-31 replacement programme before end of decade
Russia is to begin developing a replacement for the MiG-31 'Foxhound' interceptor before the end of the decade, state media reported on 12 August. Development of the next-generation PAK-DP (Predpolagayemyy vozdukha Kompleks dlya Dal'ney Perekhvat - Prospective Air Complex for Long-Range
13 August 2015 | Flight Global
Croatia receives overhauled MiG-21s after long delays
Croatia's air force has received all its long-delayed refurbished Mikoyan MiG-21bis-D fighters and UMD-model trainers from the Ukrainian Ukrspecexport organisation.
7 August 2015 | NATO News
Czech Air Force Gripens conduct NATO air surveillance mission over Iceland
Four Czech Air Force JAS-39 Gripen aircraft are currently conducting air patrols and training in the skies above Iceland under the Alliance's air surveillance mission for the Nordic NATO Ally. The fighter jets and 70 personnel took up their duties at the end of July. Their task is to provide "airborne surveillance and interception capabilities to meet Iceland's peacetime preparedness needs." The Czech Air Force will conduct the mission through 29 August 2015.
5 August 2015 | IHS Jane's
US Army to acquire enhanced MH-47G Block 2 Chinooks
The US Army is looking to renew production of the Boeing MH-47G Chinook special mission helicopter in an upgraded Block 2 configuration, it disclosed on 3 August. With production of the final eight Block 1 MH-47Gs set to be complete by the end of the year, the US Army Aviation Integration...