Strike Eagle Extreme; Nearly 70 F-15Es take to sky
17 Apr 2012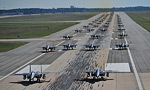 by Tech. Sgt. Tammie Moore
4th Fighter Wing Public Affairs

4/17/2012 - SEYMOUR JOHNSON AIR FORCE, N.C. -- Airmen from the 4th Fighter Wing at Seymour Johnson Air Force Base, N.C., came together to honor their heritage by launching nearly 70 F-15E Strike Eagles in a Turkey Shoot training mission April 16.

The nearly 70 Strike Eagles taxied one after the next simultaneously down the base flightline before heading to bombing ranges across North Carolina to destroy more than 1,000 targets. The purpose of this mass launch was two-fold.

"This F-15E Strike package and Turkey Shoot honored the excellence and sacrifices of our Wing's past while 'flexing' 4th FW airpower today, sharpening our warfighting spirit and skills as we look toward the future," said Col. Patrick Doherty, 4th FW commander.

The term Turkey Shoot dates back to a mission that took place June 19, 1944 during World War II.

On this day U.S. Navy carrier aircraft downed 373 Japanese planes with the loss of only 23 American planes," said Dr. Roy Heidicker, 4th FW historian. A Navy pilot who participated in this mission was attributed as saying, "It was like a turkey shoot" and the term stuck.

Toward the end of WWII the greatest challenge in Europe for the 8th Air Force was destroying a Luftwaffe that refused to take to the air. One of the 4th FG's most notorious missions during WWII was also its final major mission. The group's Airmen were tasked to take out the Luftwaffe or German air force. In two airfield attacks the group's aviators destroyed 105 enemy aircraft April 15, 1945.

"While 'A' Group attacked airfields in the region of Prague, 'B' Group, devastated the Luftwaffe base at Gablingen in 40 minutes of continuous strafing," Heidicker said. "That same day other 8th Air Force fighter groups attacked Luftwaffe airfields all over Germany, claiming a total of 752 aircraft destroyed. The Luftwaffe never recovered from this terrible and devastating blow."

During World War II competition began between the 4th and 56th Fighter Groups to see what unit could destroy the most enemy aircraft. The 4th FG finished the war with 1,016 aircraft destroyed and the 56th FG's final tally was 1,006. While supporting the war effort the 4th FG destroyed more enemy aircraft than any group or wing in Air Force history.

"We proudly carry on the legacy of the 4th FG's victories, as well as those of the wing's Korean, Vietnam, Gulf War efforts and believe it is critically important that current and future generations of Airmen understand and celebrate our history, so they can visualize what they will be capable of doing in the future," Doherty said.

A wide variety of Airmen from multiple Air Force specialties ranging from ammo to radar approach control technicians came together to ensure the aircraft launched safely.

"The entire Seymour team of professionals and dedicated Airmen, along with our phenomenal community, pitched in to make this effort a great success," Doherty said.


2016
22 August 2016 | IHS Jane's
Northrop Grumman's T-X design breaks cover
Three of the four offerings for the US Air Force's (USAF's) T-X jet trainer competition are now known, with Northrop Grumman's clean-sheet design being photographed for the first time on 19 August. The single-engined jet was seen performing high-speed taxi trials at Mojave Air and Space Port in California...
16 August 2016 | RUaviation
India to Upgrade Russian-Made Su-30 Fighter Jets Amid Delay in Rafale Deal
"Indian Defense Ministry has decided to upgrade the Su-30 as there is long delay in materializing the much hyped Rafale aircraft deal and the Indian Air Force urgently needs an FGFA (Fifth Generation Fighter Aircraft) into its squadron. So it has been decided to upgrade and modernize the fleet of Su-30's to become closer to FGFA," sources in the Defense Ministry told Sputnik.
15 August 2016 | RUaviation
MiG-29KR fighter first landing on the aircraft carrier "Admiral Kuznetsov"
A MiG-29K (9-41R) fighter jet from the Northern Fleet's 100th Separate Shipborne Fighter Air Regiment has landed on the aircraft carrier Admiral Kuznetsov's deck for the first time, a source in Russia's defense and industrial sector said.
9 August 2016 | Flight Global
Kuwait orders 30 H225M Caracal helicopters
Airbus Helicopters has secured a vital vote of confidence in its troubled H225, with an order from Kuwait for 30 examples of the military variant.
3 August 2016 | Northrop Grumman
Northrop Grumman Begins Work on Second Japanese E-2D Advanced Hawkeye
Northrop Grumman has received a U.S. Navy contract to begin production of a second Japanese E-2D Advanced Hawkeye airborne early warning (AEW) and surveillance aircraft. The first Japanese E-2D is in production and will be delivered in 2018.
2 August 2016 | DefenseNews.com
Air Force Declares F-35A Ready for Combat
In a major milestone, the US Air Force's first F-35A squadron has been declared operational.        
2 August 2016 | Flight Global
First ex-US Army OH-58Ds delivered to Croatia
The Croatian air force has received its first batch of ex-US Army Bell OH-58D Kiowa Warrior helicopters, which were ferried to Zadar-Zemunik air base on the Adriatic coast on 30 June.
28 July 2016 | IHS Jane's
China reveals cause of fatal April crash of J-15
China has revealed the cause of the 27 April fatal crash of a Shenyang Aircraft Corporation (SAC) J-15 carrier-based fighter: the first such revelation of its kind. A report by China National Radio on 26 July revealed that the People's Liberation Army Navy (PLAN) J-15 fighter encountered a breakdown with the fly-by-wire flight control system...
28 July 2016 | MILAVIA News
Netherlands and Luxembourg buy tanker aircraft together
The Netherlands is ready to purchase 2 Airbus tanker/transport aircraft with Luxembourg. The aircraft will be NATO property and will be stationed at Eindhoven Air Base for pooling and sharing. Belgium, Germany, Norway and Poland intend to join the agreement at a later date.
26 July 2016 | Lockheed Martin
Lockheed Martin's Second T-50A Aircraft for T-X Competition Takes Flight
Fort Worth, Texas, July 26, 2016 – Lockheed Martin and Korea Aerospace Industries successfully completed the initial test flight of the second T-50A configured aircraft in Sacheon, South Korea. The T-50A is the company's aircraft offering in the U.S. Air Force's Advanced Pilot Training (APT) competition.