Strike Eagle Extreme; Nearly 70 F-15Es take to sky
17 Apr 2012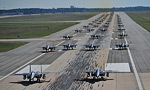 by Tech. Sgt. Tammie Moore
4th Fighter Wing Public Affairs

4/17/2012 - SEYMOUR JOHNSON AIR FORCE, N.C. -- Airmen from the 4th Fighter Wing at Seymour Johnson Air Force Base, N.C., came together to honor their heritage by launching nearly 70 F-15E Strike Eagles in a Turkey Shoot training mission April 16.

The nearly 70 Strike Eagles taxied one after the next simultaneously down the base flightline before heading to bombing ranges across North Carolina to destroy more than 1,000 targets. The purpose of this mass launch was two-fold.

"This F-15E Strike package and Turkey Shoot honored the excellence and sacrifices of our Wing's past while 'flexing' 4th FW airpower today, sharpening our warfighting spirit and skills as we look toward the future," said Col. Patrick Doherty, 4th FW commander.

The term Turkey Shoot dates back to a mission that took place June 19, 1944 during World War II.

On this day U.S. Navy carrier aircraft downed 373 Japanese planes with the loss of only 23 American planes," said Dr. Roy Heidicker, 4th FW historian. A Navy pilot who participated in this mission was attributed as saying, "It was like a turkey shoot" and the term stuck.

Toward the end of WWII the greatest challenge in Europe for the 8th Air Force was destroying a Luftwaffe that refused to take to the air. One of the 4th FG's most notorious missions during WWII was also its final major mission. The group's Airmen were tasked to take out the Luftwaffe or German air force. In two airfield attacks the group's aviators destroyed 105 enemy aircraft April 15, 1945.

"While 'A' Group attacked airfields in the region of Prague, 'B' Group, devastated the Luftwaffe base at Gablingen in 40 minutes of continuous strafing," Heidicker said. "That same day other 8th Air Force fighter groups attacked Luftwaffe airfields all over Germany, claiming a total of 752 aircraft destroyed. The Luftwaffe never recovered from this terrible and devastating blow."

During World War II competition began between the 4th and 56th Fighter Groups to see what unit could destroy the most enemy aircraft. The 4th FG finished the war with 1,016 aircraft destroyed and the 56th FG's final tally was 1,006. While supporting the war effort the 4th FG destroyed more enemy aircraft than any group or wing in Air Force history.

"We proudly carry on the legacy of the 4th FG's victories, as well as those of the wing's Korean, Vietnam, Gulf War efforts and believe it is critically important that current and future generations of Airmen understand and celebrate our history, so they can visualize what they will be capable of doing in the future," Doherty said.

A wide variety of Airmen from multiple Air Force specialties ranging from ammo to radar approach control technicians came together to ensure the aircraft launched safely.

"The entire Seymour team of professionals and dedicated Airmen, along with our phenomenal community, pitched in to make this effort a great success," Doherty said.


2016
25 January 2016 | USAF News
KC-46A Pegasus conducts 1st in-flight refueling demonstration
The KC-46A Pegasus successfully transferred fuel through its boom to an F-16C Fighting Falcon Jan. 24 to demonstrate aerial refueling operations in advance of its first production decision later this spring.
25 January 2016 | Flight Global
Dassault to work with India to build on new Rafale agreement
Dassault says it will go step by step to securing further Rafale orders from India after prime minister Narendra Modi today confirmed a deal to purchase 36 of the fighters.
8 January 2016 | RAF
208(R) Sqn Centenary Tailfin Unveiled at Valley
RAF Valley based 208(R) Squadron have unveiled a brand new Hawk TMk1 livery to commemorate their 100th Anniversary.
7 January 2016 | Flight Global
France to take six additional NH90 helicopters
France has ordered six additional NHIndustries NH90 troop transport helicopters for its army, increasing the service s eventual inventory to 74.
7 January 2016 | NATO News
Spain and Belgium take over NATO's Baltic Air Policing mission
The 40th rotation of NATO's Baltic Air Policing mission took place today (7 January 2016) in Lithuania and Estonia. Responsibility for the mission was transferred from Hungary and Germany to Spain and Belgium, demonstrating NATO's enduring solidarity with its Baltic Allies.
2015
23 December 2015 | IHS Jane's
Possible J-16 EW variant makes its first flight
A possible new electronic warfare (EW) variant of the Shenyang Aircraft Corporation (SAC) J-16 twin-seat strike fighter made its first flight on 18 December, according to Chinese sources, potentially adding a significant offensive capability to the People's Liberation Army Air Force (PLAAF). Images
23 December 2015 | IHS Jane's
Italy receives final Predator UAVs
The Italian Air Force (Aeronautica Militare Italiana - AMI) has received into service its final pair of General Atomics Aeronautical Systems, Inc. (GA ASI) RQ-1 Predator unmanned aerial vehicles (UAVs), the company announced on 23 December. The delivery brings to seven the number of Predator UAVs in the inventory of the AMI, which also fields six MQ-9 Reaper (Predator B) platforms.
23 December 2015 | IHS Jane's
Afghanistan receives first Indian-donated Mi-25 helo
Afghanistan has received the first of four Mil Mi-25 'Hind' assault helicopters being gifted by India, it was disclosed on 22 December. Once deliveries are complete, the former Indian Air Force platforms will be operated by the Afghan Air Force (AAF) in place of five Mi-35 'Hind' helicopters (of which only one is still serviceable) being withdrawn from service in January 2016.
23 December 2015 | Defense-Aerospace
Belgium to Slash Military Manpower, Increase Spending In New Plan
The Strategic Defense Plan approved on Tuesday by the Belgian government's Select Ministerial Committee calls for military manpower to drop to 25,000 full-time jobs by 2030. It also calls for €9.2 billion euros to be spent on major equipment investment programs, including 34 new combat aircraft, two frigates, six minehunters and six drones.
23 December 2015 | Defense-Aerospace
Airbus Delivers France's 8th A400M Airlifter
The Directorate General of Armaments (DGA) on Tuesday, December 22, 2015 took delivery of the eighth A400M Atlas military transport aircraft for the French air force. The aircraft carries the serial number MSN31. As with the previous aircraft (MSN19) delivered in June, MSN31 has a basic paratroop dropping capability from the rear ramp and through the side doors. It is also the first French aircraft to be fitted with the infrared Enhanced Visualization System (EVS).