Strike Eagle Extreme; Nearly 70 F-15Es take to sky
17 Apr 2012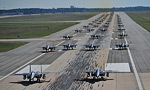 by Tech. Sgt. Tammie Moore
4th Fighter Wing Public Affairs

4/17/2012 - SEYMOUR JOHNSON AIR FORCE, N.C. -- Airmen from the 4th Fighter Wing at Seymour Johnson Air Force Base, N.C., came together to honor their heritage by launching nearly 70 F-15E Strike Eagles in a Turkey Shoot training mission April 16.

The nearly 70 Strike Eagles taxied one after the next simultaneously down the base flightline before heading to bombing ranges across North Carolina to destroy more than 1,000 targets. The purpose of this mass launch was two-fold.

"This F-15E Strike package and Turkey Shoot honored the excellence and sacrifices of our Wing's past while 'flexing' 4th FW airpower today, sharpening our warfighting spirit and skills as we look toward the future," said Col. Patrick Doherty, 4th FW commander.

The term Turkey Shoot dates back to a mission that took place June 19, 1944 during World War II.

On this day U.S. Navy carrier aircraft downed 373 Japanese planes with the loss of only 23 American planes," said Dr. Roy Heidicker, 4th FW historian. A Navy pilot who participated in this mission was attributed as saying, "It was like a turkey shoot" and the term stuck.

Toward the end of WWII the greatest challenge in Europe for the 8th Air Force was destroying a Luftwaffe that refused to take to the air. One of the 4th FG's most notorious missions during WWII was also its final major mission. The group's Airmen were tasked to take out the Luftwaffe or German air force. In two airfield attacks the group's aviators destroyed 105 enemy aircraft April 15, 1945.

"While 'A' Group attacked airfields in the region of Prague, 'B' Group, devastated the Luftwaffe base at Gablingen in 40 minutes of continuous strafing," Heidicker said. "That same day other 8th Air Force fighter groups attacked Luftwaffe airfields all over Germany, claiming a total of 752 aircraft destroyed. The Luftwaffe never recovered from this terrible and devastating blow."

During World War II competition began between the 4th and 56th Fighter Groups to see what unit could destroy the most enemy aircraft. The 4th FG finished the war with 1,016 aircraft destroyed and the 56th FG's final tally was 1,006. While supporting the war effort the 4th FG destroyed more enemy aircraft than any group or wing in Air Force history.

"We proudly carry on the legacy of the 4th FG's victories, as well as those of the wing's Korean, Vietnam, Gulf War efforts and believe it is critically important that current and future generations of Airmen understand and celebrate our history, so they can visualize what they will be capable of doing in the future," Doherty said.

A wide variety of Airmen from multiple Air Force specialties ranging from ammo to radar approach control technicians came together to ensure the aircraft launched safely.

"The entire Seymour team of professionals and dedicated Airmen, along with our phenomenal community, pitched in to make this effort a great success," Doherty said.


2015
27 February 2015 | ACC
Air Force places 18 A-10 aircraft into 'Backup Status'
The Air Force, with congressional authorization, will convert 18 primary combat-coded A-10 Thunderbolt II aircraft from active units and place them into Backup-Aircraft Inventory (BAI) status with the possibility to convert another 18 at a later date in fiscal year 2015.
26 February 2015 | IHS Jane's
IDEX 2015: Italy orders Piaggio HammerHead UAV
The Italian Air Force has become the first customer for the Piaggio Aero P.1HH HammerHead unmanned aerial vehicle (UAV), the company announced at IDEX 2015 in Abu Dhabi on 26 February. In total the Italian Air Force has ordered six HammerHead UAVs, split into three unmanned aerial systems (UASs)
25 February 2015 | RAF
Red Arrows display team unveil new Union flag design on jets
The Royal Air Force Aerobatic Team, the Red Arrows, has revealed a new Union flag-inspired design on its world-famous jets.
25 February 2015 | RUaviation
Su-25SM3 strike-fighter is being prepared for flight testing
Flight testing of the upgraded Su-25SM3 strike-fighter will be started in a few months, Voenno-promishlenniy Courier reports.
24 February 2015 | Flight Global
AVALON: RAAF upbeat on Wedgetail reliability
The Royal Australian Air Force says recent operational experience operating the Boeing E-7A Wedgetail airborne early warning & control (AEW&C) aircraft has established the platform's effectiveness.
24 February 2015 | Flight Global
HammerHead UAV prototype makes maiden flight
​Piaggio Aerospace has announced that a prototype of its P.1HH HammerHead unmanned air vehicle has carried out its maiden flight.
23 February 2015 | Flight Global
Germany outlines fixes for grounded NH90s
​Germany has come up with a set of temporary fixes to allow its army's fleet of NH Industries NH90 troop transport helicopters to resume routine flights after it grounded the rotorcraft earlier this month.
23 February 2015 | Flight Global
Israel signs for next batch of F-35 'Adir' fighters
Israel's contract to purchase another 14 Lockheed Martin F-35 "Adir" fighters was signed late last week in Washington DC.
23 February 2015 | BAE Systems
Further Capability For Typhoon Unveiled
£165 million contract to deliver further enhancements to the Eurofighter Typhoon has been signed at IDEX 2015, Abu Dhabi. Under what is known as the 'Phase 3 Enhancements Package' (P3E), the contract will see the jet receive upgrades including improvements to the maintenance and mission systems and the integration of the MBDA Brimstone 2 precision missile.
23 February 2015 | MILAVIA News
USAF F-22 Demo Schedule
Air Combat Command of the U.S. Air Force released the F-22 Raptor demonstration team's schedule for the 2015 airshow season.