Strike Eagle Extreme; Nearly 70 F-15Es take to sky
17 Apr 2012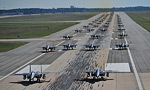 by Tech. Sgt. Tammie Moore
4th Fighter Wing Public Affairs

4/17/2012 - SEYMOUR JOHNSON AIR FORCE, N.C. -- Airmen from the 4th Fighter Wing at Seymour Johnson Air Force Base, N.C., came together to honor their heritage by launching nearly 70 F-15E Strike Eagles in a Turkey Shoot training mission April 16.

The nearly 70 Strike Eagles taxied one after the next simultaneously down the base flightline before heading to bombing ranges across North Carolina to destroy more than 1,000 targets. The purpose of this mass launch was two-fold.

"This F-15E Strike package and Turkey Shoot honored the excellence and sacrifices of our Wing's past while 'flexing' 4th FW airpower today, sharpening our warfighting spirit and skills as we look toward the future," said Col. Patrick Doherty, 4th FW commander.

The term Turkey Shoot dates back to a mission that took place June 19, 1944 during World War II.

On this day U.S. Navy carrier aircraft downed 373 Japanese planes with the loss of only 23 American planes," said Dr. Roy Heidicker, 4th FW historian. A Navy pilot who participated in this mission was attributed as saying, "It was like a turkey shoot" and the term stuck.

Toward the end of WWII the greatest challenge in Europe for the 8th Air Force was destroying a Luftwaffe that refused to take to the air. One of the 4th FG's most notorious missions during WWII was also its final major mission. The group's Airmen were tasked to take out the Luftwaffe or German air force. In two airfield attacks the group's aviators destroyed 105 enemy aircraft April 15, 1945.

"While 'A' Group attacked airfields in the region of Prague, 'B' Group, devastated the Luftwaffe base at Gablingen in 40 minutes of continuous strafing," Heidicker said. "That same day other 8th Air Force fighter groups attacked Luftwaffe airfields all over Germany, claiming a total of 752 aircraft destroyed. The Luftwaffe never recovered from this terrible and devastating blow."

During World War II competition began between the 4th and 56th Fighter Groups to see what unit could destroy the most enemy aircraft. The 4th FG finished the war with 1,016 aircraft destroyed and the 56th FG's final tally was 1,006. While supporting the war effort the 4th FG destroyed more enemy aircraft than any group or wing in Air Force history.

"We proudly carry on the legacy of the 4th FG's victories, as well as those of the wing's Korean, Vietnam, Gulf War efforts and believe it is critically important that current and future generations of Airmen understand and celebrate our history, so they can visualize what they will be capable of doing in the future," Doherty said.

A wide variety of Airmen from multiple Air Force specialties ranging from ammo to radar approach control technicians came together to ensure the aircraft launched safely.

"The entire Seymour team of professionals and dedicated Airmen, along with our phenomenal community, pitched in to make this effort a great success," Doherty said.


2014
28 August 2014 | Flight Global
A400M undergoes tanker test campaign
​An air-to-air refuelling test campaign using an F/A-18 Hornet combat jet has proven Airbus Defence and Space's A400M transport aircraft capability to act as a tanker.
27 August 2014 | Flight Global
HAL readies Cheetal delivery for Afghanistan air force
​Indian state owned airframer Hindustan Aeronautics is preparing to deliver three Cheetal light helicopters to the Afghanistan air force next month. The unarmed helicopters are be transferred via a commercial cargo plane to Kabul International Airport from its Helicopter Division located i
27 August 2014 | Defense-Aerospace
France Gets First Upgraded KC-135 Tanker
On Thursday, August 21, 2014, the first of three upgraded KC-135s was delivered to Air Base 125 at Istres by an American crew that ferried the aircraft from San Antonio. The upgrade of the KC-135RGs operated by the Escadron de Ravitaillement en Vol (In-flight refueling squadron, ERV) primarily co...
27 August 2014 | Flight Global
IAI pitches converted 767 tanker to Poland
​Israel Aerospace Industries (IAI) is offering a converted Boeing 767 aerial refueling tanker fitted with its new fly-by-wire (FBW) boom to fulfill a Polish air force requirement.
25 August 2014 | Lockheed Martin
F-35 Flight Test Program Milestones - August 2014
FORT WORTH, Texas, August 25, 2014 –The Lockheed Martin F-35 Joint Strike Fighter (JSF) program continued a steady path of flight test milestones in August, including weapons separation, software compatibility and flight hours...
25 August 2014 | US Army
End of an era: Last OH-58D Kiowa Aviator class to graduate
A legacy decades in the making is coming to an end, as eight students from the last OH-58D Kiowa Warrior class prepare to graduate at Fort Rucker, Alabama.
24 August 2014 | DefenseNews.com
Chinese Fighter Buzzes US Patrol Aircraft
A Chinese high-performance fighter intercepted and buzzed a US Navy P-8A maritime patrol and surveillance aircraft on Tuesday in international air space over the South China Sea, the Pentagon confirmed on Friday. The interception was "very close, very dangerous ... pretty aggressive and very unprofessional," Pentagon spokesman Rear Adm. John Kirby told reporters. The Chinese aircraft, a Shenyang J-11B...
22 August 2014 | Defense-Aerospace
New T-6C Military Training Aircraft Arrive In NZ
Defence Minister Jonathan Coleman says the arrival of the first two new Air Force T-6C pilot training aircraft is an important milestone. "It is great to see the first T-6C aircraft arrive in New Zealand just seven months after Beechcraft Defense Company was awarded the contract to deliver a new ...
22 August 2014 | IHS Jane's
Singapore quietly expanding F-15 fleet
Singapore appears to have quietly boosted the size of its F-15SG fleet from 24 aircraft to 40, according to Boeing financial statements, aircraft registration filings, and US congressional reports. Singapore originally bought 12 F-15SGs - with an option for eight more - under a contract signed in
20 August 2014 | Flight Global
Taiwan F-16V passes design milestone
​The most recent version of the Lockheed Martin F-16s has passed critical design review, making way for upgrades to Taiwan's fleet of the single-engined fighter.