Strike Eagle Extreme; Nearly 70 F-15Es take to sky
17 Apr 2012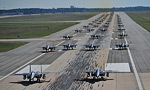 by Tech. Sgt. Tammie Moore
4th Fighter Wing Public Affairs

4/17/2012 - SEYMOUR JOHNSON AIR FORCE, N.C. -- Airmen from the 4th Fighter Wing at Seymour Johnson Air Force Base, N.C., came together to honor their heritage by launching nearly 70 F-15E Strike Eagles in a Turkey Shoot training mission April 16.

The nearly 70 Strike Eagles taxied one after the next simultaneously down the base flightline before heading to bombing ranges across North Carolina to destroy more than 1,000 targets. The purpose of this mass launch was two-fold.

"This F-15E Strike package and Turkey Shoot honored the excellence and sacrifices of our Wing's past while 'flexing' 4th FW airpower today, sharpening our warfighting spirit and skills as we look toward the future," said Col. Patrick Doherty, 4th FW commander.

The term Turkey Shoot dates back to a mission that took place June 19, 1944 during World War II.

On this day U.S. Navy carrier aircraft downed 373 Japanese planes with the loss of only 23 American planes," said Dr. Roy Heidicker, 4th FW historian. A Navy pilot who participated in this mission was attributed as saying, "It was like a turkey shoot" and the term stuck.

Toward the end of WWII the greatest challenge in Europe for the 8th Air Force was destroying a Luftwaffe that refused to take to the air. One of the 4th FG's most notorious missions during WWII was also its final major mission. The group's Airmen were tasked to take out the Luftwaffe or German air force. In two airfield attacks the group's aviators destroyed 105 enemy aircraft April 15, 1945.

"While 'A' Group attacked airfields in the region of Prague, 'B' Group, devastated the Luftwaffe base at Gablingen in 40 minutes of continuous strafing," Heidicker said. "That same day other 8th Air Force fighter groups attacked Luftwaffe airfields all over Germany, claiming a total of 752 aircraft destroyed. The Luftwaffe never recovered from this terrible and devastating blow."

During World War II competition began between the 4th and 56th Fighter Groups to see what unit could destroy the most enemy aircraft. The 4th FG finished the war with 1,016 aircraft destroyed and the 56th FG's final tally was 1,006. While supporting the war effort the 4th FG destroyed more enemy aircraft than any group or wing in Air Force history.

"We proudly carry on the legacy of the 4th FG's victories, as well as those of the wing's Korean, Vietnam, Gulf War efforts and believe it is critically important that current and future generations of Airmen understand and celebrate our history, so they can visualize what they will be capable of doing in the future," Doherty said.

A wide variety of Airmen from multiple Air Force specialties ranging from ammo to radar approach control technicians came together to ensure the aircraft launched safely.

"The entire Seymour team of professionals and dedicated Airmen, along with our phenomenal community, pitched in to make this effort a great success," Doherty said.


2014
13 September 2014 | DefenseNews.com
Boeing Eyes 737-700 Solution for New JSTARS
Boeing is officially planning a variant of its 737-700 commercial jetliner as a competitor for the Air Force's next-generation Joint Surveillance Target Attack Radar System (JSTARS) replacement.
8 September 2014 | DefenseNews.com
Turkey Distancing Itself From Chinese Air Defense System
Senior government officials and procurement authorities here have distanced themselves in recent days from a disputed air defense deal with a Chinese company under US sanctions. A senior official from the prime minister's office said that as technical negotiations with China Precision Machinery Import-Export Corp. (CPMIEC) have been dragged into several problematic areas, "this option now looks much less attractive than it did last year. [...]
8 September 2014 | RAF
1 (Fighter) Squadron Typhoons relocate to RAF Lossiemouth
Relocating from RAF Leuchars in Fife, Scotland, to RAF Lossiemouth, Typhoon aircraft of 1 (Fighter) Squadron will now provide quick reaction alert (QRA) cover alongside the Typhoons of 6 Squadron for the north of the UK. Quick reaction alert for the south will be based at RAF Coningsby.
7 September 2014 | IHS Jane's
Russian Navy orders additional Su-30SM fighters
Russia has ordered another seven Sukhoi Su-30SM multirole fighter aircraft for the Russian Navy, it was announced on 5 September. The contracts were signed by Russian Deputy Defence Minister Yury Borisov and Irkut Corporation President Oleg Demchenko. "These modern aircraft, capable of
6 September 2014 | DefenseNews.com
China reveals 2 aircraft carrier test pilots killed
Two pilots in a squadron conducting J-15 fighter jet take-off and landing tests for China's lone aircraft carrier were killed during trials, state media reported, offering a rare glimpse into the secretive project.
6 September 2014 | DefenseNews.com
Cameron: UK Will Operate 2 Aircraft Carriers
The UK Royal Navy is to get a second operational aircraft carrier, British Prime Minister David Cameron announced Friday as the two-day NATO summit came to an end.
6 September 2014 | DefenseNews.com
Fix Decided on For F-16 Cracks
The US Air Force and Lockheed Martin have reached agreement on a fix for a series of cracks impacting F-16B and D fleets around the world.
5 September 2014 | RAF
NATO Alliance Displays Airpower At Wales NATO Summit
Military aircraft from across the NATO alliance took part in a flypast today over the NATO Summit, which is underway at the Celtic Manor resort, Newport in Wales.
4 September 2014 | Flight Global
NATO Summit: MoD discusses Sentinel maritime upgrades with Raytheon
Raytheon is currently in dialogue with the UK Ministry of Defence regarding the possible upgrade of its Sentinel R1 surveillance aircraft to include a maritime search capability that the Royal Air Force said it desired back in July.
4 September 2014 | USAF News
Kandahar's Liberty operations reach end of mission
After four years of intelligence, surveillance and reconnaissance missions, the 361st Expeditionary Reconnaissance Squadron will complete their MC-12W Liberty operations in southern Afghanistan at the beginning of September 2014.