Strike Eagle Extreme; Nearly 70 F-15Es take to sky
17 Apr 2012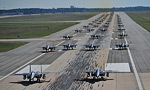 by Tech. Sgt. Tammie Moore
4th Fighter Wing Public Affairs

4/17/2012 - SEYMOUR JOHNSON AIR FORCE, N.C. -- Airmen from the 4th Fighter Wing at Seymour Johnson Air Force Base, N.C., came together to honor their heritage by launching nearly 70 F-15E Strike Eagles in a Turkey Shoot training mission April 16.

The nearly 70 Strike Eagles taxied one after the next simultaneously down the base flightline before heading to bombing ranges across North Carolina to destroy more than 1,000 targets. The purpose of this mass launch was two-fold.

"This F-15E Strike package and Turkey Shoot honored the excellence and sacrifices of our Wing's past while 'flexing' 4th FW airpower today, sharpening our warfighting spirit and skills as we look toward the future," said Col. Patrick Doherty, 4th FW commander.

The term Turkey Shoot dates back to a mission that took place June 19, 1944 during World War II.

On this day U.S. Navy carrier aircraft downed 373 Japanese planes with the loss of only 23 American planes," said Dr. Roy Heidicker, 4th FW historian. A Navy pilot who participated in this mission was attributed as saying, "It was like a turkey shoot" and the term stuck.

Toward the end of WWII the greatest challenge in Europe for the 8th Air Force was destroying a Luftwaffe that refused to take to the air. One of the 4th FG's most notorious missions during WWII was also its final major mission. The group's Airmen were tasked to take out the Luftwaffe or German air force. In two airfield attacks the group's aviators destroyed 105 enemy aircraft April 15, 1945.

"While 'A' Group attacked airfields in the region of Prague, 'B' Group, devastated the Luftwaffe base at Gablingen in 40 minutes of continuous strafing," Heidicker said. "That same day other 8th Air Force fighter groups attacked Luftwaffe airfields all over Germany, claiming a total of 752 aircraft destroyed. The Luftwaffe never recovered from this terrible and devastating blow."

During World War II competition began between the 4th and 56th Fighter Groups to see what unit could destroy the most enemy aircraft. The 4th FG finished the war with 1,016 aircraft destroyed and the 56th FG's final tally was 1,006. While supporting the war effort the 4th FG destroyed more enemy aircraft than any group or wing in Air Force history.

"We proudly carry on the legacy of the 4th FG's victories, as well as those of the wing's Korean, Vietnam, Gulf War efforts and believe it is critically important that current and future generations of Airmen understand and celebrate our history, so they can visualize what they will be capable of doing in the future," Doherty said.

A wide variety of Airmen from multiple Air Force specialties ranging from ammo to radar approach control technicians came together to ensure the aircraft launched safely.

"The entire Seymour team of professionals and dedicated Airmen, along with our phenomenal community, pitched in to make this effort a great success," Doherty said.


2017
16 June 2017 | Defense-Aerospace
Antonov's An−132D Flies to France for Paris Air Show
On June 15, 2017, the new AN−132D aircraft−demonstrator, flew from Kyiv to Le Bourget, France, to have an international debut at the 52nd International Paris Air Show. It will be demonstrated as part of the show's flight programme, and will also remain on static display throughout the show. The ...
15 June 2017 | Flight Global
​Qatar orders 36 F-15QA fighters
Qatar has signed a deal for 36 Boeing F-15QA fighter aircraft. The deal is reportedly worth $12 billion, according to media reports quoting official Qatari sources. [...] In November 2016, the US Defense Security Cooperation Agency (DSCA) expressed optimism that the deal would go through. The original number, however, was for 72 F-15QAs. The F-15QA is an advanced variant of the two-seat F-15E Strike Eagle. Equipped with an active electronically scanned array (AESA) radar, it is effective in both air-to-air and air-to-ground missions.
15 June 2017 | Combat Aircraft
Gripen E makes maiden flight
Saab's JAS 39 Gripen E has made its maiden flight today. It flew from Saab's Linköping site this morning. The Gripen E will operate at a higher all-up weight than the JAS 39C variant: 16.5 tonnes compared to 14 tonnes.…Read more ›
14 June 2017 | Flight Global
KC-390 tour kicks off with Swedish evaluation
Embraer has embarked on a 40-day international sales tour with its KC-390 tanker/transport, which will bring the twinjet to Sweden before making a debut Paris air show appearance next week.
13 June 2017 | IHS Jane's
Images show Myanmar Air Force JF-17/FC-1 conducting flight tests in China
Images have emerged on Chinese online forums showing what appears to be one of the first Pakistan Aeronautical Complex/Chengdu Aircraft Industry Corporation (PAC/CAC) JF-17 Thunder/FC-1 Xiaolong multirole combat aircraft on order for the Myanmar Air Force (MAF) conducting test flights in China.
9 June 2017 | USAF News
Luke AFB temporarily cancels F-35A local flying ops
The 56th Fighter Wing at Luke Air Force Base, Arizona, cancelled local flying operations today for F-35A Lightning II aircraft due to a series of five incidents in which pilots have experienced hypoxia-like symptoms.
6 June 2017 | Combat Aircraft
First Japanese-assembled F-35
The first Japanese-assembled F-35A was unveiled out of the Mitsubishi Heavy Industries (MHI) Komaki South F-35 Final Assembly and Check Out (FACO) facility on June 5. The Japan F-35 FACO is operated by MHI with technical assistance from Lockheed Martin.…Read more ›
1 June 2017 | Raytheon
Stinger missiles with proximity fuzes destroy UAVs in first-ever test
During a recent Army test, a pair of Raytheon Company Stinger anti-air missiles equipped with new proximity fuzes intercepted two small unmanned airborne systems—an MQM-170C Outlaw and an unidentified smaller system—for the first time. Proximity fuzes allow missiles to destroy targets by making contact or by detonating in close range. The Stinger weapon system is a lightweight, self-contained air defense system that can be rapidly deployed by ground troops and on military platforms. It is combat proven in four major conflicts and is now deployed in more than 18 nations and with all four U.S. military services. "Stingers are usually loaded with direct impact warheads, which is appropriate for larger targets such as cruise missiles and aircraft," said Kim Ernzen, vice president of Raytheon's Land Warfare Systems product line. "The new proximity fuze gives ground forces the ability to engage small, elusive targets using a proven, familiar system."
26 May 2017 | MILAVIA News
Air National Guard paint facility completes 149th F-16 heritage paint scheme
A U.S. Air Force F-16 assigned to the 149th Fighter Wing, Texas Air National Guard, was painted with World War II heritage markings by the Air National Guard Paint Facility in Sioux City, Iowa.
25 May 2017 | IHS Jane's
US Navy kicks-off Super Hornet Block 3 effort with IRST contract
The US Navy (USN) has begun the process of upgrading its F/A-18E/F Super Hornet to the latest Block 3 standard, with a contract award to Boeing to incorporate the Block 2 Infrared Search and Track System (IRST) onto the combat aircraft.