Strike Eagle Extreme; Nearly 70 F-15Es take to sky
17 Apr 2012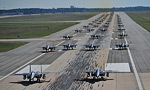 by Tech. Sgt. Tammie Moore
4th Fighter Wing Public Affairs

4/17/2012 - SEYMOUR JOHNSON AIR FORCE, N.C. -- Airmen from the 4th Fighter Wing at Seymour Johnson Air Force Base, N.C., came together to honor their heritage by launching nearly 70 F-15E Strike Eagles in a Turkey Shoot training mission April 16.

The nearly 70 Strike Eagles taxied one after the next simultaneously down the base flightline before heading to bombing ranges across North Carolina to destroy more than 1,000 targets. The purpose of this mass launch was two-fold.

"This F-15E Strike package and Turkey Shoot honored the excellence and sacrifices of our Wing's past while 'flexing' 4th FW airpower today, sharpening our warfighting spirit and skills as we look toward the future," said Col. Patrick Doherty, 4th FW commander.

The term Turkey Shoot dates back to a mission that took place June 19, 1944 during World War II.

On this day U.S. Navy carrier aircraft downed 373 Japanese planes with the loss of only 23 American planes," said Dr. Roy Heidicker, 4th FW historian. A Navy pilot who participated in this mission was attributed as saying, "It was like a turkey shoot" and the term stuck.

Toward the end of WWII the greatest challenge in Europe for the 8th Air Force was destroying a Luftwaffe that refused to take to the air. One of the 4th FG's most notorious missions during WWII was also its final major mission. The group's Airmen were tasked to take out the Luftwaffe or German air force. In two airfield attacks the group's aviators destroyed 105 enemy aircraft April 15, 1945.

"While 'A' Group attacked airfields in the region of Prague, 'B' Group, devastated the Luftwaffe base at Gablingen in 40 minutes of continuous strafing," Heidicker said. "That same day other 8th Air Force fighter groups attacked Luftwaffe airfields all over Germany, claiming a total of 752 aircraft destroyed. The Luftwaffe never recovered from this terrible and devastating blow."

During World War II competition began between the 4th and 56th Fighter Groups to see what unit could destroy the most enemy aircraft. The 4th FG finished the war with 1,016 aircraft destroyed and the 56th FG's final tally was 1,006. While supporting the war effort the 4th FG destroyed more enemy aircraft than any group or wing in Air Force history.

"We proudly carry on the legacy of the 4th FG's victories, as well as those of the wing's Korean, Vietnam, Gulf War efforts and believe it is critically important that current and future generations of Airmen understand and celebrate our history, so they can visualize what they will be capable of doing in the future," Doherty said.

A wide variety of Airmen from multiple Air Force specialties ranging from ammo to radar approach control technicians came together to ensure the aircraft launched safely.

"The entire Seymour team of professionals and dedicated Airmen, along with our phenomenal community, pitched in to make this effort a great success," Doherty said.


2014
10 March 2014 | DefenseNews.com
US Navy Budget Takes Bite Out of Aircraft, Weapons
Most of the US Navy's aviation programs take significant hits in the 2015 budget, including the P-8A Poseidon, F-35C Joint Strike Fighter, and MH-60R helicopter, and plans to buy the MQ-8C Fire Scout unmanned shipboard aircraft have been shelved for now. [...] F-35B Joint Strike Fighter for the Marine Corps holds at previous levels, buys for the F-35C carrier variant were slashed, dropping from last year's plan to buy 49 from 2015 to 2018 to 20.
7 March 2014 | Flight Global
Israel scrambles F-16s as Syrian jets near border
Israeli air force fighters have been scrambled four times on 7 March so far, when Syrian combat aircraft approached the border with Israel on the Golan Heights.
7 March 2014 | RAF
First Vertical Landing in a F-35B by a British Pilot
Squadron Leader Hugh Nichols makes the first vertical landing in a F-35B Lightning II fighter jet by a British pilot at Eglin Air Force Base in the USA
7 March 2014 | EADS
Singapore selects A330 MRTT Multi Role Tanker Transport
Airbus Defence and Space has been selected by Singapore to supply six A330 MRTT new generation air-to-air refuelling aircraft for the Republic of Singapore Air Force (RSAF).
7 March 2014 | DefenseNews.com
Trainer Replacement, JSTARS Funded in 2015 Air Force Request
The US Air Force funded two secondary modernization programs in its budget request in a move clearly made with an eye towards modernizing for the next decade.
7 March 2014 | DefenseNews.com
US Army Plans to Cut 3 of 13 Aviation Brigades by 2019
US Army officials said Tuesday that as part of its wide-ranging aviation restructuring, the service is preparing to cut three of the service's 13 combat aviation brigades (CAB) by 2019.
7 March 2014 | IHS Jane's
Taiwan F-16 plans complicated by CAPES cancellation
Taiwan's F-16A/B upgrade programme suffered a major setback on 4 March after the US Air Force cut its Combat Avionics Programmed Extension Suite (CAPES) from the Pentagon's 2015 budget. The CAPES upgrade included a new AESA radar, high-resolution, multifunction colour displays and an electronic warfare suite.
6 March 2014 | Flight Global
Flight tests of Xian Y-20 proceeding well
​Flight tests of China's Xian Y-20 transport aircraft are proceeding well, with the designer of the type claiming the aircraft has "set new records" for China.
6 March 2014 | EADS
German Army's final upgraded Tiger support helicopter delivered
The Germany Army today received the last of 12 Tiger UHT support helicopters upgraded by Airbus Helicopters (formerly Eurocopter) to the ASGARD (Afghanistan Stabilization German Army Rapid Deployment) configuration including sand filters, additional ballistic protection, mission data recorder and enhanced communication equipment. Deployment of the initial Tiger UHTs modified to the ASGARD configuration began in December 2012, with operations beginning a month later in Mazar-e-Scharif to support ground troops, protect convoys and perform reconnaissance operations. To date, these ASGARD-upgraded Tigers have accumulated well over 1,000 flight hours in German military service.
5 March 2014 | Boeing
Boeing Maritime Surveillance Aircraft Demonstrator Completes 1st Flight
SEATTLE, March 5, 2014 -- Boeing's Maritime Surveillance Aircraft (MSA) demonstrator recently completed its first flight to verify airworthiness. Boeing teammate Field Aviation conducted the successful testing during a four-hour flight on Feb. 28 from Toronto's Pearson International Airport. Field Aviation modified the Bombardier Challenger 604 aircraft's structures and systems into the MSA configuration.