Strike Eagle Extreme; Nearly 70 F-15Es take to sky
17 Apr 2012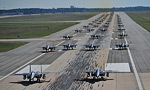 by Tech. Sgt. Tammie Moore
4th Fighter Wing Public Affairs

4/17/2012 - SEYMOUR JOHNSON AIR FORCE, N.C. -- Airmen from the 4th Fighter Wing at Seymour Johnson Air Force Base, N.C., came together to honor their heritage by launching nearly 70 F-15E Strike Eagles in a Turkey Shoot training mission April 16.

The nearly 70 Strike Eagles taxied one after the next simultaneously down the base flightline before heading to bombing ranges across North Carolina to destroy more than 1,000 targets. The purpose of this mass launch was two-fold.

"This F-15E Strike package and Turkey Shoot honored the excellence and sacrifices of our Wing's past while 'flexing' 4th FW airpower today, sharpening our warfighting spirit and skills as we look toward the future," said Col. Patrick Doherty, 4th FW commander.

The term Turkey Shoot dates back to a mission that took place June 19, 1944 during World War II.

On this day U.S. Navy carrier aircraft downed 373 Japanese planes with the loss of only 23 American planes," said Dr. Roy Heidicker, 4th FW historian. A Navy pilot who participated in this mission was attributed as saying, "It was like a turkey shoot" and the term stuck.

Toward the end of WWII the greatest challenge in Europe for the 8th Air Force was destroying a Luftwaffe that refused to take to the air. One of the 4th FG's most notorious missions during WWII was also its final major mission. The group's Airmen were tasked to take out the Luftwaffe or German air force. In two airfield attacks the group's aviators destroyed 105 enemy aircraft April 15, 1945.

"While 'A' Group attacked airfields in the region of Prague, 'B' Group, devastated the Luftwaffe base at Gablingen in 40 minutes of continuous strafing," Heidicker said. "That same day other 8th Air Force fighter groups attacked Luftwaffe airfields all over Germany, claiming a total of 752 aircraft destroyed. The Luftwaffe never recovered from this terrible and devastating blow."

During World War II competition began between the 4th and 56th Fighter Groups to see what unit could destroy the most enemy aircraft. The 4th FG finished the war with 1,016 aircraft destroyed and the 56th FG's final tally was 1,006. While supporting the war effort the 4th FG destroyed more enemy aircraft than any group or wing in Air Force history.

"We proudly carry on the legacy of the 4th FG's victories, as well as those of the wing's Korean, Vietnam, Gulf War efforts and believe it is critically important that current and future generations of Airmen understand and celebrate our history, so they can visualize what they will be capable of doing in the future," Doherty said.

A wide variety of Airmen from multiple Air Force specialties ranging from ammo to radar approach control technicians came together to ensure the aircraft launched safely.

"The entire Seymour team of professionals and dedicated Airmen, along with our phenomenal community, pitched in to make this effort a great success," Doherty said.


2017
10 March 2017 | Flight Global
India poised to retire iconic Tu-142 fleet
The Indian navy will retire its iconic Tupolev Tu-142ME Albatross long-range maritime patrol aircraft at the end of March.
9 March 2017 | Flight Global
​Indian Navy Retires Aircraft Carrier INS Viraat
The Indian Navy formally decommissioned the aircraft carrier INS Viraat (ex HMS Hermes) on 6 March, after 30 years of operational service.
15 February 2017 | Combat Aircraft
End of the line for Brazil's carrier
The Brazilian Navy's sole aircraft carrier, the only vessel of its type in Latin American service, is to be decommissioned, according to a statement from the Brazilian Ministry of Defense.
8 February 2017 | Google News
Australian F-35s and EA-18 Growler To Appear at Avalon Airshow ... - Aviation International News
The RAAF's first two Lightning IIs will make a transpacific roundtrip; the air arm's first Growler will also be there.
4 January 2017 | Defense-Aerospace
Dutch F-16s Land In Lithuania for Air Police Mission
On January 2 four F-16 Fighting Falcon fighter jets of the Royal Netherlands Air Force landed at the Lithuanian Air Forces Base in Šiauliai to serve as next rotation of the NATO Baltic Air Policing Mission in the Baltic states. The Baltic Air Policing Mission will pass from the French Air Force ...
4 January 2017 | Flight Global
French air force, Qinetiq confirmed as PC-21 buyers
Pilatus has announced a trio of orders for its PC-21 turboprop trainer, with the commitments totalling 21 units. Worth more than Swfr300 million ($292 million) to the company, the orders will lead to the production of 17 aircraft for the French air force, a further two for previous buyer Jordan and two for the UK company Qinetiq, for use by the Empire Test Pilots' School (ETPS).
3 January 2017 | Defense-Aerospace
Russia Delivers First Batch of Su-35 Fighters to China
MOSCOW --- The first batch of four multipurpose Su-35 fighter jets arrived in China, the Lenta.ru website reported quoting the Center for Analysis of Strategies and Technologies. It quoted unofficial Chinese sources as saying the aircraft arrived in China in the morning of December 25. According ...
2016
30 December 2016 | Flight Global
US Air Force releases final T-X trainer RFP
T-X contenders are off to the races today, after the US Air Force released its much anticipated final request for proposals for the T-38 trainer replacement programme. The $16.3 billion RFP encompasses a total of 350 aircraft, including delivery of the initial five test aircraft, contract options for LRIP lots 1 and 2 and full-rate production of lots 3 through 11. The USAF is expected to award the contract in 2017 and reach initial operational capability by the fourth quarter of Fiscal Year 2024, the service says in a 30 December statement.
30 December 2016 | RUaviation
Russia's Sukhoi PAK FA to Enter Service in 2017
Russia's Sukhoi PAK FA, a fifth-generation fighter jet, will enter service with the Russian Air Force in 2017. "Designing new kinds of weapons, military and special equipment for the Russian Armed Forces will continue in 2017 as well as their procurement for the Russian Land Force, Aerospace Forces and the Navy. Thus, the T-50 aircraft (the Prospective Airborne Complex of Frontline Aviation — PAK FA) will enter service in the Russian Aerospace Forces," Sputnik reports Thursday. In October, TASS reported that the first batch delivery will consist of five aircraft.
30 December 2016 | RUaviation
Test Flights of Russia's MiG-35 to Begin in January 2017
Flight tests of Russia's fourth-generation MiG-35 jets will get underway next month, Russian Deputy Prime Minister Dmitry Rogozin said Friday. The Russian Mikoyan MiG-35 (Fulcrum-F) jet fighter is a further development of the MiG-29M/M2 and MiG-29K/KUB. The first batch of the test version was initially expected to be handed to the Russian Defense Ministry by year-end.