Strike Eagle Extreme; Nearly 70 F-15Es take to sky
17 Apr 2012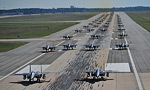 by Tech. Sgt. Tammie Moore
4th Fighter Wing Public Affairs

4/17/2012 - SEYMOUR JOHNSON AIR FORCE, N.C. -- Airmen from the 4th Fighter Wing at Seymour Johnson Air Force Base, N.C., came together to honor their heritage by launching nearly 70 F-15E Strike Eagles in a Turkey Shoot training mission April 16.

The nearly 70 Strike Eagles taxied one after the next simultaneously down the base flightline before heading to bombing ranges across North Carolina to destroy more than 1,000 targets. The purpose of this mass launch was two-fold.

"This F-15E Strike package and Turkey Shoot honored the excellence and sacrifices of our Wing's past while 'flexing' 4th FW airpower today, sharpening our warfighting spirit and skills as we look toward the future," said Col. Patrick Doherty, 4th FW commander.

The term Turkey Shoot dates back to a mission that took place June 19, 1944 during World War II.

On this day U.S. Navy carrier aircraft downed 373 Japanese planes with the loss of only 23 American planes," said Dr. Roy Heidicker, 4th FW historian. A Navy pilot who participated in this mission was attributed as saying, "It was like a turkey shoot" and the term stuck.

Toward the end of WWII the greatest challenge in Europe for the 8th Air Force was destroying a Luftwaffe that refused to take to the air. One of the 4th FG's most notorious missions during WWII was also its final major mission. The group's Airmen were tasked to take out the Luftwaffe or German air force. In two airfield attacks the group's aviators destroyed 105 enemy aircraft April 15, 1945.

"While 'A' Group attacked airfields in the region of Prague, 'B' Group, devastated the Luftwaffe base at Gablingen in 40 minutes of continuous strafing," Heidicker said. "That same day other 8th Air Force fighter groups attacked Luftwaffe airfields all over Germany, claiming a total of 752 aircraft destroyed. The Luftwaffe never recovered from this terrible and devastating blow."

During World War II competition began between the 4th and 56th Fighter Groups to see what unit could destroy the most enemy aircraft. The 4th FG finished the war with 1,016 aircraft destroyed and the 56th FG's final tally was 1,006. While supporting the war effort the 4th FG destroyed more enemy aircraft than any group or wing in Air Force history.

"We proudly carry on the legacy of the 4th FG's victories, as well as those of the wing's Korean, Vietnam, Gulf War efforts and believe it is critically important that current and future generations of Airmen understand and celebrate our history, so they can visualize what they will be capable of doing in the future," Doherty said.

A wide variety of Airmen from multiple Air Force specialties ranging from ammo to radar approach control technicians came together to ensure the aircraft launched safely.

"The entire Seymour team of professionals and dedicated Airmen, along with our phenomenal community, pitched in to make this effort a great success," Doherty said.


2016
8 November 2016 | RAF
RAF Red Arrows perform spectacular finale to Chinese visit
A ninth and final display in China has been performed by the Red Arrows. The Royal Air Force Aerobatic Team finished with a spectacular flypast involving all nine jets trailing red smoke, to draw an end to its six-day appearance at Airshow China in Zhuhai.
8 November 2016 | RAF
'Invincible Shield' - First ever UK-US-ROK Combined Air Exercise
Between 4 and 10 November, the Republic of Korea (ROK) Air Force will host "Invincible Shield," the first ever combined air exercise with the US and the UK.
7 November 2016 | Flight Global
Singapore selects H225M and Chinook helicopters
Singapore is to acquire an undisclosed number of Airbus Helicopters H225M and Boeing CH-47F rotorcraft as part of a fleet modernisation programme.
6 November 2016 | IHS Jane's
Honduras to refurbish fixed- and rotary-wing aircraft fleets
The Honduran National Congress has approved an agreement signed between the Honduran and Israeli governments for the refurbishment of part of the Honduran Air Force's (Fuerza Aérea Hondureña: FAH's) fleet of combat aircraft and helicopters.
2 November 2016 | RAF
Tornado crew reaches unique milestone
Two of the Tornado Force's most experienced flying instructors reached a significant milestone over the summer when they performed a flypast at RAF Linton-on-Ouse. Squadron Leader David Gallie and Flight Lieutenant Chris Stradling are believed to have been the first crew to have flown together with a combined 10,000 hours on the Tornado.
1 November 2016 | RAF
RAF Red Arrows display in China for the first time
Aviation history was made by the Royal Air Force Aerobatic Team today when the Red Arrows performed a public display in China for the first time.
1 November 2016 | Flight Global
​AIRSHOW CHINA: Despite J-20 debut, new fighters keep low profile
The Chengdu J-20 fighter has made its official show debut at Zhuhai with a brief flying display.
13 October 2016 | IHS Jane's
South Korea begins receiving Taurus cruise missiles
South Korea has received its first lot of Taurus KEPD 350K cruise missiles during a ceremony at the headquarters of Taurus Systems in Schrobenhausen, Germany, it was announced on 14 October. An undisclosed number of missiles were formally handed over to the Republic of Korea Air Force (RoKAF)
10 October 2016 | Airbus Defence and Space
Bangladesh To Join The Family Of C295W Operators
Military aircraft Download 99.6 KB Print Bangladesh has become the latest nation to acquire the Airbus C295W medium airlifter with an order for a single aircraft for Bangladesh Army Aviation. The aircraft, in transport configuration, will be delivered in the second half of 2017 under a contract that also includes customer support and training. The C295W is qualified for the transport of troops and bulky/palletized cargo, paratrooping and medical evacuation. It is the first multi-engine fixed-wing aircraft to be operated by Bangladesh Army Aviation
7 October 2016 | RUaviation
Upgraded Mi-28NM attack helicopter started undergoing flight tests
A prototype of the Mi-28NM upgraded attack helicopter, also known as Product 296, has flown its early test sorties for its controls and engines to be tested and its behavior to be assessed.