Strike Eagle Extreme; Nearly 70 F-15Es take to sky
17 Apr 2012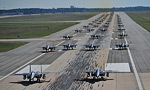 by Tech. Sgt. Tammie Moore
4th Fighter Wing Public Affairs

4/17/2012 - SEYMOUR JOHNSON AIR FORCE, N.C. -- Airmen from the 4th Fighter Wing at Seymour Johnson Air Force Base, N.C., came together to honor their heritage by launching nearly 70 F-15E Strike Eagles in a Turkey Shoot training mission April 16.

The nearly 70 Strike Eagles taxied one after the next simultaneously down the base flightline before heading to bombing ranges across North Carolina to destroy more than 1,000 targets. The purpose of this mass launch was two-fold.

"This F-15E Strike package and Turkey Shoot honored the excellence and sacrifices of our Wing's past while 'flexing' 4th FW airpower today, sharpening our warfighting spirit and skills as we look toward the future," said Col. Patrick Doherty, 4th FW commander.

The term Turkey Shoot dates back to a mission that took place June 19, 1944 during World War II.

On this day U.S. Navy carrier aircraft downed 373 Japanese planes with the loss of only 23 American planes," said Dr. Roy Heidicker, 4th FW historian. A Navy pilot who participated in this mission was attributed as saying, "It was like a turkey shoot" and the term stuck.

Toward the end of WWII the greatest challenge in Europe for the 8th Air Force was destroying a Luftwaffe that refused to take to the air. One of the 4th FG's most notorious missions during WWII was also its final major mission. The group's Airmen were tasked to take out the Luftwaffe or German air force. In two airfield attacks the group's aviators destroyed 105 enemy aircraft April 15, 1945.

"While 'A' Group attacked airfields in the region of Prague, 'B' Group, devastated the Luftwaffe base at Gablingen in 40 minutes of continuous strafing," Heidicker said. "That same day other 8th Air Force fighter groups attacked Luftwaffe airfields all over Germany, claiming a total of 752 aircraft destroyed. The Luftwaffe never recovered from this terrible and devastating blow."

During World War II competition began between the 4th and 56th Fighter Groups to see what unit could destroy the most enemy aircraft. The 4th FG finished the war with 1,016 aircraft destroyed and the 56th FG's final tally was 1,006. While supporting the war effort the 4th FG destroyed more enemy aircraft than any group or wing in Air Force history.

"We proudly carry on the legacy of the 4th FG's victories, as well as those of the wing's Korean, Vietnam, Gulf War efforts and believe it is critically important that current and future generations of Airmen understand and celebrate our history, so they can visualize what they will be capable of doing in the future," Doherty said.

A wide variety of Airmen from multiple Air Force specialties ranging from ammo to radar approach control technicians came together to ensure the aircraft launched safely.

"The entire Seymour team of professionals and dedicated Airmen, along with our phenomenal community, pitched in to make this effort a great success," Doherty said.


2015
27 March 2015 | RAF
29 Sqn Tail Art
29 (R) Squadron based at Royal Air Force Coningsby, Lincolnshire, revealed a striking new paint scheme to mark the 100th anniversary of its formation.
26 March 2015 | DefenseNews.com
Saudi Warplanes Strike Yemeni Rebels
Warplanes from a Saudi-led coalition bombed Huthi Shiite rebels Thursday in support of Yemen's embattled president, who headed to an Arab summit to garner support as Iran warned the intervention was "dangerous."        
26 March 2015 | RAF
The RAF Chinook Force Is Coming Home From Afghanistan
After thirteen years supporting operations in Afghanistan, the first of the three remaining Royal Air Force Chinooks left Kabul this morning to begin the journey home.
25 March 2015 | Flight Global
India accepts first upgraded Mirage 2000s
India's first two Dassault Mirage 2000 fighters have completed extensive upgrade activity in France, with the conversion programme now to move to Hindustan Aeronautics (HAL) in Bengaluru. Modified by Dassault and Thales at Istres air base, the programme's lead aircraft were formally accepted on 25 March...
25 March 2015 | Flight Global
Swedish air force receives its last Gripen C
​Saab has delivered its final Gripen C ordered for the Swedish air force, with the fighter having been flown from its Linköping final assembly site to Kallinge air base near Ronneby on 19 March. [...] The next single-seat fighter to be delivered to the Swedish air force will be the first of at least 60 Gripens to be manufactured in the advanced E configuration. Saab is under contract to hand over its first example of the larger and more powerful model during 2019...
24 March 2015 | IHS Jane's
US approves USD1.05 billion Chinook sale to the Netherlands
The US government has approved the sale of 17 Boeing CH-47F Chinook heavy-lift transport helicopters to the Netherlands for USD1.05 billion. The proposed sale, which was approved by the State Department on 19 March and announced by the US Defense Security Cooperation Agency (DSCA) on 23 March,
22 March 2015 | Flight Global
RAAF's first F-35A pilot takes to the skies
The Royal Australian Air Force's first pilot of the Lockheed Martin F-35 Joint Strike Fighter has completed his first flight.
20 March 2015 | DefenseNews.com
USAF Issues T-X Requirements
WASHINGTON — The US Air Force has released the long-awaited requirements for its next-generation trainer program, known as T-X. The requirements, posted on a federal website Wednesday, will drive the decisions of the five competing companies who hope to win the rights to build 350 advanced flight trainers and the associated systems to replace the legacy T-38 trainer        
19 March 2015 | IHS Jane's
UK mothballs quarter of Apache fleet with end of Afghan ops
The UK has mothballed a quarter of its AgustaWestland-Boeing WAH-64 Apache Longbow AH.1 helicopters following the end of combat operations in Afghanistan, the Ministry of Defence (MoD) confirmed to IHS Jane's on 19 March. In January, 16 of the British Army's 66 Apaches (67 were procured, but one
19 March 2015 | Flight Global
French navy NH90s receive ASW approval
​France's navy has declared initial operating capability for its NH Industries NH90 Caïman helicopters operating in the anti-submarine warfare role.