Strike Eagle Extreme; Nearly 70 F-15Es take to sky
17 Apr 2012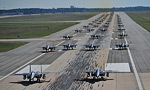 by Tech. Sgt. Tammie Moore
4th Fighter Wing Public Affairs

4/17/2012 - SEYMOUR JOHNSON AIR FORCE, N.C. -- Airmen from the 4th Fighter Wing at Seymour Johnson Air Force Base, N.C., came together to honor their heritage by launching nearly 70 F-15E Strike Eagles in a Turkey Shoot training mission April 16.

The nearly 70 Strike Eagles taxied one after the next simultaneously down the base flightline before heading to bombing ranges across North Carolina to destroy more than 1,000 targets. The purpose of this mass launch was two-fold.

"This F-15E Strike package and Turkey Shoot honored the excellence and sacrifices of our Wing's past while 'flexing' 4th FW airpower today, sharpening our warfighting spirit and skills as we look toward the future," said Col. Patrick Doherty, 4th FW commander.

The term Turkey Shoot dates back to a mission that took place June 19, 1944 during World War II.

On this day U.S. Navy carrier aircraft downed 373 Japanese planes with the loss of only 23 American planes," said Dr. Roy Heidicker, 4th FW historian. A Navy pilot who participated in this mission was attributed as saying, "It was like a turkey shoot" and the term stuck.

Toward the end of WWII the greatest challenge in Europe for the 8th Air Force was destroying a Luftwaffe that refused to take to the air. One of the 4th FG's most notorious missions during WWII was also its final major mission. The group's Airmen were tasked to take out the Luftwaffe or German air force. In two airfield attacks the group's aviators destroyed 105 enemy aircraft April 15, 1945.

"While 'A' Group attacked airfields in the region of Prague, 'B' Group, devastated the Luftwaffe base at Gablingen in 40 minutes of continuous strafing," Heidicker said. "That same day other 8th Air Force fighter groups attacked Luftwaffe airfields all over Germany, claiming a total of 752 aircraft destroyed. The Luftwaffe never recovered from this terrible and devastating blow."

During World War II competition began between the 4th and 56th Fighter Groups to see what unit could destroy the most enemy aircraft. The 4th FG finished the war with 1,016 aircraft destroyed and the 56th FG's final tally was 1,006. While supporting the war effort the 4th FG destroyed more enemy aircraft than any group or wing in Air Force history.

"We proudly carry on the legacy of the 4th FG's victories, as well as those of the wing's Korean, Vietnam, Gulf War efforts and believe it is critically important that current and future generations of Airmen understand and celebrate our history, so they can visualize what they will be capable of doing in the future," Doherty said.

A wide variety of Airmen from multiple Air Force specialties ranging from ammo to radar approach control technicians came together to ensure the aircraft launched safely.

"The entire Seymour team of professionals and dedicated Airmen, along with our phenomenal community, pitched in to make this effort a great success," Doherty said.


2018
4 March 2018 | IHS Jane's
USMC prepares for F-35B maiden operational embarkation
The US Marine Corps (USMC) is in the final stages of preparation for the first operational shipborne embarkation of the Lockheed Martin F-35B Lightning II Joint Strike Fighter (JSF), with the arrival of an advance detachment of aircraft on USS Wasp (LHD-1) on 5 March.
1 March 2018 | Boeing
Boeing Receives U.S. Navy Contract to Modernize F/A-18 Super Hornet Fleet
Boeing has been awarded a contract to modernize the U.S. Navy F/A-18 fleet, extending the life of existing Super Hornets from 6,000 to 9,000+ flight hours. In the early 2020s, Boeing will begin installing initial updates to the aircraft that will convert existing Block II Super Hornets to a new Block III configuration.
23 February 2018 | MILAVIA News
Saab rolled out first GlobalEye AEW&C
Saab rolled out the first GlobalEye Airborne Early Warning & Control (AEW&C) aircraft at its Linköping site, Sweden. GlobalEye is an advanced, swing role airborne surveillance system based on a Global 6000 jet aircraft from Bombardier, which has undergone a thorough modification programme to adapt it for its role.
22 February 2018 | IHS Jane's
Russian Su-57 fifth-gen fighter prototypes touch down in Syria
Key Points Two Russian Su-57 fifth-generation fighter prototypes have been deployed to Syria It is unclear what the real benefits of the deployment are The Russian Aerospace Forces (Vozdushno-Kosmicheskiye Sily: VKS) have deployed two Sukhoi Su-57 fifth-generation fighters to Humaymim Air Base in
21 February 2018 | USAF News
JB San Antonio-Randolph preferred location for first T-X aircraft
The Air Force announced Feb. 21, 2018, that the Advanced Pilot Trainer (T-X) will replace T-38C Talon aircraft at existing undergraduate pilot training bases, with Joint Base San Antonio-Randolph named as the preferred location for the first T-X aircraft scheduled to arrive in 2022.
20 February 2018 | Flight Global
US clears RNLAF for $1.19b Apache upgrade deal
The Royal Netherlands Air Force is cleared by the US State Department to buy 28 remanufactured Boeing AH-64E helicopters worth a total of $1.19 billion, the US government announced on 20 February.
20 February 2018 | Lockheed Martin
First Sikorsky HH-60W Combat Rescue Helicopter Enters Final Assembly
Sikorsky, a Lockheed Martin company, is beginning final assembly of the first HH-60W Combat Rescue Helicopter, [...] This Engineering Manufacturing Development (EMD) aircraft is the first to be assembled at the Sikorsky headquarters in Stratford, Connecticut. A total of nine aircraft will be built in Connecticut during the EMD phase of the program ― four EMD aircraft and five System Demonstration Test Articles (SDTA). The U.S. Air Force program of record calls for 112 helicopters to replace the Air Force's aging HH-60G Pave Hawk helicopters, which perform critical combat search and rescue and personnel recovery operations for all U.S. military services.
12 February 2018 | Flight Global
USAF plans to consolidate bomber fleet to B-21 and B-52
The US Air Force has confirmed plans to re-engine the Boeing B-52H fleet and retire the Northrop Grumman B-2 and the Rockwell B-1 as Northrop s next-generation B-21 stealth bomber ramps up deliveries.
19 January 2018 | ACC
A-10 returns as a single-ship demonstration
hile all members of Davis-Monthan AFB have maintained our mission of sustaining attack airpower, a select group of Airmen have been preparing for an additional mission; demonstrating the capabilities of the A-10C Thunderbolt II. The A-10C Thunderbolt II Demonstration Team will perform demos for the first time in seven years for the 2018 air show season. The A-10 will be one of three single-ship aerial demonstration teams in Air Combat Command.
14 January 2018 | Airbus Helicopters
First Tiger HAD retrofit delivered to the French Army Aviation
The first of 36 retrofits ordered by the French Ministry of Defence