Strike Eagle Extreme; Nearly 70 F-15Es take to sky
17 Apr 2012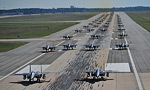 by Tech. Sgt. Tammie Moore
4th Fighter Wing Public Affairs

4/17/2012 - SEYMOUR JOHNSON AIR FORCE, N.C. -- Airmen from the 4th Fighter Wing at Seymour Johnson Air Force Base, N.C., came together to honor their heritage by launching nearly 70 F-15E Strike Eagles in a Turkey Shoot training mission April 16.

The nearly 70 Strike Eagles taxied one after the next simultaneously down the base flightline before heading to bombing ranges across North Carolina to destroy more than 1,000 targets. The purpose of this mass launch was two-fold.

"This F-15E Strike package and Turkey Shoot honored the excellence and sacrifices of our Wing's past while 'flexing' 4th FW airpower today, sharpening our warfighting spirit and skills as we look toward the future," said Col. Patrick Doherty, 4th FW commander.

The term Turkey Shoot dates back to a mission that took place June 19, 1944 during World War II.

On this day U.S. Navy carrier aircraft downed 373 Japanese planes with the loss of only 23 American planes," said Dr. Roy Heidicker, 4th FW historian. A Navy pilot who participated in this mission was attributed as saying, "It was like a turkey shoot" and the term stuck.

Toward the end of WWII the greatest challenge in Europe for the 8th Air Force was destroying a Luftwaffe that refused to take to the air. One of the 4th FG's most notorious missions during WWII was also its final major mission. The group's Airmen were tasked to take out the Luftwaffe or German air force. In two airfield attacks the group's aviators destroyed 105 enemy aircraft April 15, 1945.

"While 'A' Group attacked airfields in the region of Prague, 'B' Group, devastated the Luftwaffe base at Gablingen in 40 minutes of continuous strafing," Heidicker said. "That same day other 8th Air Force fighter groups attacked Luftwaffe airfields all over Germany, claiming a total of 752 aircraft destroyed. The Luftwaffe never recovered from this terrible and devastating blow."

During World War II competition began between the 4th and 56th Fighter Groups to see what unit could destroy the most enemy aircraft. The 4th FG finished the war with 1,016 aircraft destroyed and the 56th FG's final tally was 1,006. While supporting the war effort the 4th FG destroyed more enemy aircraft than any group or wing in Air Force history.

"We proudly carry on the legacy of the 4th FG's victories, as well as those of the wing's Korean, Vietnam, Gulf War efforts and believe it is critically important that current and future generations of Airmen understand and celebrate our history, so they can visualize what they will be capable of doing in the future," Doherty said.

A wide variety of Airmen from multiple Air Force specialties ranging from ammo to radar approach control technicians came together to ensure the aircraft launched safely.

"The entire Seymour team of professionals and dedicated Airmen, along with our phenomenal community, pitched in to make this effort a great success," Doherty said.


2014
19 December 2014 | Flight Global
Embraer KC-390 will fly in January
​Embraer has scheduled the first flight of the KC-390 aerial refueling tanker for early January.
19 December 2014 | ACC
AF delivers Iraqi F-16s for training in US
The Iraqi government purchased 36 F-16 Fighting Falcons to help rebuild their air force; however the security situation in Iraq made delivering the aircraft impractical. The decision was made to instead deliver a portion of the jets to Tucson, Arizona and continue the IAF pilots' training there. The Arizona ANG's 162nd Wing was chosen to provide the training due to its already established experience with foreign students.
19 December 2014 | RCAF
Fifth CC-177 Globemaster III will increase the RCAF's airlift capability
The Royal Canadian Air Force will acquire a fifth aircraft to augment the current CC-177 Globemaster III fleet.
18 December 2014 | IHS Jane's
Russia plans to receive 55 PAK-FAs by 2020
The Russian Air Force (VVS) will have received 55 Sukhoi PAK-FA (T-50) fighter aircraft by 2020, according to Vladislav Goncharenko, the deputy director of the United Aircraft Corporation's (UAC's) combat aircraft department. The first PAK-FA deliveries are scheduled for 2016. "The number of
18 December 2014 | RUaviation
Vietnam took delivery of the first two Su-30MK2 fighters ordered in 2013
Komsomolsk-on-Amur aviation plant started deliveries of Su-30MK2 fighters to Vietnam under the contract signed in 2013, Interfax-AVN reports. "The first two out of 12 jets ordered in early December were delivered to Vietnam," a source said. According to him, "two more jets of the type will be delivered to the customer this year, the rest 8 ones – in 2015".
18 December 2014 | MILAVIA News
Germany takes delivery of its first A400M
Airbus Defence and Space has formally delivered the first Airbus A400M military transport ordered by Germany.
17 December 2014 | ACC
A-10s train at White Sands Missile Range
12/17/2014 - WHITE SANDS MISSILE RANGE, N.M. -- Members of the 354th Fighter Squadron, Davis-Monthan Air Force Base, Ariz., the 74th Fighter Squadron, Moody AFB, Ga., and the 23rd Special Tactics Squadron, Hurlburt Field, Fla., traveled to White Sands Missile Range for training Dec. 3-4. The mission of the 354th and 74th Fighter Squadrons was to upgrade a select cadre of pilots to conduct unimproved surface landings on a dry lake bed, both day and night.
17 December 2014 | IHS Jane's
Spain buys extra Patriot SAM batteries from Germany
Spain is to buy two surplus Patriot surface-to-air missile (SAM) batteries from Germany ahead of deploying some of its existing Patriot systems as part of the NATO cover agreed for Turkey. The two batteries will each include five launchers in the Patriot Advanced Capability Two Plus (PAC-2+) configuration...
17 December 2014 | Airbus Helicopters
First NH90 and the first two HAD-E Tigers delivered to Spain
Airbus Helicopters has completed official delivery of the first two Tiger helicopters in the new HAD-E version and the first NH90 GSPA tactical transport helicopter destined for the Spanish Army Airmobile Force (FAMET).
17 December 2014 | Flight Global
NASA launches study for Skunk Works SR-72 concept
​NASA has awarded a contract to Lockheed Martin to study the feasibility of building a hypersonic propulsion system for a concept intelligence, surveillance and reconnaissance (ISR) aircraft dubbed the SR-72 using existing turbine engine technologies.