Strike Eagle Extreme; Nearly 70 F-15Es take to sky
17 Apr 2012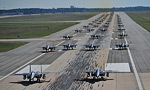 by Tech. Sgt. Tammie Moore
4th Fighter Wing Public Affairs

4/17/2012 - SEYMOUR JOHNSON AIR FORCE, N.C. -- Airmen from the 4th Fighter Wing at Seymour Johnson Air Force Base, N.C., came together to honor their heritage by launching nearly 70 F-15E Strike Eagles in a Turkey Shoot training mission April 16.

The nearly 70 Strike Eagles taxied one after the next simultaneously down the base flightline before heading to bombing ranges across North Carolina to destroy more than 1,000 targets. The purpose of this mass launch was two-fold.

"This F-15E Strike package and Turkey Shoot honored the excellence and sacrifices of our Wing's past while 'flexing' 4th FW airpower today, sharpening our warfighting spirit and skills as we look toward the future," said Col. Patrick Doherty, 4th FW commander.

The term Turkey Shoot dates back to a mission that took place June 19, 1944 during World War II.

On this day U.S. Navy carrier aircraft downed 373 Japanese planes with the loss of only 23 American planes," said Dr. Roy Heidicker, 4th FW historian. A Navy pilot who participated in this mission was attributed as saying, "It was like a turkey shoot" and the term stuck.

Toward the end of WWII the greatest challenge in Europe for the 8th Air Force was destroying a Luftwaffe that refused to take to the air. One of the 4th FG's most notorious missions during WWII was also its final major mission. The group's Airmen were tasked to take out the Luftwaffe or German air force. In two airfield attacks the group's aviators destroyed 105 enemy aircraft April 15, 1945.

"While 'A' Group attacked airfields in the region of Prague, 'B' Group, devastated the Luftwaffe base at Gablingen in 40 minutes of continuous strafing," Heidicker said. "That same day other 8th Air Force fighter groups attacked Luftwaffe airfields all over Germany, claiming a total of 752 aircraft destroyed. The Luftwaffe never recovered from this terrible and devastating blow."

During World War II competition began between the 4th and 56th Fighter Groups to see what unit could destroy the most enemy aircraft. The 4th FG finished the war with 1,016 aircraft destroyed and the 56th FG's final tally was 1,006. While supporting the war effort the 4th FG destroyed more enemy aircraft than any group or wing in Air Force history.

"We proudly carry on the legacy of the 4th FG's victories, as well as those of the wing's Korean, Vietnam, Gulf War efforts and believe it is critically important that current and future generations of Airmen understand and celebrate our history, so they can visualize what they will be capable of doing in the future," Doherty said.

A wide variety of Airmen from multiple Air Force specialties ranging from ammo to radar approach control technicians came together to ensure the aircraft launched safely.

"The entire Seymour team of professionals and dedicated Airmen, along with our phenomenal community, pitched in to make this effort a great success," Doherty said.


2014
28 October 2014 | RAF
UK MOD set to order first production batch F-35B Lightning II
Defence Secretary Michael Fallon today announced that the MOD has reached agreement in principle on an order for the first production batch of four Lightning II stealth combat aircraft
27 October 2014 | RUaviation
Beriev Aircraft Company to manufacture two Be-200 aircraft in 2014
Beriev Aircraft Company will manufacture Be-200 amphibian aircraft using its own production facilities for the first time over the last 15 years, deputy governor of Rostov Region Alexander Grebenshikov told RBC.
27 October 2014 | Boeing
Boeing Delivers 300th CH-47F Chinook to U.S. Army Ahead of Schedule
U.S. Army and H-47 teams marked the delivery of the 300th CH-47F Chinook to the U.S. Army on Oct. 15, 2014, at the Ridley Park, PA, facility.
27 October 2014 | Lockheed Martin
DOD and Lockheed Martin Announce Principle Agreement on Purchase of F-35s
WASHINGTON D.C. – Oct. 27, 2014 - The U.S. Department of Defense and Lockheed Martin have reached an agreement in principle for the production of 43 F-35 Lightning II aircraft.  Officials anticipate the Low-Rate Initial Production lot 8 (LRIP 8) contract to be finalized in the coming weeks.  The contract is for fiscal year 2014 with deliveries beginning in 2016.
26 October 2014 | IHS Jane's
Brazil signs for 36 Gripen E/F fighters
Brazil has signed a SEK39.3 billion (USD5.4 billion) contract for 36 Gripen E/F fighters, the company announced on 27 October. The contract, which was signed by the Ministry of Defence (MoD) through the Aeronautics Command (COMAER), follows a decision by the Brazilian Air Force (Força Aérea Brasileira - FAB) to select the Swedish-built fighter to fulfil its F-X2 requirement in December 2013. Starting from 2019, the FAB will take delivery of 28 single-seat Gripen E and eight twin-seat Gripen F aircraft. Deliveries are set to run through to 2024.
26 October 2014 | IHS Jane's
Slovakia to replace ageing Antonov transports with C-27J Spartans
Slovakia has agreed to purchase a pair of Alenia Aermacchi C-27J Spartan tactical transport aircraft, national media reported on 23 October. The two aircraft, which are being procured to replace the Slovak Air Force's ageing Antonov An-26 'Cline' transports, are expected to arrive in 2016 and 2017,
25 October 2014 | Flight Global
​Australia confirms HATS win for Boeing/Thales EC135 bid
Australian defence minister Senator David Johnston has formally declared the teaming of Boeing Defence Australia and Thales Australia as the winning tender for the Australian Defence Force's Project Air 9000 Phase 7 Helicopter Aircrew Training System (HATS).
25 October 2014 | Flight Global
India halts Su-30 flights after latest crash
The Indian air force has temporarily suspended flying on its entire fleet of an estimated 200 Sukhoi Su-30MKIs, following an uncommanded ejection involving the type on 21 October.
24 October 2014 | RAF
Air Strikes In Iraq
British forces have continued to conduct air operations to assist the Iraqi government in its fight against ISIL.
24 October 2014 | Defense-Aerospace
China to Show J-31 Stealth Fighter at Zhuhai Show, Plans Export Push
BEIJING --- Over 130 aircraft of various types will participate in the 10th China International Aviation & Aerospace Exhibition to be unveiled on November 11, 2014 in Zhuhai of south China's Guangdong province, and the J-31 stealth fighter will also appear in Zhuhai and conduct a demonstration flight...