Eurofighter Typhoon Achieves 200,000 Flying Hours
09 Sep 2013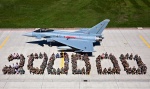 Eurofighter Typhoon has now achieved more than 200,000 flying hours since the entry-into-service of its worldwide fleet. Eurofighter Jagdflugzeug GmbH confirmed the milestone today adding that, with 719 aircraft on contract, 571 aircraft ordered and 378 aircraft delivered, the programme has "never looked stronger".

Alberto Gutierrez, Chief Executive Officer of Eurofighter Jagdflugzeug GmbH, said: "This impressive milestone underlines the outstanding track-record of the Eurofighter Typhoon. Today, our congratulations go to all the air forces who have achieved this target, to more than 100,000 employees in Europe who are involved in the development manufacturing and supply chain as well as to all the 400 companies who support us on a daily basis with their know-how and competences. This is indeed a proud day for all of them and a landmark day for Europe's largest defence programme."

The CEO added: "Every day our aircraft are protecting the skies in Europe, the Middle East and even in the Southern hemisphere. They are on Quick Reaction Alert (QRA) duty 24 hours a day, 7 days a week. Eurofighter Typhoon is combat proven since the Libya operations and is now gaining considerable momentum – indeed the programme has never looked stronger. It has become the backbone of the Air Forces in the UK, Germany, Italy, Spain and Austria. When the chips are down, air chiefs want an aircraft that is versatile, reliable, resilient and cost-effective. Eurofighter Typhoon fulfills all of these requirements and the operational experiences gained during these flying hours have proven it."

The first 5,000 flying hours were achieved in November 2005. 10,000 hours came in August 2006 and 20,000 in May 2007. By August 2008, the Eurofighter Typhoon fleet had surpassed 50,000 hours and 100,000 flying hours was reached in January 2011. In the course of these flying hours, Eurofighter has demonstrated 100 per cent availability in numerous international deployments including: Alaska; Malaysia; the United Arab Emirates; the USA; and India.

The global Eurofighter fleet now comprises 20 operating units with locations in Europe, the South Atlantic and the Middle East. Specifically there are: 7 units in the UK (4 in Coningsby, 2 in Leuchars and 1 in Mount Pleasant, Falkland Islands); 5 in Italy (2 in Grosseto, 2 in Gioia del Colle, 1 in Trapani); 3 in Germany (Laage, Neuburg and Nörvenich), as well as 3 in Spain (2 in Morón, 1 in Albacete) and one each in Austria (Zeltweg) and in the Kingdom of Saudi Arabia - all of them have contributed to the 200,000 flying hour total.

2018
30 July 2018 | Combat Aircraft
F-117s still going strong
Another video of active Lockheed F-117s has emerged, as reported by Tyler Rogoway. The latest video was posted in YouTube on July 26 and shows a pair of F-117As operating from the Tonopah Test Range. The aircraft use the callsigns…
28 July 2018 | MILAVIA News
First Boeing Apache, Chinook helicopters for India complete inaugural flights
Deliveries of 22 AH-64E Apache and 15 CH-47F(I) Chinook helicopters to India begin in 2019
27 July 2018 | Flight Global
Raytheon, Northrop fight for F/A-18C/D AESA radar upgrade
A two-way competition has started to fill a sudden requirement to replace mechanically-scanned Raytheon APG-73 radars on seven squadrons of US Marine Corps Boeing F/A-18C/Ds.
26 July 2018 | NAVAIR
FRCSW Site Camp Pendleton Inducts Last AH-1W Super Cobra
NAVAL AIR STATION NORTH ISLAND, Calif. - Artisans at Fleet Readiness Center Southwest (FRCSW) Site Camp Pendleton marked the end of an era July 18 with the induction of the last AH-1W Super Cobra to undergo the Integrated Maintenance Program...
23 July 2018 | RAF
Joint UK-Qatari Typhoon squadron stands up as defence relationship deepens
As part of the multi-billion-pound contract to supply Qatar with 24 Typhoon aircraft and 9 Hawk T2 aircraft, No.12 Squadron will integrate Qatari personnel, including pilots and ground-crew, from 2019. The personnel will be initially stationed at RAF Coningsby, and then in Qatar, undertaking a package of training and co-operation with their UK counterparts.
23 July 2018 | RAF
UK deployment in Mali reaches the next stage
British helicopters have arrived in West Africa as the UK's support to a key French counter-terrorism operation in Mali reaches its next phase. Three Royal Air Force Chinook helicopters from RAF Odiham, supported by RAF ground personnel, have now arrived in Mali ...
23 July 2018 | Flight Global
USAF offers rare glimpse of VC-25B configurations
The US Air Force s $3.9 billion contract with Boeing to modify two 747-8 commercial airliners into VC-25B presidential aircraft, commonly known as Air Force One, offered a rare glimpse into the aircrafts configurations.
16 July 2018 | IHS Jane's
Taiwan commissions first Apache brigade
Taiwan's Ministry of National Defense (MND) commissioned its first air brigade equipped with Boeing AH-64E Apache Guardian attack helicopters on 17 July. The 29 Apache helicopters will be operated by Republic of China Army's (RoCA's) 601st Air Cavalry Brigade, which operates under
16 July 2018 | Air Forces Monthly
Pakistan T129 ATAK order confirmed
Turkish Aerospace Industries (TAI) has confirmed a deal to supply the Pakistan Army with 30 T129 ATAK attack helicopters. The deal had previously been reported on May 24, in a political manifesto from Turkey's ruling Justice and Development Party, released…
16 July 2018 | Flight Global
FARNBOROUGH: Aero Vodochody unveils F/A-259 for OA-X bid
Aero Vodochody appears to have rebranded a new version of the L-159 advanced jet trainer as the F/A-259 Striker as it makes a late bid for the US Air Force's OA-X close air support programme.