Eurofighter Typhoon Achieves 200,000 Flying Hours
09 Sep 2013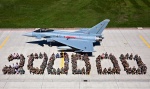 Eurofighter Typhoon has now achieved more than 200,000 flying hours since the entry-into-service of its worldwide fleet. Eurofighter Jagdflugzeug GmbH confirmed the milestone today adding that, with 719 aircraft on contract, 571 aircraft ordered and 378 aircraft delivered, the programme has "never looked stronger".

Alberto Gutierrez, Chief Executive Officer of Eurofighter Jagdflugzeug GmbH, said: "This impressive milestone underlines the outstanding track-record of the Eurofighter Typhoon. Today, our congratulations go to all the air forces who have achieved this target, to more than 100,000 employees in Europe who are involved in the development manufacturing and supply chain as well as to all the 400 companies who support us on a daily basis with their know-how and competences. This is indeed a proud day for all of them and a landmark day for Europe's largest defence programme."

The CEO added: "Every day our aircraft are protecting the skies in Europe, the Middle East and even in the Southern hemisphere. They are on Quick Reaction Alert (QRA) duty 24 hours a day, 7 days a week. Eurofighter Typhoon is combat proven since the Libya operations and is now gaining considerable momentum – indeed the programme has never looked stronger. It has become the backbone of the Air Forces in the UK, Germany, Italy, Spain and Austria. When the chips are down, air chiefs want an aircraft that is versatile, reliable, resilient and cost-effective. Eurofighter Typhoon fulfills all of these requirements and the operational experiences gained during these flying hours have proven it."

The first 5,000 flying hours were achieved in November 2005. 10,000 hours came in August 2006 and 20,000 in May 2007. By August 2008, the Eurofighter Typhoon fleet had surpassed 50,000 hours and 100,000 flying hours was reached in January 2011. In the course of these flying hours, Eurofighter has demonstrated 100 per cent availability in numerous international deployments including: Alaska; Malaysia; the United Arab Emirates; the USA; and India.

The global Eurofighter fleet now comprises 20 operating units with locations in Europe, the South Atlantic and the Middle East. Specifically there are: 7 units in the UK (4 in Coningsby, 2 in Leuchars and 1 in Mount Pleasant, Falkland Islands); 5 in Italy (2 in Grosseto, 2 in Gioia del Colle, 1 in Trapani); 3 in Germany (Laage, Neuburg and Nörvenich), as well as 3 in Spain (2 in Morón, 1 in Albacete) and one each in Austria (Zeltweg) and in the Kingdom of Saudi Arabia - all of them have contributed to the 200,000 flying hour total.

2018
19 January 2018 | ACC
A-10 returns as a single-ship demonstration
hile all members of Davis-Monthan AFB have maintained our mission of sustaining attack airpower, a select group of Airmen have been preparing for an additional mission; demonstrating the capabilities of the A-10C Thunderbolt II. The A-10C Thunderbolt II Demonstration Team will perform demos for the first time in seven years for the 2018 air show season. The A-10 will be one of three single-ship aerial demonstration teams in Air Combat Command.
2017
4 December 2017 | RCAF
RCAF announces pilot and theme for 2018 CF-18 Demonstration Team
Captain Stefan Porteous will pilot the RCAF's CF-18 Demo Hornet for the 2018 airshow season. This year, the fighter jet's paint scheme will commemorate the 60th anniversary of the North American Aerospace Defense Command (NORAD).
6 November 2017 | Lockheed Martin
International Allies Receive F-35 Full Mission Simulators
Lockheed Martin recently delivered F-35 Full Mission Simulators (FMS) to the Israeli, Italian, Japanese and Norwegian Air Forces – the first-ever deliveries to international F-35 operators. The simulators are critical components of the pilot training capability at F-35 operating bases in these four countries, where they will facilitate pilot qualification training, continuation training and mission rehearsal training.
6 November 2017 | Defense-Aerospace
Norway Receives First Three F-35s
On November 3rd, three Norwegian F-35 aircraft flew from Fort Worth, Texas and landed at Ørland Air Base, Norway. "Receiving the first three aircraft is a major milestone for Norway. On November 10th, Norway will celebrate First Aircraft Arrival of the first three F-35s on Norwegian soil. Achievi...
6 November 2017 | Air Forces Monthly
339 Mira disbands at Andravida
An official ceremony was held at Andravida air base on October 31 for the disbandment of 339 'Aias' Mira, one of the two locally based F-4E (AUP) Phantom II squadrons belonging to the Hellenic Air Force's 117 Combat Wing. The…Read more ›
5 November 2017 | IHS Jane's
Montenegrin military modernisation includes Bell 412EPI helicopters
The Armed Forces of Montenegro (Vojska Crne Gore, VCG) will be equipped with three Bell 412EPI twin-engine utility helicopters as part of the modernisation process it began after the country joined NATO in June. The contract, expected to be finalised and signed in early 2018, includes EUR29.9
5 November 2017 | Google News
Dubai Airshow flying display announced
Dubai Airshow has announced the first round of aircraft taking part in the flying display at this year's event. Aerobatic displays at this year will include PLAAF August 1st Air Demonstration Team from China performing in J10As and the Russian Knights in Sukhoi SU30Ms, in addition to the UAE's Al Fursan flying their Aermacchi MB-339NATs.
3 November 2017 | Defense-Aerospace
F-35 Detachment Arrives in Okinawa
KADENA AIR BASE, Okinawa --- Twelve U.S. Air Force F-35A Lightning IIs and approximately 300 Airmen from the 388th and 419th Fighter Wings, Hill Air Force Base, Utah, arrived here for the aircraft's first operational deployment to the Indo-Asia-Pacific region Nov. 2. This is the first time the F-35s have deployed as part of a planned U.S. Pacific Command Theater Security Package.
2 November 2017 | IHS Jane's
Chile eyes F-16 upgrades, new AESA radars
The Chilean Air Force is studying options for upgrading its fleet of 46 F-16 fighters to keep the aircraft up-to-date through the 2030s, and any resulting programme would become the service's top priority, senior military sources in Santiago told Jane's . The plan, set to be launched between
2 November 2017 | Flight Global
New long-range missile project emerges in US budget
The existence of a two-year-old project to develop a new air-to-air missile capable of intercepting targets at great distances has emerged in US budget documents. The Office of the Secretary Defense (OSD) launched a two-year engineering assessment of a new long-range engagement weapon (LREW) designed with the goal of "maintaining air dominance", according to budget documents released last March.