Eurofighter Typhoon Achieves 200,000 Flying Hours
09 Sep 2013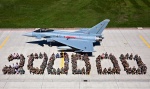 Eurofighter Typhoon has now achieved more than 200,000 flying hours since the entry-into-service of its worldwide fleet. Eurofighter Jagdflugzeug GmbH confirmed the milestone today adding that, with 719 aircraft on contract, 571 aircraft ordered and 378 aircraft delivered, the programme has "never looked stronger".

Alberto Gutierrez, Chief Executive Officer of Eurofighter Jagdflugzeug GmbH, said: "This impressive milestone underlines the outstanding track-record of the Eurofighter Typhoon. Today, our congratulations go to all the air forces who have achieved this target, to more than 100,000 employees in Europe who are involved in the development manufacturing and supply chain as well as to all the 400 companies who support us on a daily basis with their know-how and competences. This is indeed a proud day for all of them and a landmark day for Europe's largest defence programme."

The CEO added: "Every day our aircraft are protecting the skies in Europe, the Middle East and even in the Southern hemisphere. They are on Quick Reaction Alert (QRA) duty 24 hours a day, 7 days a week. Eurofighter Typhoon is combat proven since the Libya operations and is now gaining considerable momentum – indeed the programme has never looked stronger. It has become the backbone of the Air Forces in the UK, Germany, Italy, Spain and Austria. When the chips are down, air chiefs want an aircraft that is versatile, reliable, resilient and cost-effective. Eurofighter Typhoon fulfills all of these requirements and the operational experiences gained during these flying hours have proven it."

The first 5,000 flying hours were achieved in November 2005. 10,000 hours came in August 2006 and 20,000 in May 2007. By August 2008, the Eurofighter Typhoon fleet had surpassed 50,000 hours and 100,000 flying hours was reached in January 2011. In the course of these flying hours, Eurofighter has demonstrated 100 per cent availability in numerous international deployments including: Alaska; Malaysia; the United Arab Emirates; the USA; and India.

The global Eurofighter fleet now comprises 20 operating units with locations in Europe, the South Atlantic and the Middle East. Specifically there are: 7 units in the UK (4 in Coningsby, 2 in Leuchars and 1 in Mount Pleasant, Falkland Islands); 5 in Italy (2 in Grosseto, 2 in Gioia del Colle, 1 in Trapani); 3 in Germany (Laage, Neuburg and Nörvenich), as well as 3 in Spain (2 in Morón, 1 in Albacete) and one each in Austria (Zeltweg) and in the Kingdom of Saudi Arabia - all of them have contributed to the 200,000 flying hour total.

2019
30 May 2019 | Flight Global
Japan receives first E-2D Advanced Hawkeye
The Japan Air Self-Defense Force (JASDF) has taken delivery of its first Northrop Grumman E-2D Advanced Hawkeye airborne early warning & control (AEW&C) aircraft.
28 May 2019 | RAF
Transatlantic Season for Red Arrows gets Underway
Following months of training, the Royal Air Force Aerobatic Team has been given the go-ahead to begin one of its busiest ever seasons. The Red Arrows' 2019 campaign will culminate in a major tour of North America and displays and flypasts across the United Kingdom and mainland Europe.
27 May 2019 | Lockheed Martin
Sikorsky Formally Responds to Call for Competition for Germany's New Heavy Lift Helicopter
BERLIN May 27, 2019 – Sikorsky, a Lockheed Martin company, formally responded to the German Air Force "Schwerer Transporthubschrauber" (STH) Program call for competition. Sikorsky expects to offer the most modern heavy lift helicopter in production, the CH-53K King Stallion, in response to the official Request for Proposals, which is expected this summer. The new STH heavy lifter will allow the Bundeswehr to move troops and equipment more quickly, safely and effectively than ever before.
26 May 2019 | Airbus Helicopters
French Ministry of the Armed Forces brings development of future Joint Light Helicopter forward
Marignane, The French Minister of the Armed Forces, Florence Parly, has announced that the launch of the Joint Light Helicopter (Hélicoptère Interarmées Léger; HIL) programme has been brought forward to 2021. The HIL programme, for which the Airbus Helicopters' H160 was selected in 2017, was initially scheduled for launch in 2022 by the current military budget law. Launching the programme earlier will enable delivery of the first H160Ms to the French Armed Forces to be advanced to 2026.
24 May 2019 | ACC
Hill Airmen deploy F-35 to Europe as part of Theater Security Package
The U.S. Air Force has deployed one squadron of F-35A Lightning II fighter jets, Airmen, and associated equipment to Aviano Air Base, Italy, from the 388th and 419th Fighter Wings, at Hill AFB, Utah, to participate in exercises and conduct training with other Europe-based aircraft as part of a Theater Security Package for the European Deterrence Initiative. The TSP provides a more robust U.S. military rotational presence in the European theater capable of deterring adversaries and assuring partners and allies of U.S. commitment to regional security.
21 May 2019 | Combat Aircraft
USAF aggressor plans laid out
The USAF plans to reactivate the 65th Aggressor Squadron at Nellis AFB, Nevada, and will assign nine early production F-35As to the unit. The move is part of an initiative to improve training for fifth-generation fighters against stealthy opposition. The…Read more ›
30 April 2019 | MILAVIA News
U.S. Air Force F-35As conduct first combat employment
SOUTHWEST ASIA --
Two U.S. Air Force F-35A Lightning II aircraft conducted an air strike at Wadi Ashai, Iraq, in support of Combined Joint Task Force – Operation Inherent Resolve on April 30.
This strike marked the F-35A's first combat employment.
The F-35As conducted the airstrike using a Joint Direct Attack Munition to strike an entrenched Daesh tunnel network and weapons cache deep in the Hamrin Mountains, a location able to threaten friendly forces.
21 February 2019 | RAF
Royal Air Force Chief of the Air Staff takes final Tornado flight over Scotland
Nearly 26 years after being introduced at RAF Lossiemouth, the iconic Tornado aircraft returned to Scottish skies for the last time this week.
18 February 2019 | RAF
Britain to celebrate iconic Tornado during farewell flypast
With almost 40 years of Royal Air Force service coming to an end, the iconic Tornado jet is undertaking a series of finale flypasts around the UK.
7 February 2019 | RAF
Red Arrows' North American displays revealed
A list of locations where people can see the Red Arrows display during a major tour of North America has been released.