Eurofighter Typhoon Achieves 200,000 Flying Hours
09 Sep 2013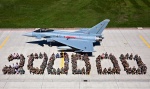 Eurofighter Typhoon has now achieved more than 200,000 flying hours since the entry-into-service of its worldwide fleet. Eurofighter Jagdflugzeug GmbH confirmed the milestone today adding that, with 719 aircraft on contract, 571 aircraft ordered and 378 aircraft delivered, the programme has "never looked stronger".

Alberto Gutierrez, Chief Executive Officer of Eurofighter Jagdflugzeug GmbH, said: "This impressive milestone underlines the outstanding track-record of the Eurofighter Typhoon. Today, our congratulations go to all the air forces who have achieved this target, to more than 100,000 employees in Europe who are involved in the development manufacturing and supply chain as well as to all the 400 companies who support us on a daily basis with their know-how and competences. This is indeed a proud day for all of them and a landmark day for Europe's largest defence programme."

The CEO added: "Every day our aircraft are protecting the skies in Europe, the Middle East and even in the Southern hemisphere. They are on Quick Reaction Alert (QRA) duty 24 hours a day, 7 days a week. Eurofighter Typhoon is combat proven since the Libya operations and is now gaining considerable momentum – indeed the programme has never looked stronger. It has become the backbone of the Air Forces in the UK, Germany, Italy, Spain and Austria. When the chips are down, air chiefs want an aircraft that is versatile, reliable, resilient and cost-effective. Eurofighter Typhoon fulfills all of these requirements and the operational experiences gained during these flying hours have proven it."

The first 5,000 flying hours were achieved in November 2005. 10,000 hours came in August 2006 and 20,000 in May 2007. By August 2008, the Eurofighter Typhoon fleet had surpassed 50,000 hours and 100,000 flying hours was reached in January 2011. In the course of these flying hours, Eurofighter has demonstrated 100 per cent availability in numerous international deployments including: Alaska; Malaysia; the United Arab Emirates; the USA; and India.

The global Eurofighter fleet now comprises 20 operating units with locations in Europe, the South Atlantic and the Middle East. Specifically there are: 7 units in the UK (4 in Coningsby, 2 in Leuchars and 1 in Mount Pleasant, Falkland Islands); 5 in Italy (2 in Grosseto, 2 in Gioia del Colle, 1 in Trapani); 3 in Germany (Laage, Neuburg and Nörvenich), as well as 3 in Spain (2 in Morón, 1 in Albacete) and one each in Austria (Zeltweg) and in the Kingdom of Saudi Arabia - all of them have contributed to the 200,000 flying hour total.

2019
21 February 2019 | RAF
Royal Air Force Chief of the Air Staff takes final Tornado flight over Scotland
Nearly 26 years after being introduced at RAF Lossiemouth, the iconic Tornado aircraft returned to Scottish skies for the last time this week.
18 February 2019 | RAF
Britain to celebrate iconic Tornado during farewell flypast
With almost 40 years of Royal Air Force service coming to an end, the iconic Tornado jet is undertaking a series of finale flypasts around the UK.
7 February 2019 | RAF
Red Arrows' North American displays revealed
A list of locations where people can see the Red Arrows display during a major tour of North America has been released.
4 February 2019 | RAF
The end of an era: RAF Tornado returns from Operations for the last time
After almost 40 years serving the UK on military operations across the world, Tornado jets have returned home for the last time.
24 January 2019 | RAF
Royal Air Force Commemorates Iconic Tornado Fast Jet
The Royal Air Force has released stunning images of a unique aircraft formation to celebrate forty years of service by the Tornado GR4 fast jet.
7 January 2019 | IHS Jane's
Serbia resumes G-4 Super Galeb upgrade
Serbian Defence Minister Aleksandar Vulin told media on 29 December that work has resumed on the upgrade of the Soko G-4 Super Galeb single-engine advanced training and light attack aircraft. No further details were provided. In March 2018 the Serbian Ministry of Defence (MoD) presented the G-4
3 January 2019 | Flight Global
Modernised Tu-22M3M makes flight debut
Russia's first modernised Tupolev Tu-22M3M strategic bomber got airborne for the first time on 28 December 2018, completing a 37min sortie from the Kazan Aviation Plant.
3 January 2019 | Boeing
Boeing to Modernize Entire Spanish Chinook Helicopter Fleet
Will remanufacture 17 CH-47D Chinooks to the CH-47F configuration for Spain's Army
2018
21 December 2018 | Flight Global
Leonardo flies first production-standard M-345
Leonardo has flown the production-standard version of its M-345 jet trainer, as it works towards service entry with the Italian air force in 2020.
18 December 2018 | Flight Global
​Tokyo set to become second biggest F-35 operator
The Japanese cabinet has approved a plan to add an additional 105 Lockheed Martin F-35s to its planned fleet of 42 examples, potentially making it the world s second largest F-35 operator.