Eurofighter Typhoon Achieves 200,000 Flying Hours
09 Sep 2013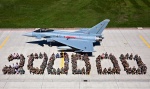 Eurofighter Typhoon has now achieved more than 200,000 flying hours since the entry-into-service of its worldwide fleet. Eurofighter Jagdflugzeug GmbH confirmed the milestone today adding that, with 719 aircraft on contract, 571 aircraft ordered and 378 aircraft delivered, the programme has "never looked stronger".

Alberto Gutierrez, Chief Executive Officer of Eurofighter Jagdflugzeug GmbH, said: "This impressive milestone underlines the outstanding track-record of the Eurofighter Typhoon. Today, our congratulations go to all the air forces who have achieved this target, to more than 100,000 employees in Europe who are involved in the development manufacturing and supply chain as well as to all the 400 companies who support us on a daily basis with their know-how and competences. This is indeed a proud day for all of them and a landmark day for Europe's largest defence programme."

The CEO added: "Every day our aircraft are protecting the skies in Europe, the Middle East and even in the Southern hemisphere. They are on Quick Reaction Alert (QRA) duty 24 hours a day, 7 days a week. Eurofighter Typhoon is combat proven since the Libya operations and is now gaining considerable momentum – indeed the programme has never looked stronger. It has become the backbone of the Air Forces in the UK, Germany, Italy, Spain and Austria. When the chips are down, air chiefs want an aircraft that is versatile, reliable, resilient and cost-effective. Eurofighter Typhoon fulfills all of these requirements and the operational experiences gained during these flying hours have proven it."

The first 5,000 flying hours were achieved in November 2005. 10,000 hours came in August 2006 and 20,000 in May 2007. By August 2008, the Eurofighter Typhoon fleet had surpassed 50,000 hours and 100,000 flying hours was reached in January 2011. In the course of these flying hours, Eurofighter has demonstrated 100 per cent availability in numerous international deployments including: Alaska; Malaysia; the United Arab Emirates; the USA; and India.

The global Eurofighter fleet now comprises 20 operating units with locations in Europe, the South Atlantic and the Middle East. Specifically there are: 7 units in the UK (4 in Coningsby, 2 in Leuchars and 1 in Mount Pleasant, Falkland Islands); 5 in Italy (2 in Grosseto, 2 in Gioia del Colle, 1 in Trapani); 3 in Germany (Laage, Neuburg and Nörvenich), as well as 3 in Spain (2 in Morón, 1 in Albacete) and one each in Austria (Zeltweg) and in the Kingdom of Saudi Arabia - all of them have contributed to the 200,000 flying hour total.

2018
22 November 2018 | Airbus Helicopters
Serbia receives first out of nine H145Ms
The Serbian Minister of Defence Aleksandar Vulin visited the Airbus Helicopters Donauwörth site to accept the first H145M for the Serbian Air Force.
19 November 2018 | IHS Jane's
F-35B first-of-class flight tests from Queen Elizabeth complete
F-35B Lightning first-of-class flight trials (fixed wing) (FOCFT[FW]) from the UK Royal Navy (RN) aircraft carrier HMS Queen Elizabeth have concluded after completion of a second phase of development testing (DT-2) off the US Eastern Seaboard. Wrapping up on 18 November, a day ahead of schedule,
19 November 2018 | ACC
F-35A combat power exercise conducted at Hill AFB
The active duty 388th Fighter Wing and Air Force Reserve 419th Fighter Wing conducted a combat power exercise Nov. 19, launching dozens of F-35A Lightning IIs within a condensed period of time.
15 November 2018 | Flight Global
Bahrain confirms purchase of 12 AH-1Z Vipers
Bahrain has confirmed its order for 12 Bell AH-1Z Vipers, six months after the US Department of State approved the deal, worth an estimated $912 million, under the Foreign Military Sales process.
15 November 2018 | Flight Global
Massive F-35 deal covers production into 2023
Lockheed Martin has won a $22.7 billion contract to supply 255 F-35 Lightning II fighters for the three branches of the US armed services and international operators.
12 November 2018 | Flight Global
F3-R-standard Rafale gains French approval
Dassault has achieved French military qualification for the F3-R-standard variant of the Rafale combat aircraft.
8 November 2018 | RAF
Eurofighter fleet passes 500,000 flying hours
A Royal Air Force Typhoon has received special markings to mark the global fleet of Eurofighter aircraft passing the 500,000 flying hours mark.
28 September 2018 | UK MOD
Fighter jets join forces with British aircraft carrier to make history
The first F-35 Lightning fighter jets have landed on the deck of the United Kingdom's new aircraft carrier, making history and marking the beginning of more than half-a-century of 'Carrier Strike' operations.
28 September 2018 | Flight Global
F-35 suffers first crash in South Carolina
One day after the US Marine Corps conducted its first air strike with the Lockheed Martin F-35B over Afghanistan, another one of the stealth fighters crashed near USMC Air Station Beaufort, South Carolina.
28 September 2018 | Flight Global
​Lockheed Martin F-35A price dips below $90m for first time
After drawn out negotiations with the Department of Defense, Lockheed Martin signed a contract to produce the eleventh lot of the F-35A for $89.2 million per unit.