Eurofighter Typhoon Achieves 200,000 Flying Hours
09 Sep 2013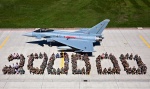 Eurofighter Typhoon has now achieved more than 200,000 flying hours since the entry-into-service of its worldwide fleet. Eurofighter Jagdflugzeug GmbH confirmed the milestone today adding that, with 719 aircraft on contract, 571 aircraft ordered and 378 aircraft delivered, the programme has "never looked stronger".

Alberto Gutierrez, Chief Executive Officer of Eurofighter Jagdflugzeug GmbH, said: "This impressive milestone underlines the outstanding track-record of the Eurofighter Typhoon. Today, our congratulations go to all the air forces who have achieved this target, to more than 100,000 employees in Europe who are involved in the development manufacturing and supply chain as well as to all the 400 companies who support us on a daily basis with their know-how and competences. This is indeed a proud day for all of them and a landmark day for Europe's largest defence programme."

The CEO added: "Every day our aircraft are protecting the skies in Europe, the Middle East and even in the Southern hemisphere. They are on Quick Reaction Alert (QRA) duty 24 hours a day, 7 days a week. Eurofighter Typhoon is combat proven since the Libya operations and is now gaining considerable momentum – indeed the programme has never looked stronger. It has become the backbone of the Air Forces in the UK, Germany, Italy, Spain and Austria. When the chips are down, air chiefs want an aircraft that is versatile, reliable, resilient and cost-effective. Eurofighter Typhoon fulfills all of these requirements and the operational experiences gained during these flying hours have proven it."

The first 5,000 flying hours were achieved in November 2005. 10,000 hours came in August 2006 and 20,000 in May 2007. By August 2008, the Eurofighter Typhoon fleet had surpassed 50,000 hours and 100,000 flying hours was reached in January 2011. In the course of these flying hours, Eurofighter has demonstrated 100 per cent availability in numerous international deployments including: Alaska; Malaysia; the United Arab Emirates; the USA; and India.

The global Eurofighter fleet now comprises 20 operating units with locations in Europe, the South Atlantic and the Middle East. Specifically there are: 7 units in the UK (4 in Coningsby, 2 in Leuchars and 1 in Mount Pleasant, Falkland Islands); 5 in Italy (2 in Grosseto, 2 in Gioia del Colle, 1 in Trapani); 3 in Germany (Laage, Neuburg and Nörvenich), as well as 3 in Spain (2 in Morón, 1 in Albacete) and one each in Austria (Zeltweg) and in the Kingdom of Saudi Arabia - all of them have contributed to the 200,000 flying hour total.

2018
28 September 2018 | UK MOD
Fighter jets join forces with British aircraft carrier to make history
The first F-35 Lightning fighter jets have landed on the deck of the United Kingdom's new aircraft carrier, making history and marking the beginning of more than half-a-century of 'Carrier Strike' operations.
28 September 2018 | Flight Global
F-35 suffers first crash in South Carolina
One day after the US Marine Corps conducted its first air strike with the Lockheed Martin F-35B over Afghanistan, another one of the stealth fighters crashed near USMC Air Station Beaufort, South Carolina.
28 September 2018 | Flight Global
​Lockheed Martin F-35A price dips below $90m for first time
After drawn out negotiations with the Department of Defense, Lockheed Martin signed a contract to produce the eleventh lot of the F-35A for $89.2 million per unit.
28 September 2018 | Defense-Aerospace
U.S. Approves Transfer of Australian F-18s to Canada
OTTAWA -- The U.S. State Department has signed off on the transfer of 25 second-hand Australian F-18 Hornets to the government of Canada. U.S. approval was necessary because the transfer involved U.S. weapon systems. Canada is buying the aircraft to meet an interim requirement for additional fighters...
27 September 2018 | IHS Jane's
China's first series-produced FTC-2000G makes maiden flight
China's first series-produced FTC-2000G advanced jet trainer (AJT)/light attack aircraft conducted its maiden flight on 28 September in China's southern Guizhou Province. The aircraft, which was designed and built by the Guizhou Aviation Industry Corporation (GAIC), took off at Anshun Huangguoshu Airport and flew for about 10 minutes, according to a report by the state-owned China Daily newspaper.
27 September 2018 | IHS Jane's
France receives first Phénix tanker-transport aircraft
The French Air Force (Armée de l'Air: AdlA) has received into service the first of an expected 12 Airbus Defence and Space (DS) A330-200 Multi-Role Tanker Transport (MRTT) aircraft. One of the nine Phénix aircraft currently under contract arrived at its future-home station of Airbase 125 at Istres-Le Tubé on 27 September. The remaining eight aircraft and a further three that are expected to be ordered are all due to be delivered to the AdlA by 2023.
27 September 2018 | USAF News
Air Force awards next-generation fighter and bomber trainer
ARLINGTON, Va. (AFNS) -- The Air Force awarded The Boeing Company a contract worth up to $9.2 billion for the Air Force's new training aircraft Sept. 27. The Air Force currently plans to purchase 351 T-X aircraft, 46 simulators, and associated ground equipment to replace the Air Education and Training Command's 57-year-old fleet of T-38C Talons. The indefinite-delivery/indefinite-quantity contract allows the Air Force to purchase up to 475 aircraft and 120 simulators
27 September 2018 | Combat Aircraft
Boeing wins T-X trainer competition
The US Air Force has revealed Boeing as the winner of one of its most hotly contested procurement competitions in years — the T-X trainer. Initially, this will call for 350 new jets to replace the T-38C Talon in the…Read more ›
27 September 2018 | Boeing
Boeing Wins U.S. Air Force T-X Pilot Training Program Contract
$9.2 billion award funds 351 jets, 46 simulators and associated ground equipment. The U.S. Air Force has selected the Boeing T-X advanced pilot training system which features an all-new aircraft designed, developed and flight-tested by the team of Boeing and Saab.
27 September 2018 | Defense-Aerospace
Three Additional F-35s Land in Norway, Bring Total to Nine
Three years have passed since Norway received its first F-35 fighter plane during a rollout ceremony in Texas on September 22, 2015. On Friday, September 21, 2018, three new F-35 fighter aircraft landed at the Ørland Air Station, their home base. The Armed Forces now have nine F-35 stations on Norwe...