Last 'new' Phantom returns to service
22 Nov 2013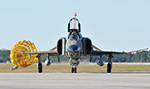 by Ashley M. Wright
325th Fighter Wing Public Affiars

11/22/2013 - TYNDALL AIR FORCE BASE, Fla. -- The 82nd Aerial Target Squadron received the last of the "new" QF-4 aerial targets Nov. 19 as the Vietnam-era aircraft landed here.

The QF-4, Aircraft 68-0599, spent more than 20 years in the Air Force "Boneyard" at Davis-Monthan Air Force Base, Ariz. before being brought back to life for one last mission.

"It is bittersweet to receive the last QF-4," said Lt. Col. Ryan Inman, 82nd ATRS commander. "This aircraft has served the Air Force and the nation so well for so long. It is truly the end of an era."

The supersonic, reusable QF-4 provides a realistic full-scale target for air-to-air weapons system evaluation, development and testing. The 82nd ATRS will eventually launch the QF-4 on an unmanned flight where it will act as a target for a modern piloted jet. That last mission will provide vital data to American and allied forces.

Since the QF-4 replaced the QF-106 in 1998, more than 300 of the idle planes found a new purpose to continue to serve the Defense Department.

The Phantoms began returning to work after the 309th Aerospace Maintenance and Regeneration Group reinstalled the parts to the aircrafts making them serviceable again, according to an April article from the Davis Monthan AFB website.

The next step involved contractors BAE Systems converting the F-4 to the QF-4, which would be flown remotely by highly trained civil service pilots with an average of 4,000 flight hours.

Jeff Percy, BAE Systems director of flight operations, has delivered close to 50 QF-4s in the last four years.

"It is a great flying airplane," Percy said after flying the aircraft into to base. "It was a team effort, and I was happy to deliver the last Phantom to Tyndall."

The teamwork of contractors, civilian and military members contributed to more than 16,000 manned and 600 unmanned QF-4 missions. Ultimately, 250 of the Phantoms succeeded in their missions and been successively destroyed over the Gulf of Mexico and the ranges near Holloman Air Force Base, N.M., with the information gathered going to help warfighters globally.

There are only about 60 QF-4s remaining in the program both at Tyndall and Holloman.

The limited availability of F-4s and the continuing advancement of fighter aircraft such as the F-22 Raptors are forcing a shift to the fourth generation QF-16, a converted F-16 Fighting Falcon that should be ready for use in 2014.

"It is a more fitting end for the F-4 to go out in service instead of rusting in a field," said Vincent Farrell, 82nd ATRS instructor pilot and controller who flew the F-4 during his active duty career.

The U.S. Air Force first flew the F-4 in 1963 with the aircraft seeing first combat in 1965 against North Vietnamese fighters, according to the National Museum of the Air Force Factsheet.

The 82nd ATRS is part of the 53rd Weapons Evaluation Group, which falls under the 53rd Wing at Eglin Air Force Base, Fla. The group provides the personnel and infrastructure to test and evaluate weapons utilized by the combat air forces of the United States and its allies. It operates the only full-scale aerial targets in the DOD.
2017
21 September 2017 | Flight Global
Qatar closes in on Typhoon acquisition
Qatar has signalled its intention to acquire 24 Eurofighter Typhoons, in a move which would further strengthen its future air combat capabilities. Details of the planned purchase emerged following a government-to-government meeting conducted in Doha on 17 September. "After a number of years of negotiations between our two countries, I am delighted to have been able to sign with Qatar's defence minister this statement of intent on the purchase of 24 Typhoon aircraft," says UK defence secretary Sir Michael Fallon. Doha had previously considered the Eurofighter product alongside Dassault's Rafale, before signing a 24-unit order for the French-built type in 2015.
21 September 2017 | Flight Global
​AC-130J poised to hit initial operational capability target
The US Air Force s Lockheed Martin AC-130J gunship is set to reach initial operational capability this month, Air Force Special Operations Command (AFSOC) chief Lt Gen Brad Webb confirms.
21 September 2017 | MILAVIA News
4 FW celebrates 75 years of airpower
As the youngest branch of the Armed Forces, the U.S. Air Force, celebrated its 70th birthday, the 4th Fighter Wing celebrated its 75th anniversary with a weekend of celebratory events and ceremonies.
20 September 2017 | IHS Jane's
Bolivia eyes Argentine IA-63 Pampa III light strike jets
The Bolivian government is considering buying light strike aircraft, riverine vessels, and more from Argentina, military sources in Buenos Aires told Jane's. Bolivia's main interest is buying between 8 and 12 IA-63 Pampa III light strike aircraft, to be built at Argentina's Fábrica Argentina de Aviones SA (FAdeA) factory in Cordoba, the sources said. The aircraft are to replace recently retired ageing Lockheed/Canadair T-33s [...]
20 September 2017 | IHS Jane's
US Army retires final Kiowa Warrior
The US Army has flown its final sortie for the Bell OH-58D Kiowa Warrior scout helicopter, bringing to an end its three-and-a-half year divestment process for the type. The final flight took place on 19 September from Felker Army Airfield at Joint Base Langley-Eustis in Virginia, [...]
20 September 2017 | Flight Global
​Gripen Aggressor enters the fray in US red air competition
Saab is exploring the burgeoning red air market with its Gripen Aggressor, but the new adversary aircraft could face a tough competition against cheaper, former military jets. Last week, Saab unveiled a new derivative of its Gripen C at the DSEI exhibition in London. The Aggressor is outfitted with simulation-based capability to fire air-to-air missiles and Saab's PS-05 Mk IV radar and an air combat manoeuvring instrumentation pod. This week, Saab officially announced its intent to target the US Air Force's adversary air (ADAIR) contract, though private contractors appear lukewarm on the new platform.
20 September 2017 | Flight Global
France speeds PC-21 deliveries
France appears to have accelerated the delivery of 17 Pilatus PC-21 high-speed turboprops which will operate as trainer aircraft for its air force.
20 September 2017 | RUaviation
Russia to deliver 12 modernized Su-30K fighters to Angola by early 2018
Russia will fulfill the contracted delivery of 12 modernized Su-30K fighter jets to Angola by early 2018, Aleksandr Vorobei, the deputy CEO of the 558 Aviation Repair Plant in Belarus, told Sputnik on Tuesday. "So far, two [Su-30Ks have been delivered to Angola], there is a delivery schedule, and its fulfillment has been launched as for now. I think that the deliveries will be completed by early next year," Vorobei said.
19 September 2017 | Flight Global
Textron unit acquires 63 Mirage F1s
As Textron Airborne Solutions pursues the US Air Force s lucrative adversary air (ADAIR) contract, the company earlier this month acquired 63 Dassault Mirage F1s, ATAC chief executive Jeffrey Parker tells FlightGlobal.
18 September 2017 | RCAF
Maritime helicopter aircrew conversion training: The next step
On Monday, September 11, 2017, the first round of aircrew conversion training began for pilots at 406 Maritime Operational Training Squadron in 12 Wing Shearwater, Nova Scotia, in preparation for operational employment on the CH-148 Cyclone. Personnel on pilot conversion training courses 1 and 2, consisting mostly of CH-124 Sea King-experienced airmen and airwomen, will spend the next 90 training days learning new aircraft systems and tactics while transferring their knowledge and skills from the Sea King to the Cyclone. This group of pilots will form the first operational Cyclone air detachments ready to deploy on Royal Canadian Navy ships starting the summer of 2018.