4 FW celebrates 75 years of airpower
21 Sep 2017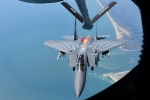 SEYMOUR JOHNSON AIR FORCE BASE, N.C. -- As the youngest branch of the Armed Forces, the U.S. Air Force, celebrated its 70th birthday, the 4th Fighter Wing celebrated its 75th anniversary with a weekend of celebratory events and ceremonies.

The 4th Fighter Group was activated Sept. 29, 1942 in Debden, England during World War II. The Eagle Squadrons consisted of American volunteers, until the 4th FG became part of the Army Air Corps and drafted members.

The wing has flown nine different aircraft in 75 years and destroyed more than 1500 enemy aircraft, dropped more than 4 million pounds of ordnance, produced 63 aces, countless Distinguished Flying Cross recipients and one Medal of Honor recipient.

The 336th Fighter Squadron became the first operational F-15E Strike Eagle squadron in 1989.

A 4th Fighter Wing F-15E Strike Eagle received a heritage paint scheme to celebrate the 75th anniversary. The 4th Equipment Maintenance Squadron worked more than a month on the anniversary scheme. The aircraft will remain painted this way for one full year.
2017
28 September 2017 | Defense-Aerospace
Airbus Hands Over 50th A400M Airlifter to German Air Force
Airbus Defence and Space today delivered the 50th A400M new generation airlifter to the German Air Force marking a key milestone for an aircraft which is transforming the world of air mobility. The aircraft, known as MSN59, is the twelfth to be delivered this year at the Final Assembly Line in Seville and the thirteenth to be accepted by Germany.
28 September 2017 | Air Forces Monthly
Chinese Su-35 unit identity confirmed
Photographs recently published on Chinese websites and social media confirm that the People's Liberation Army Air Force's (PLAAF's) mysterious batch of Su-35 multi-role fighters are assigned to the 6th Brigade (the former 6th Air Regiment, 2nd Division) based at Suixi, in the southwestern Guangdong province, close to the South China Sea coast…
27 September 2017 | IHS Jane's
Aero offers L-159 upgrade
Aero Vodochody Aerospace announced details of a comprehensive L-159 upgrade during its recent L-39 User Group conference. According to Massimo Ghione, Chief Business Officer, the mid-life upgrade on offer to the Czech Air Force (CzAF) would cover a new 'fourth generation-plus' avionics package, software improvements to the Grifo radar, a targeting pod, a new electronic warfare suit, 'wet' (fitted with fuel tanks) wings, wing-tip air-to-air missile launchers, a fixed air-to-air refuelling probe, full night vision goggle (NVG) configuration in the cockpit, and a helmet mounted display.
27 September 2017 | Defense-Aerospace
China Reveals New Photos of CH-5 Attack Drone
The People's Daily Online has posted photographs of the CH-5 medium-range, long endurance unmanned aircraft taken from different angles, and clearly showing details of its weapons fit.
27 September 2017 | Air Forces Monthly
Angolan Su-30K breaks cover
A photo has appeared on the internet revealing one of Angola's long-awaited Su-30K two-seat heavy fighters in National Air Force of Angola colours. The photo of serial C-132, by Dmitriy Berdasov, was taken during a visit to the 558 Aviation Repair Plant (ARZ) in Baranovichi, Belarus, which has been refurbishing the jets for sale to Angola...
26 September 2017 | USAF News
Afghan Air Force receives first delivery of UH-60s at Kandahar Airfield
The first two Afghan Air Force UH-60 Blackhawk helicopters arrived at Kandahar Airfield.  The UH-60s are the first to be delivered to the AAF under the Aviation Transition and Modernization program. The plan to modernize and increase the AAF fleet will provide firepower and mobility enabling the Afghan National Defense and Security Forces to bring a decisive advantage to the fight against anti-government forces.  The first group of UH-60s will remain at Kandahar Airfield, where flight training for Afghan pilots is slated to begin in October.
26 September 2017 | Flight Global
Germany, Norway sign for five A330 tankers
Germany and Norway have formally added a further five Airbus Defence & Space A330 multirole tanker transports to a multinational programme launched earlier this year by Luxembourg and the Netherlands. Airbus on 29 September announced its receipt of a firm order from Europe's OCCAR defence procurement agency for the additional aircraft, which will increase the partner nations' pooled fleet of the type to seven units. "All seven are expected to be handed over between 2020 and 2022," the company says.
26 September 2017 | Flight Global
Bulgarian government backtracks on Gripen selection
Bulgaria is to restart its fighter procurement initiative, following recommendations made by a parliamentary investigation board after its review of the decision to name Saab's Gripen C/D as preferred candidate.
25 September 2017 | ACC
A-10 Demonstration Team to Perform in 2018 Airshow Season
The United States Air Force A-10 demonstration team will once again display the capabilities of the Thunderbolt II at approximately 14 shows throughout the 2018 airshow season.   The A-10 demonstration team last flew in 2011. The A-10 flew exclusively with the Air Force Heritage Flight program in 2012 and 2017.
22 September 2017 | ACC
Final operational F-16s depart Hill AFB
HILL AIR FORCE BASE, Utah -- The last six operational F-16 Fighting Falcon aircraft lifted off from the runway here Sept. 21 at approximately 11 a.m. on their way to Holloman AFB, New Mexico, where they will continue flying. Several military and civilian Airmen watched as pilots stepped to the jets and taxied away for takeoff. The operational F-16s, which have been assigned here since 1979, are leaving to make room for F-35A Lightning II fighter jets.