4 FW celebrates 75 years of airpower
21 Sep 2017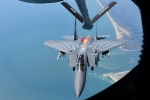 SEYMOUR JOHNSON AIR FORCE BASE, N.C. -- As the youngest branch of the Armed Forces, the U.S. Air Force, celebrated its 70th birthday, the 4th Fighter Wing celebrated its 75th anniversary with a weekend of celebratory events and ceremonies.

The 4th Fighter Group was activated Sept. 29, 1942 in Debden, England during World War II. The Eagle Squadrons consisted of American volunteers, until the 4th FG became part of the Army Air Corps and drafted members.

The wing has flown nine different aircraft in 75 years and destroyed more than 1500 enemy aircraft, dropped more than 4 million pounds of ordnance, produced 63 aces, countless Distinguished Flying Cross recipients and one Medal of Honor recipient.

The 336th Fighter Squadron became the first operational F-15E Strike Eagle squadron in 1989.

A 4th Fighter Wing F-15E Strike Eagle received a heritage paint scheme to celebrate the 75th anniversary. The 4th Equipment Maintenance Squadron worked more than a month on the anniversary scheme. The aircraft will remain painted this way for one full year.
2019
30 May 2019 | Flight Global
Japan receives first E-2D Advanced Hawkeye
The Japan Air Self-Defense Force (JASDF) has taken delivery of its first Northrop Grumman E-2D Advanced Hawkeye airborne early warning & control (AEW&C) aircraft.
28 May 2019 | RAF
Transatlantic Season for Red Arrows gets Underway
Following months of training, the Royal Air Force Aerobatic Team has been given the go-ahead to begin one of its busiest ever seasons. The Red Arrows' 2019 campaign will culminate in a major tour of North America and displays and flypasts across the United Kingdom and mainland Europe.
27 May 2019 | Lockheed Martin
Sikorsky Formally Responds to Call for Competition for Germany's New Heavy Lift Helicopter
BERLIN May 27, 2019 – Sikorsky, a Lockheed Martin company, formally responded to the German Air Force "Schwerer Transporthubschrauber" (STH) Program call for competition. Sikorsky expects to offer the most modern heavy lift helicopter in production, the CH-53K King Stallion, in response to the official Request for Proposals, which is expected this summer. The new STH heavy lifter will allow the Bundeswehr to move troops and equipment more quickly, safely and effectively than ever before.
26 May 2019 | Airbus Helicopters
French Ministry of the Armed Forces brings development of future Joint Light Helicopter forward
Marignane, The French Minister of the Armed Forces, Florence Parly, has announced that the launch of the Joint Light Helicopter (Hélicoptère Interarmées Léger; HIL) programme has been brought forward to 2021. The HIL programme, for which the Airbus Helicopters' H160 was selected in 2017, was initially scheduled for launch in 2022 by the current military budget law. Launching the programme earlier will enable delivery of the first H160Ms to the French Armed Forces to be advanced to 2026.
24 May 2019 | ACC
Hill Airmen deploy F-35 to Europe as part of Theater Security Package
The U.S. Air Force has deployed one squadron of F-35A Lightning II fighter jets, Airmen, and associated equipment to Aviano Air Base, Italy, from the 388th and 419th Fighter Wings, at Hill AFB, Utah, to participate in exercises and conduct training with other Europe-based aircraft as part of a Theater Security Package for the European Deterrence Initiative. The TSP provides a more robust U.S. military rotational presence in the European theater capable of deterring adversaries and assuring partners and allies of U.S. commitment to regional security.
21 May 2019 | Combat Aircraft
USAF aggressor plans laid out
The USAF plans to reactivate the 65th Aggressor Squadron at Nellis AFB, Nevada, and will assign nine early production F-35As to the unit. The move is part of an initiative to improve training for fifth-generation fighters against stealthy opposition. The…Read more ›
30 April 2019 | MILAVIA News
U.S. Air Force F-35As conduct first combat employment
SOUTHWEST ASIA --
Two U.S. Air Force F-35A Lightning II aircraft conducted an air strike at Wadi Ashai, Iraq, in support of Combined Joint Task Force – Operation Inherent Resolve on April 30.
This strike marked the F-35A's first combat employment.
The F-35As conducted the airstrike using a Joint Direct Attack Munition to strike an entrenched Daesh tunnel network and weapons cache deep in the Hamrin Mountains, a location able to threaten friendly forces.
21 February 2019 | RAF
Royal Air Force Chief of the Air Staff takes final Tornado flight over Scotland
Nearly 26 years after being introduced at RAF Lossiemouth, the iconic Tornado aircraft returned to Scottish skies for the last time this week.
18 February 2019 | RAF
Britain to celebrate iconic Tornado during farewell flypast
With almost 40 years of Royal Air Force service coming to an end, the iconic Tornado jet is undertaking a series of finale flypasts around the UK.
7 February 2019 | RAF
Red Arrows' North American displays revealed
A list of locations where people can see the Red Arrows display during a major tour of North America has been released.