Chengdu J-10 (FC-20)
Role: multi-role fighter-bomber
Design: 611 Aircraft Design Institute, Chengdu
Production: Chengdu Aircraft Company (CAC)
Variants: J-10 (prototype), J-10A, J-10S, J-10B
Operators: China
The J-10 (Jian-10 meaning Fighter-10) built by Chengdu Aircraft Industry Corporation (CAC) is the next generation multi-role fighter for China's Peoples Liberation Army Air Force (PLAAF). The J-10 is a capable fighter-bomber, which will be operated alongside China's interceptor fleet of J-11 licensed built Su-27 and the imported Su-30MK Flankers. It will boast China's tactical air-to-ground capability replacing the older J-7 and Q-5 attack aircraft.
The aircraft development was launched by No.611 Research Institute in October 1988, following approval the previous month. The Chengdu J-10 started as a development inspired by the IAI Lavi general design. The J-10 features a compound delta-wing design with canards placed higher behind the canopy in front of the main wing. The light weight airframe is powered by a single Russian built AL-31FN engine, which is a modification of the Su-27 and Su-30 AL-31F power plant. The J-10's AL-31FN engine is currently not equipped with thrust vectoring, although this might be included in a future upgrade. According to Russian reports, China ordered 100 AL-31FN engines to support J-10 production in July 2005, having received 54 engines between 2002 and 2004 for the initial production batch. It is also possible that the AL-31FN will be replaced on later production aircraft by the Chinese WS-10 turbofan.
The aerodynamically unstable design is controlled by a digital fly-by-wire system. The cockpit is fitted with three multifunctional displays (MFD) and a wide-angle HUD. Also there is evidence that a Helmet Mounted Sight (HMS) will be incorporated. The radar for the J-10 is a Chinese multi-mode radar with mechanically scanned array, a new AESA version will be equipping the next variants.
The J-10 can be armed with the Russian R-73 and R-77 or Chinese PL-8, PL-10, and PL-11 air-to-air missiles as well as a wide variety of air-to-ground weapons. Also it was reported in June 2005, that the J-10 has completed integration testing of China's new PL-12 (SD-10) active guided air-to-air missile. Although the J-10 development program started with the aim for creating a fighter, after selection of the J-11 the main focus has been on increasing its air-to-ground capability. The J-10 will also be able to carry Chinese developed anti-ship and anti-radiation missiles.
The first prototype '1001' made its first flight reportedly in mid-1996 (date still unknown). Following the first prototype another 8 prototypes had appeared. The second prototype '1002' was lost in a fatal accident in late 1997, and also the third prototype '1003' had crashed. On March 23, 1998 the aircraft made its officially-announced maiden flight. In 2002 the first pre-production aircraft made its maiden flight and on 23 February 2003 the first deliveries to the PLAAF took place when the first 10 J-10s joined the 13th Operational Trials Regiment of the Flight Test and Training Centre at Cangzhou-Cangxian. The type was declared operational in December 2003. The PLAAF's 3rd Test Flight Regiment started operating the J-10A from the Chengdu factory airfield at Wenjiang in 2004. The 44th Air Division's 131st Fighter Regiment at Mengzi, Yunnan, became the first operational J-10A unit on July 13, 2004, and had received 32 J-10As by 2005. Also the division's 130th Fighter Regiment is reportedly being equipped with the J-10. A third fighter regiment was equipped with the J-10 in early 2006, possibly being the 7th Fighter Regiment of the PLAAF 3rd Air Division.
The J-10 would be declassified at the Zhukai Air Show in November 2006, but the aircraft's appearance was cancelled reportedly due to safety concerns. On December 29, 2006, however, China's state-run Xinhua News Agency officially confirmed that the Chengdu J-10 is in operational service with the PLAAF. The same day, China Central Television (CCTY) broadcasted footage of the aircraft firing air-to-air missiles, air-to-ground weapons and undertaking aerial refuelling with a Xian H-6 tanker.
Further developments quickly got under way, these include a two-seat trainer, twin engine variant, and a dedicated air-to-ground version with a redesigned nose section. In November 2004 Air Forces Monthly published a recent photograph of the what is believed to be the first two-seat J-10 (first believed to be designated J-10B, but J-10S has since been reported) that had begun test-flying. It is believed development of the two-seat trainer was started in 2000 and that the first flight of the two-seat J-10S took place on December 26, 2003. The forward fuselage of the aircraft was stretched to accommodate the additional cockpit. Reportedly the two-seater is combat capable and can be used as airborne command & control aircraft with the formation commander occupying the rear seat.
A more advanced variant called J-10B also appeared with an uprated engine (possibly the improved AL-31FN M1) or the Chinese WS-10 engine, stronger airframe, and new phased-array radar.
Being a lightweight multi-role fighter-bomber, the J-10 has great export potential. The aircraft will probably be more affordable than its European counterparts. China is believed to have taken a giant leap forward in fighter development, and produced a true fourth generation fighter. China is believed to have a requirement of 300 aircraft of the type. It will be a good option for countries in the region, such as Pakistan, that will have to find a suitable next generation aircraft to replace its current Chinese or Russian fighters and attack aircraft. Pakistan might even want to replace its fleet of F-16s with the Chinese FC-20 (export aircraft were reported to be designated Fighter-10, FighterChina-10, and later FighterChina-20 or FC-20). On April 12, 2006 the Pakistani cabinet approved the purchase of at least 36 J-10s, although the PAF has not gone go ahead with the plan yet since expanding its F-16 fleet and the JF-17 production ramp up.
Sources:
AFM (2007). Finally... China Reveals J-10 Fighter, Air Forces Monthly, 277, February, p. 4, Key Publishing Ltd, UK.
GlobalSecurity.org, (2009). Chengdu J-10 (Jian-10 Fighter aircraft 10) / F-10, GlobalSecurity.org, last accessed on 02 April 2009.
Rupprech, A. (2007). Chengdu J-10, International Air Power Review, Vol. 22, pp. 40-59, AIRtime Publishing Inc., USA.
SinoDefence.com, (2009). Jian-10 Multirole Fighter Aircraft, SinoDefence.com, last accessed on 02 April 2009.
SinoDefence.com, (2009). Jian-10B Multirole Fighter Aircraft, SinoDefence.com, last accessed on 02 April 2009.
Venik (2003). China's Fighters - Chengdu J-10, Aeronautics.ru, retrieved on 21 December 2003.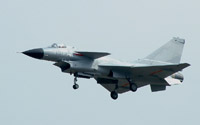 Chengdu J-10 delta-wing fighter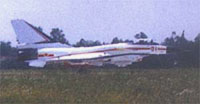 J-10 first prototype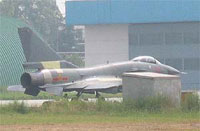 Later J-10 prototype seen at CAC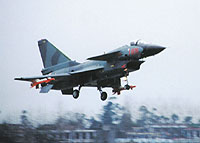 J-10 prototype on final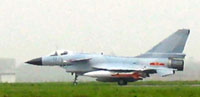 Pre-production J-10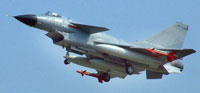 Carrying external fuel tanks and PL-8 AAMs