Mirage 2000 History
In 1975 the French Air Force chose the Dassault Mirage 2000 all weather delta fighter to replace the Mirage III is the interceptor role. 10 March 1978 the first Mirage 2000 prototype made its first flight. Five prototypes were built. In the summer of 1983 the first of the initial delivery of 37 Mirage 2000C entered service with the French Armée de l'Air.
In 1979 Dassault was contracted to build two prototypes designated Mirage 2000P, later Mirage 2000N. The 2000P was being developed for the low-altitude tactical nuclear strike mission to replace the fleet of nuclear-armed Mirage IVPs. The Mirage 2000N made its first flight on 3 February 1983.
In 1990 a major upgrade of the Mirage 2000C design resulted in the multi-role Mirage 2000-5 which was first flown on 24 October 1990 and was also ordered by Taiwan.
Lessening tensions in Europe in the late 1980s reduced the need for nuclear capable aircraft and the orders for the Mirage 2000N were reduced to 75 aircraft of which 60 are operated today. Delays with the Rafale program resulted in a need for additional aircraft with a capability for conventional weapons. This resulted in the Mirage 2000D originally known as Mirage 2000N' (or N Prime). The first Mirage 2000D was flown on 19 Februari 1991 and the first of 86 aircraft ordered entered service in April, 1993.
Mirage 2000C aircraft have flown CAP missions during the Gulf War alongside other coalition fighters. The Mirage 2000 also saw action over Bosnia and Kosova in support of NATO. Recently Mirage 2000D aircraft flew combat missions over Afghanistan equipped with laser targeting pods and laser guided bombs or free fall 250kg bombs.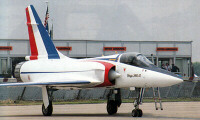 Mirage 2000 prototype in 1979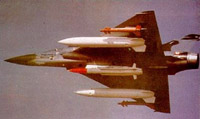 Early Mirage 2000N with ASMP missile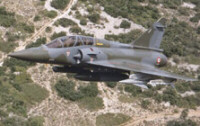 Mirage 2000D