F-15 Eagle History
The F-15 was designed to the replace the US Air Force's F-4 Phantom II in the land-based air superiority role. Ultimately also the F-4s of the Air National Guard were replaced by the Eagle. On 27 July 1972 the YF-15 prototype made its first flight. The F-15 excelled from other fighter aircraft of that time because of its advanced avionics, great view for the pilot and the excellent climb rate.
The first two models to enter service were the F-15A single-seater and TF-15A (later F-15B) combat-capable tandem two-seater. Both variants had the APG-63 radar and Pratt&Whitney F100-PW-100 afterburning turbofans. The production totalled 366 and 58 respectively for the US Air Force plus 19 and two respectively for the Israeli Air Force.
In June 1979 deliveries of the improved and more advanced F-15C single-seat and F-15D two-seat models began. Equipped with AGP-70 radar (with a programmable digital signal processor, synthetic-aperture ground mapping and track-while-scan air-to-air capability), an uprated powerplant, and provision for low-drag conformal packs carrying fuel and fitted with tangential attachments for weapons. The two variant were built for the USAF, Israel and Saudi Arabia and are still operated today. These variants were also built under licence in Japan by Mitsubishi and designated F-15J.
In the early 1980s the USAF formally issued a requirement for an aircraft to replace ageing F-4Es and supplement its F-111E/F force in the ground attack role. Successful trials with a converted TF-15A led to the go-ahead in early 1984 for full-scale development of the E variant of the F-15. And on 11 December 1986 the F-15E made its first flight and production commenced. By the end of 1989 about 200 aircraft were delivered to the USAF.
The F-15 Eagle achieved a perfect combat record of 101 victories and zero defeats by the turn of the century.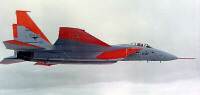 YF-15 first prototype
F-15E prototype (converted F-15B)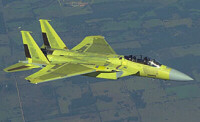 First Flight F-15I in 1997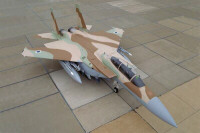 F-15I delivery to Israel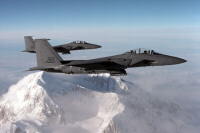 Boeing F-15K for South Korea