Tu-22 'Blinder' Related Books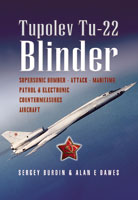 Tupolev Tu-22 Blinder
by Sergey Burdin, Alan E Dawes
ISBN: 9781844152414
Published: 17 November 2005
Pen & Sword Books Ltd
Webmaster Review - 1 August 2007

This book offers an extensive study of the Tu-22, including many first-hand accounts from former USSR aircrew and others who were associated with Tu-22. Herein lies the greatest value of the book and differentiates it from just about all previous publications on the Tu-22. Furthermore this enabled the author to debunk some of the often reprinted myths and other misinformation about the aircraft's design and service life.
The first set of chapters are what one can expect from a book with 200+ pages on a single aircraft. The development and variants are fully covered and the book goes on to describe the aircraft and its systems in great depth. Although sometimes becoming a very technical story, it is still great for reading thanks to the excellent translation and explanatory comments by both author and translator.
The following chapters cover the Tu-22's operational service, combining proper analysis with personal accounts of the crews who flew and maintained the aircraft. The typical combat and training missions for the aircraft are described in full detail, but sometimes I found them difficult to fully comprehend due to the lack of a good quality map for the mentioned routes and locations. Next the emergency escape system is covered and a comprehensive record of Tu-22 accidents and crashes is included.
The final part of the book covers the Tu-22 in Iraqi and Lybian service. Although detailed when deliveries and training is concerned, the operational history in Iraq and Lybia is only briefly described.
This is an excellent book for both the military aviation enthusiast as well as the Cold War historian, but in particular recommended for those interested in Russian bomber aircraft and Soviet bomber aviation. Not only the development and technical story are explained in detail, but also the operational use and implications. This also gives one a better understanding of Soviet military procedures and doctrine. The book is well illustrated by unique photographs, plus scans from operational documents and manuals. My only criticism is the lack of better maps and explanatory drawings, but also on the operational and combat use by Lybia and Iraq. Despite these shortcomings, the book is a very comprehensive and offers a lot of unique content. Highly recommended!
Available from Pen & Sword Books Ltd
---
Amazon US:
Amazon UK: