BACK TO DIRECTORY

PREVIOUS / NEXT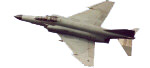 > Information

History

Specifications

Picture Gallery

Video Gallery

Related News

Related Links

Related Books




McDonnell F-4 Phantom II
Role: interceptor, fighter-bomber
Builder: McDonnell Aircraft (McDonnell Douglas)
Variants: F-4A (F4H-1F), F-4B (F4H-1), F-4C (F-110A), F-4D, F-4E, F-4E(S), F-4EJ, F-4F, F-4G, F-4J, F-4K (FG.Mk 1), F-4M (FGR.Mk 2), F-4N, F-4S, EF-4C, RF-4B, RF-4C, QF-4B, QF-4J, QF-4S, QF-4E, QF-4G, QRF-4C
Operators: US Air Force, US Navy, US Marine Corps, Germany, United Kingdom, Turkey, Greece, Spain, Egypt, Iran, Israel, Australia, Japan, South Korea
The F-4 Phantom II was a twin-engine, all-weather, fighter-bomber with a crew of two. The aircraft was originally designed as an interceptor for US Navy fleet defense but was also adapted the air superiority, interdiction and close air support roles. More than 5000 Phantoms were built and it is still flown today. The F-4 was the first naval fighter without internal guns or cannons. It was the first fighter equipped with pulse Doppler radar with look-down and shoot-down capability. So it could destroy enemy aircraft in the F-4's radar range using missiles without having to rely on ground control. Variants of the F-4 Phantom II have been built for the reconnaissance and wild weasel role.
The German Luftwaffe is now the biggest operator of the Phantom flying the F-4F ICE upgrade until the Eurofighter takes over its air defence role. Turkey and Greece are also still flying the F-4, their F-4E aircraft are undergoing extensive upgrade work. Turkey is upgrading them to F-4E/2020 Terminator in cooperation with IAI. The Greek Air Force (HAF) upgrade program is known as Peace Icarus I&II and will cover 40 aircraft. Like Spain, they also still operate a number of RF-4 photo reconnaissance aircraft.
Outside Europe, the F-4 is still operated today by South Korea, Japan and Iran.The the US Navy and USAF only use the computer controlled QF-4 (converted ex-Navy and ex-AF F-4s) as (target) drones.