BACK TO DIRECTORY

PREVIOUS / NEXT



> Information

History

Specifications

Picture Gallery

Video Gallery

Related Links

Related Books

Related News




Mikoyan-Gurevich MiG-29 Fulcrum
Role: multi-role fighter
Builder: Mikoyan-Gurevich
Variants: MiG-29 (Fulcrum-A), MiG-29UB/UBT (Fulcrum-B), MiG-29C (Fulcrum-C), MiG-29K/KVP (Fulcrum-D), MiG-29KUB, MiG-29G, MiG-29GT, MiG-29M/ME/MT (MiG-33), MiG-29N, MiG-29S/SD/SE, MiG-29SMT, MiG-29MRCA/M/M2, MiG-29OVT, MiG-35
Operators: Russia, Algeria, Angola, Belarus, Bangladesh, Bulgaria, Cuba, Czech Republic, Eritrea, Germany, Hungary, India, Iran, Iraq, Kazakhstan, Malaysia, Moldova, Myanmar, North Korea, Peru, Poland, Romania, Slovakia, Sudan, Syria, Turkmenistan, Ukraine, USAF (stored), Uzbekistan, Yemen, Yugoslavia
The MiG-29 (NATO reporting name 'Fulcrum') is a single-seat air superiority fighter, developed by Mikoyan Design Bureau, Russia. Although it has little sophisticated avionics and no fly-by-wire flight control system, the MiG-29's agility and maneuverability make it equal to the contemporary Western fighter aircraft, like the American F-16 Falcon and F-15 Eagle. The two powerful RD-33 turbofan engines give the MiG-29 a high thrust-to-weight ratio, enabling vertical climb with acceleration. The MiG-29 was the first fighter to be equipped with dual-mode air intakes. When in the air the large intakes under the fuselage take in the air for the engines. On the ground, these intakes are closed and the much smaller intakes on top of the forward wing take in the air. This reduces the chance of objects to be sucked into the engines, enabling the MiG-29 to operate from unprepared airstrips.

The MiG-29 is equipped with the N-019 (NATO 'Slot Back') radar, enabling the MiG-29 to intercept air targets beyond visual range with R-27 missiles. The forward looking infra red search and track (IRST) sensor provides target aquisation for IR guided missiles, such as the R-60 and R-73 missiles. The helmet mounted target designation reticle, combined with its high turning agility and maneuvrability, enables the MiG-29 to engage targets with IR guided weapons at close range outside the MiG-29's forward direction.

The MiG-29 was widely exported to nearly 30 countries and is still operated in large numbers. For most East-European countries the MiG-29 remains the most capable aircraft in service. Several MiG-29 upgrade packages are offered to current operators as well as upgraded version to possible new operators. One example of this is the latest MiG-29MRCA which was offered to Austria to compete with the Eurofighter Typhoon and Saab Gripen.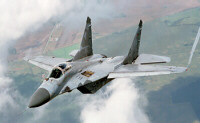 MiG-29 'Fulcrum'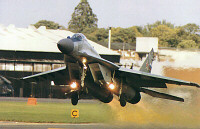 MiG-29 taking off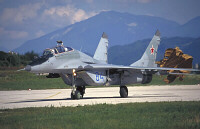 MiG-29UB trainer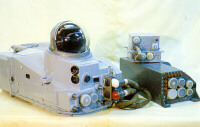 IRST sensor equipment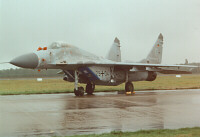 German MiG-29 Fulcrum