Dassault Rafale
Role: multi-role fighter-bomber
Builder: Dassault
Variants: Rafale A (prototype), Rafale B, Rafale C, Rafale M, Rafale N
Operators: France, India
The result of the French fourth generation fighter program is the multi-role Rafale. It has a delta wing design with canards to optimize aerodynamic efficiency and stability control. It is powered by two French built M88 afterburning turbofans. The engine intakes are positioned semi sunk in the fuselage. The aircraft is equipped with the multi-mode RBE2 radar which has full air-to-air and air-to-ground capability. It can carry a wide range of weapons, including the APACHE stand-off munitions dispenser and the ASMP nuclear missile.
The designation Rafale A is used for prototype versions of the design. The two-seat Rafale B was designed as a dual control conversion trainer for the single seat Rafale C. But the Rafale B has now developed as a fully operational variant with full combat capability. Either an instructor, a second pilot or a WSO can assist the pilot from the rear seat. The Rafale B and C aircraft will enter Armée de l'Air (French Air Force) service from 2002 onwards to replace its older Mirage variants and Jaguars.
Designed especially for the Aeronavale (French Navy Air Arm) is the carrier capable Rafale M. The Rafale M has for 80% the same structural design and for 95% the same systems as the Rafale C. It has strengthened main undercarriage, extended nosewheel suitable for catapult launch, hydraulically operated arrester hook, but has no folding wings. The centreline pylon has to be removed because of the longer nosewheel undercarriage. The first production Rafale M aircraft replaced the remaining F-8E(FN) Crusaders in the fighter role. Subsequent deliveries will replace the Super Etendard and Etendard IVP in the attack and recconnaissance roles. A fourth variant is under development for the French Navy, this two-seat Rafale N will enter service in 2008. The Rafale will become the only combat aircraft in the French Navy when all aircraft are delivered.
Dassault is still trying to seek foreign customer for its Rafale. Competition consists of other fourth generation fighter aircraft like the Eurofighter Typhoon, Saab Gripen, Su-27 derivatives but also upgraded aircraft and the Joint Strike Fighter (JSF). The Rafale lost competition in the South Korean F-X program, the Boeing F-15K was the winner. The Rafale was also marketed in Europe but most countries prefer to participate in the US-lead JSF developement or prefer the Eurofighter Typhoon or the cheaper Saab Gripen. It is expected that when other foreign nations need replacement of their Dassaults Mirage fighters, the Rafale will have more export success.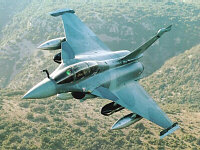 Rafale with APACHE dispenser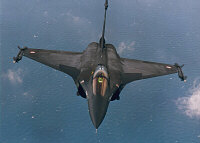 Single-seat Rafale C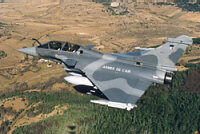 Two-seat Rafale B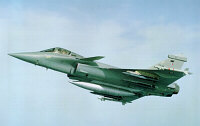 Navalized Rafale M